Imperial Headwear Provides Sun Protection for Golfers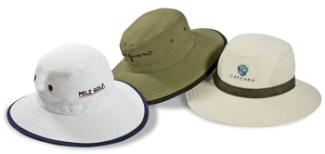 Imperial Headwear Products
June 10, 2009. Recent studies about the effects of prolonged exposure to the sun have made us all more aware of our behaviors. The arrival of summer brings an increase in outdoor activities, and a new set of challenges for those who want to avoid sun-related issues.
A recent New York Times article by Bill Pennington explained the dangers of overexposure to the sun, and how many golfers are suffering from the lack of care they take before heading out on the course. The same trends have been documented among Imperial's resort and outdoor markets.
"Many of our clients are realizing that they should take extra care when spending extended periods of time in the sun," said Rick White, President & CEO of Imperial Headwear. "Our line of products offer peace of mind to those that spend their summers outdoors."
Imperial carries a full line of sun protection headwear, including its GT01 and GT08, and the recently acquired Watership by Imperial line. The majority of these products are rated SPEC 50+, and offer technical features that perform exceptionally well in warm weather.
The United States Postal Service recently contracted with Imperial to provide sun protection headwear for its mail carriers.
About Imperial Headwear

Founded in 1916, Imperial Headwear is the leading manufacturer and marketer of premium quality, active lifestyle headwear for the golf, tennis, corporate, outdoor, resort, collegiate, military and select private label markets. Renowned for its superior customer service and artwork customization capabilities, Imperial offers its clients premium quality products using the most innovative digital design, logo and embroidery technologies. Imperial recently acquired Washington-based Watership Trading Companies to expand its product offerings to include high performance wind and sun protection hats for the outdoor and sports markets. For more information about Imperial Headwear, visit www.ImperialHeadwear.com or call 800/950-1916.