& in the Clean-Up Position: Eldorado, Cabo Real, Jaime & Bing
By: Jeff Shelley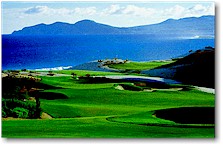 The next stop on the Los Cabos tour is Eldorado, a Jack Nicklaus-designed layout that's one of two 18-holers at Cabo Real. Owned the Sanchez Navarro family, Mexico's equivalent of Anheuser-Busch with its popular Modelo and Corona beers, Cabo Real is a 2,000-acre resort spanning Sea of Cortez view property roughly 10 miles west of San Jose del Cabo.
Eldorado is adjoined by the original Cabo Real course, a Robert Trent Jones II design, three hotels - the striking Westin Regina, Las Ventanas al Paraiso, and Melia Los Cabos, spas, retail and dining facilities, condominiums and single-family homes.
Future plans include another 18-hole course, to be called the Mountain. Tom Fazio has done a preliminary routing for the track, with construction slated for sometime in 2004. Closer in the offing is a huge new resort Sanchez Navarro is developing in La Playa, a small town on the outskirts of San Jose del Cabo. The $125-million project includes a "super-marina," hundreds of lots, hotels, a redevelopment of the town, a $6-million bridge across a mile-wide but shallow river that swells after heavy rains, and another 18-hole golf course.
The La Playa layout may be a Greg Norman design. The Great White Shark has made three visits to evaluate the project. Cabo Real's director of golf, Jaime Diaque, is impressed with Norman, calling the Aussie a "ball of energy." Diaque added, "He was like a goat climbing over the hills in 100-degree weather. I was soaked after walking the site with him."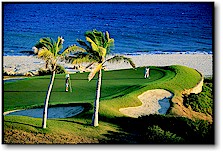 The Course

Because of its proximity to the Sea of Cortez, Eldorado was especially hurt by Hurricane Juliet, a nasty storm that ravaged Los Cabos in September 2001. The course was closed for all of October to make repairs. The beach-bordering 18th hole, a rugged par-4, saw its fairway narrowed by a quarter, and the 8th tee boxes were rebuilt after being washed out to sea.
Since I'm slated to play Cabo Real after writing this (on Friday the 13th - yikes!), I'll save the write-up of that track for another day.
Meanwhile, here are a couple of observations about Eldorado, which remains one of my favorite places to golf down here.
· First off, Eldorado has some of the most spectacular views of any Cabo golf course. The Sea of Cortez crashes close to the action at several junctures, and many inland holes offer panoramic vistas of the ubiquitous, horizon-wide azure body. Because of the sea's closeness to the course's lower sections, it's easy to grasp why some holes keep getting eroded during the torrential hurricane rains. (Juliet was the second hurricane that laid waste to parts of the layout.) Conversely, the course's coastal locale engenders the proliferation of beautiful native plants which, seemingly, are always in full flower.

· Eldorado is now the only Cabo course that equips its golf carts with a techno-gimmick. The idea behind the "QuikSilver" laser yardage system is to point a "gun" at the flag, which has a receptor mounted atop it, then check the readout on the gun for the distance to the pin. A sign (the first I'd ever seen of its kind) inside the cart asks players to please not throw the flag and show "respect" for the green. I just wonder if the sign instead means to please donīt break the laser receptor mounted on top of the pole because it costs a lot to replace. The starter said QuikSilver actually sped up play. I have my doubts about that, especially since the hand-held unit in our cart didn't work. That was fine with me because I can't stand GPS or laser-measurement systems as player aids (although they have a tremendous future for on-course maintenance purposes). If I need a device to tell me how far the hole is, I might as well have someone (or something) hit the damn ball for me.

· One other thing: It looked to me like Eldorado's maintenance has suffered since my last time here (January 2001). Things weren't quite as ship-shape as before. Maybe it was because a storm in late-November (just before our arrival) dumped 2 inches of rain on Los Cabos, and this course is ultrasensitive to bad weather. Perhaps the American economy has forced cutbacks in staff. I'm not saying Eldorado has suddenly become a dog track. It's certainly far from that. Maybe this observation stems from having played the day prior at the private and pristine Querencia.

· Anni and I played in a brisk wind with gusts upwards of 25 miles per hour. Very difficult conditions for Eldorado, which boasts all manner of Nicklaus-crafted bedevilment, including his trademark abysmal fairway bunkers (why does he punish us vacationing golfers so?) in prime tee-ball landing zones, lots of transition area-lined fairways, and elevated greens guarded way too closely by sand and water. One of Eldorado's unique aspects is the par-36 front nine, which contains three par-3s, three par-4s and three par-5s. You just don't find that configuration very often.
Jaime & Bing

At the conclusion of my Eldorado round, I sat and chatted with Cabo Real's director of golf, Jaime Diaque, who came to Cabo Real in May 2001. Jaime replaced Luis Ituarte, an American who got out of the golf business and returned home to Southern California, where he started a chain of Internet cafes that have become quite successful.
Before pinning on the director of golf nametag at Cabo Real, Jaime, age 47, worked at River Place CC and Austin Country Club. He then moved on and helped build and then become the head pro at Plum Creek, located south of Austin.

Jaime began golfing as a Guadalajara youngster at age 4. That noted entertainer and life-long supporter of golf, Bing Crosby, had a vacation home in Guadalajara. During one of his trips to Mexico he asked the pro at the local club to set up a game with two of the city's best young players. By then a teenager, Jaime was called in and thus began a strong friendship that continued until Bing's death. Jaime reminded me that Bing had always expressed a desire to die on a golf course, and that his wish was fulfilled in Majorca, Spain in 1977.

Before his serendipitous encounter with Bing, Jaime was promised a partial scholarship to Texas Christian University. But Bing told him to hold off and not accept TCU's offer right away. With help from Jackie Burke, a former professional tourer and co-founder of the Champions Club in Houston, Bing arranged for Jaime to receive a full ride to Rice University, one of America's top academic institutions.

Jaime enjoyed a fine college golf career at Rice. Between 1974-79, he finished fifth on two occasions in the Southwest Conference championship. He rose to the No. 1 position on the team, but because he was devoting too much time to golf, the school "benched" him for a semester until his grades improved. Jaime said college was difficult because of his unfamiliarity with the English language, and that he needed an extra year to finish his education. That he made it through a tough school like Rice, and graduated, testifies to the man's motivation.

During his school years Jaime and Bing became fast friends. The two created the Bing Crosby Golf Foundation at Rice, an organization that benefited collegiate golfers in need. Crosby always wanted to stage a tournament that pitted American and Mexican players in friendly competition, so the two started the Bing Crosby Intercollegiate in 1975. At the inaugural event Bing served as the starter. Jaime said the famous singer "crooned" his introductions of the golfers, much to the delight of the players and gallery.

Interestingly, Jaime was born to a Mexican father and an American mother. While spending most of his life in either Mexico or Texas, Jaime has ventured to Washington State to visit his mother's family in Spokane. While there, he stopped by Gonzaga University, the school Bing Crosby attended and later endowed, and where he's honored with a towering bronze statue - wearing a fedora and smoking his trademark pipe - on campus.

After school, Jaime spent 10 years on the Asian, Canadian and South American tours. He says there was a lot of talent on those tours, but not enough money to sustain him. So he returned to Texas, began his golf career at River Place cleaning clubs, washing toilets, and starting at the bottom of the golf-operations totem pole.

His experience in all aspects of golf has served him well, even though he never joined the PGA of America and endured that organization's lengthy - and costly - certification process. (Of this missing credential, Jaime responds, "Why should I go through the PGA's program when I got a degree from Rice University?")

Brighter Days - and Cheaper Green Fees - Ahead for Cabo Golfers

Jaime Diaque and Cabo's other head pros, in cooperation with Mexico's tourism bureau, FONATUR, have just formed the Los Cabos Golf Association. The creation of this body, which includes membership by all of Cabo's golf facilities - including Querencia, may help to eventually lower the green fees at area courses through travel packages arranged with airlines and hotels.

Golf in Cabo has traditionally been a disjointed undertaking, with each golf course following its own path. The hotels have not as yet signed off on endorsing the association, but Jaime says all signs are positive in bringing in that crucial element.

The focus of the newly formed Los Cabos Golf Association is to promote the area's myriad charms - specifically those related to golf. Each course will contribute a like amount of funds toward advertising and marketing the game here, and each will recognize the other in a heretofore unheard-of climate of cooperation. FONATUR's Alberto Villada will oversee the association, with the group to soon be formulating travel packages, hopefully, with the blessings of the hotels and other tourist entities.

Adios Amigos

This is my final dispatch from the ever-entertaining state of Baja, Mexico. I've really enjoyed sharing my experiences in Cabo with you, and hope you've enjoyed getting a taste of this wonderful place. I'd like to send along hearty gracias to the golf courses that kindly let me play and write about them.

Special thanks to Brad Wheatley at Cabo del Sol, Ray Metz and Sarah Mandell at Palmilla, Cheryl Brown, Jud Perkins and Bob Gaudet at Querencia, and Jaime Diaque at Eldorado and Cabo Real. I'd like to thank Eric Grindereng, the new director of golf at Raven Golf Club at Cabo San Lucas, for letting me crash the club's grand re-opening festivities. I'd also like to extend my appreciation to the folks at KMTT ("The Mountain"), for letting us in on the John Hiatt-Kim Ritchie concert at Finisterra.

Next week I'll be back at my desk in Seattle, where the temperature of the air - and water - won't quite be the same as it is here in Los Cabos, Mexico. See you then.