Independence Golf Club Gets New Owner & Starts Renovation Plans
Independence Golf Club, the former home of the Virginia State Golf Association, has been purchased by Richmond-based sports-marketing firm, Pros, Incorporated.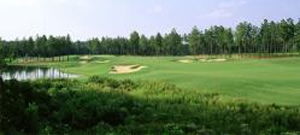 Independence Golf Club
Opened in 2001, the daily-fee course is in need of design upgrades, turf refurbishment and operational adjustments. The new owner has hired Richmond-based golf architect, Lester George, to make changes to the course, originally designed by Tom Fazio. Marvin "Vinny" Giles, a notable Virginia amateur, will lend his input on the project.

The course renovation will add strategic options and visual appeal. George Golf Design's master plan will incorporate modifications to the 18 hole layout, practice facilities, short course and driving range. Sustainability of maintenance, turf quality and operational efficiencies are part of the plan, with the goal to create a course for all skill levels.

"Lester George is one of the finest architects in the world - and a good friend. One of his great skills is developing a strategy for the golf course and then developing and executing a plan that is in the best interest of the project," said Giff Breed, principal at Pros Inc.
In addition to course upgrades, Breed wants to expand Independence Golf Club into a multi-purpose recreation and entertainment venue. Breed continued, "Our feeling is that golf courses need to be more than just golf courses. With the help of partners, we are very excited and look forward to developing Independence into a center for golf and other cultural activities."
"I am excited to be a part of this project," noted George. "I have known Giff Breed for many years and look forward to helping him realize his vision for this property. Of course I am also looking forward to working again with Vinny Giles, Virginia's greatest amateur player."
The renovation will be conducted in phases, with the first involving the redesign of bunkers, re-grassing all 18 fairways, and the conversion of the greens to Champion Bermudagrass.
For more information about the course, visit www.independencegolfclub.com.