Industry Hills Sheraton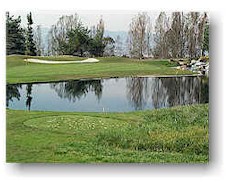 In the City of Industry, you'll see where "Babe" and "Ike" hang out. If you're a golfer, you'll want to become their friends, because if you're not careful, they could turn on you, and you don't want that.

The Babe and Ike I'm talking about are the two courses that make up the Industry Hills Sheraton Resort and Conference Center. Designer William Bell created a couple of very challenging tracks on this 650-acre recreational area. These courses were built on an old landfill and won engineering awards when they were created. The two eighteens are famous for their long fairways, 160 bunkers, eight lakes and large undulating greens.
Don't forget the Funicular! (I didn't know what it was either!) The Funicular is a cable car that takes you and your golf cart back up to the clubhouse. It's not like a ride at Magic Mountain, but it is the only thing like it on a golf course in the world. Even though their at a resort, these two courses are far from resort style golf.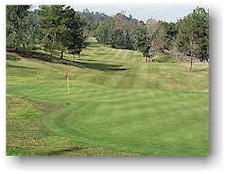 The "Ike" or Dwight D. Eisenhower Course received its first national acclaim when Golf Digest named it as one of the TOP 25 Best public courses in America at one time. It has also been on a Top 25 Most Difficult and a Top 25 Resort course list. Ike can get you if your not careful. The course at the tips is 7,181 yards with a 75.3 rating and a 143 slope! Eat your Wheaties! Pro golfer Fred Couples holds the course record with a 71. The LPGA used to play an event here in early 80's but they moved on because it was too tough.

The course has been host to a number of big events. It holds a U.S. Open qualifier every year, it has been the site for the U.S. amateur, the California amateur and played host to the SCGA for its 100th anniversary tournament. This course has game!

If the course length isn't enough to get you scared, the very thick, tree lined fairways will start to tighten up the back swing a little, and by the way, don't let the six water hazards distract you! Last item, well bunkered greens and a lot of elevation change. Other than that Mrs. Lincoln, how was the play! The "Babe" isn't going to give you a break either. It's "only" 6,778 yards from the tips and has a 73.3 rating with a 136 slope. Piece of cake!
The course was named for the great Babe Didrickson Zaharias, a founder of the LPGA and a double Olympic Gold winner in the 1932 Los Angeles Games. You'll need gold medal nerves to handle this babe. Irons off the tees are going to be a big part of your round unless you love blowing your driver into huge groves of trees, then go ahead, leave your irons in the bag and pull out another golf ball.

Industry Hills has played host to Hollywood also. Television commercials have been filmed here along with some movies. Michael Douglas walked across this course and shot a golfer in "Falling Down" and some of "Caddyshack" was shot here. This place isn't totally about golf, there are 17 lighted tennis courts, an Olympic swim complex and a choice of fine to casual dining in the three restaurants. Don't forget the 296-room Sheraton hotel either.