Insider's Guide to Hawaii Golf
By: George Fuller
There are more than 80 golf courses in the Aloha State, and I've played all but one. Each has its charms, from the $8-play-all-day courses to the top-tier resort layouts that command far greater prices. It is hard to name the "best," so I'll just tell you which ones I enjoy most.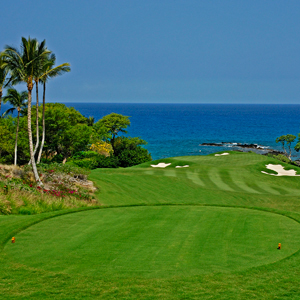 Mauna Kea's 11th Hole
Hawaii - The Big Island

Every chance I get to tee it up along the Kohala Coast at Mauna Kea is a thrill. The remodel that Rees Jones did on his father's classic design both improved the course and made it harder. The elder Jones' "easy bogey, tough par" design philosophy is now more true than ever, but holes such as the over-ocean par-3 third - certainly one of the loveliest holes in all of golf - make bogey somewhat more tolerable.

But I equally enjoy the "other" course at Mauna Kea Resort, Hapuna. This Arnold Palmer/Ed Seay design plays across the highway from the ocean, in the foothills of Mauna Kea Mountain. The fairways are more receptive here and the putting surfaces more level, making par attainable and birdies more frequent. Plus, the views from this higher elevation are broad, spanning the Kohala Coast and across the channel to Maui.

Another of my favorites is Waikoloa Kings', a Tom Weiskopf design that winds through ancient black lava fields on the same coast. From the white tees, this is an enjoyable resort course, although better players might enjoy the 7,000-yard black tees, where angles of play are more severe and sheer length - particularly if there's any wind - provide plenty of challenge.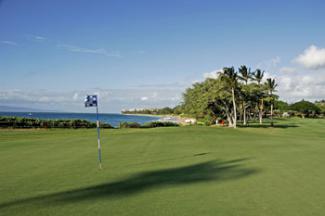 Royal Kaanapali's 5th Green
Maui

I've skipped over the 36 holes at Kaanapali for the past decade or so in favor of the newer, better conditioned courses at Wailea and Kapalua. But to my pleasant surprise, a recent trip showed me I was all wrong . . . both of these classic Maui designs are nowadays in excellent shape and a blast to play.

The Royal Kaanapali course - a Robert Trent Jones Sr. design that originally opened in 1962 - hosted the Champions Skins Game for several years, with Jack Nicklaus and Tom Watson teaming up in 2010 for a popular victory, which they defended in 2011. With its fifth hole that plays right down to the Pacific spray, Royal Kaanapali is a scenic and very pleasurable layout, while also requiring accuracy to score.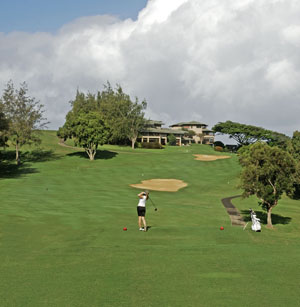 Golfer on Kapalua Bay Course
Up the highway a few miles, Kapalua Resort is equally magnificent, as anyone who sees those stunning images from the Hyundai Tournament of Champions at Kapalua each January will attest. With whales splashing in the blue Pacific, surfers hanging "10" on the lips of waves, the shores of Molokai sharp as a tack across the channel and the verdant fairways of the Plantation Course rolling down from the West Maui Mountains, the PGA Tour pros love Kapalua.

But while the Plantation Course has the PGA Tour and the television cameras, I actually prefer the Kapalua Bay Course for its serenity. Holes four and five run along the edge of the Pacific, with No. 5 playing over an inlet to a peninsula green. Ocean holes, tropical flowers and mature trees make a loop around the Bay Course a joy.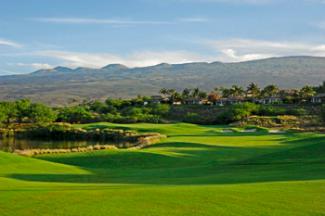 The 3rd Hole at Hapuna Golf Course
Not to be outdone, Wailea offers three courses: Old Blue, Emerald and Gold. The Gold and Emerald courses are shining examples of contemporary resort design by Robert Trent Jones II. Immaculate in conditioning and strategic in play, Jones calls the Gold his "television course," in reference to the broadcast Skins Games that have been played on its fairways. The Emerald is equally scenic, with views out to the Pacific from every hole.

But - here I go again - I'm drawn to Old Blue for its old-school design, wide fairways, mature flora and geared-down ambience.
Kauai

On the North Shore, on a bluff overlooking Hanalei Bay, two golf courses (45 holes) are found at Princeville: Prince and Makai.

The Prince completed a "refreshment" as designer Robert Trent Jones Jr. calls it, in March 2012, which softened the landing areas on a couple of holes - notably the tee shot on No. 1, known as one of the more difficult starting holes in golf, and opened up the views in several areas where the jungle had started to encroach.

Makai Golf Club, meanwhile, enjoyed an extensive renovation in 2010 and has since been ranked as one of Hawaii's top courses by both Golf Digest and Golf magazines. Combined, these two gems at Princeville make a formidable pair.
My soft spot on Kauai? Puakea Golf Course, near the airport in Lihue, which is consistently rated a favorite among Kauai golfers and ranked as the No. 15 course in Hawaii by Golfweek. The late designer Robin Nelson created a routing that plays around deep ravines and streams, with mountain and ocean views so stunning that even the most obsessed golfers pause to take them in. Actor Craig T. Nelson, who has a home in Princeville, calls it one of his favorites, and specials here are often offered at less than $80.

What are YOUR favorite Hawaii
Award-winning publisher, editor, writer and photographer George Fuller has been covering golf travel and lifestyle for more than 30 years. From 1992 to 1997 he was editor of LINKS-The Best of Golf, based in Hilton Head, S.C. In 2005, after having spent several years in the Pacific starting two magazines for Continental Micronesia Airlines and writing two books, Fuller launched GOLF LIVING Magazine for the Los Angeles Times, a "super-regional" magazine of travel, real estate and the lifestyle surrounding the game of golf. In 2009, he helped redesign and re-launch TEXAS GOLFER, a magazine with 25 years of history in the Lone Star State. Most recently, Fuller partnered with Troon Golf to launch TROON GOLF & TRAVEL, a monthly eMagazine with an annual print component. In addition, Fuller's newspapers and magazines credits include TIME, Wall Street Journal, San Francisco Chronicle, The Los Angeles Times, Robb Report, Coastal Living, Palm Springs Life, Estates West, GOLF Magazine, Golf Digest, Travel & Leisure Golf, LINKS, Successful Meetings, Honolulu and many others. He has reported for Reuters, United Press International (UPI), written for Copley News Service and is a regular on-line travel correspondent for Cybergolf. Based in Pacific Palisades, Calif., he can be contacted at gfuller@earthlink.net or 310/245-9550.