Interview with Cape Kidnappers & Kauri Cliffs Director of Golf
Ryan Brandeburg is director of golf at both the Lodge at Kauri Cliffs and the Farm at Cape Kidnappers, two highly ranked courses on New Zealand's North Island.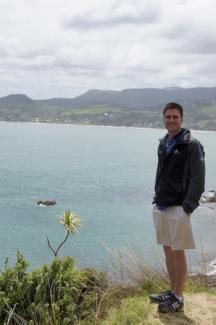 Ryan Brandeburg
In the May issue of Golf Digest, Cape Kidnappers GC in Napier was ranked No. 6 on its list of Top 100 Courses Outside the U.S. Kauri Cliffs GC in Bay of Islands was ranked 19th.

Brandeburg, an American and a member of the PGA of America, has been at the helm of both clubs since 2009. In helping him oversee the daily operations and strategic directions for each course he travels extensively throughout the Asia-Pacific region.

Mandarin Media managing director Hal Phillips sat with Brandeburg in late April to discuss the recent rankings, the state of world golf travel, and New Zealand's unique place in the golf resort firmament. Here's how that Q&A went.

Hal Phillips: Both Cape Kidnappers and Kauri Cliffs have been mainstays on world top-100 lists since Cape opened in 2004. What struck you about the most recent rankings?

Ryan Brandeburg: Well, it never gets old. We're always pleased to see the quality of each course so recognized. But I was struck by the number of Asian courses on this new list.

HP: I count 29 Asia-Pacific courses among this "Top 100 Outside the U.S." When this ranking was last issued, in 2009, there were only 17.

RB: Exactly. This makes sense on a couple levels. Asia-Pacific is where all the new courses are being built, so it follows that more would make the list eventually. But I think there have always been more top-quality courses in Asia than North Americans and Europeans have recognized. All the new course development here, the rise of Asian tours and Asian tour pros, and the increasingly global outlook of North American and European golfers, has shed new light on all the great golf to be played here.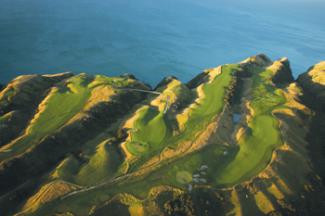 Looking Down on the Spectacular Cape Kidnappers
HP: Many of those Asia-Pacific courses on the list are private, of course.

RB: Yes. There are so many courses in Asia-Pacific rightly considered "world class," but on some level we must ask ourselves, "What good is learning that a club is ranked so highly if it's private - and traveling golfers cannot play it?"

HP: Cape Kidnappers and Kauri Cliffs are true resort courses. Barnbougle Dunes in Tasmania and the Kawana Hotel's Fuji Course in Japan are ranked No. 14 and No. 15 on the new list. That's progress.
RB: And if you look at St. Andrews [No. 3] and Royal Dornoch [4] and Turnberry [7], they are all accessible, too - even if they aren't "resort" courses per se. People may not be able to just show up and get a tee time, but they can get a game there. It's just my personal view that accessibility should be of primary importance to anyone who pays close attention to these rankings. It's important that golfers in Australia, in China, in Japan and Korea and across Southeast Asia recognize that Cape Kidnappers and Kauri Cliffs are special, the highest ranked, most celebrated courses in the region they can play. New Zealand can represent a significant journey to some, but here is more proof that the golf - along with our accommodations, cuisine and natural surroundings - makes that journey worthwhile.

HP: Rankings are fun because they're subjective. But these listings are even more fun when they tweak the criteria - like excluding U.S. courses, featuring only courses you can play, etc.

RB: We are frankly eager for the various golf publications to assemble a top 100 that simply takes into account course accessibility, course merit and the quality of onsite lodgings. These are the factors traveling golfers most strongly consider. The course cannot be private, naturally, and who wants to shape a golf holiday around a great course that doesn't have a hotel on site, or doesn't provide world-class food and wine?

HP: That list would certainly be in your wheelhouse. Golfers may well recognize Cape Kidnappers and Kauri Cliffs as perennial top 100 courses, but the lodges attached to these courses are something else.

RB: To describe them as five-star would be to sell them short. The Lodge at Kauri Cliffs was named the sixth best hotel in the world, according to the 2011 Condé Nast Traveller readers' poll. In 2010, the Farm at Cape Kidnappers was named to Travel+Leisure's "World's Top 50 Hotels." Some day that golf/onsite-lodging combo list will be compiled, and we are confident that both Cape and Kauri will rank among the top five in the world.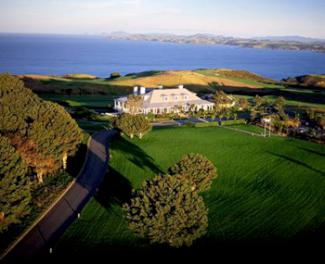 Kauri Cliff
HP: The last time Golf Digest issued this Top 100 Outside the U.S. list, in 2009, Cape Kidnappers ranked 13th and Kauri Cliffs ranked 25th. So Cape and Kauri both moved up.

RB: That was great to see, and interesting to see. I think the reputation of Tom Doak, who designed Cape Kidnappers, continues to grow. He designed Barnbougle and Lost Farm, which are both new to that list, I believe. As for Kauri Cliffs, I think the more people actually come and play it - as opposed to just reading about it, or ogling pictures of it -- the more they appreciate just how amazingly beautiful it is, and what a great golf course it continues to be. The architect at Kauri, David Harman, doesn't get the credit he deserves, in my opinion.

HP: It's hard to name two other courses that trade so successfully on their natural settings. It doesn't hurt that each course is situated in the middle of properties that are several thousand acres in size, right on the ocean.

RB: It's clear that a major part of our appeal is the extraordinary natural landscape of New Zealand. No one can take credit for that, and it's such an integral part of the experience at all of our properties - on the golf courses, in the lodges, at cliff-top or down on the beaches. But it's something we do work hard to protect and foster. At Cape Kidnappers, for example, the Robertson family [owners and operators of both resorts] has assembled one of the largest nature preserves in New Zealand, enabling and protecting a thriving community of endangered species, including kiwi birds. By the end of June, we should finish a new aviary we intend to use for holding pairs of kaka and red-crowned kakariki. These birds will breed and their offspring will be released into the sanctuary to support establishing populations of these species.

HP: You travel a great deal around Asia-Pacific, establishing travel and tour relationships on behalf of Cape and Kauri. Were there courses you expected to see on this new list but did not?
RB: Well, I don't want to name any names - and I wish I had the opportunity to play more golf on these trips. But it was interesting to me that so few courses from the Chinese mainland were included. Some unbelievable courses have been built there in the last five years, and the same can be said of South Korea. Of course, most of the new courses in Korea are quite private. In China, there is a better mix of resort courses that people can play.

HP: Many of the "private" courses on this new list, in Asia or otherwise, aren't really so private. You can call ahead and arrange a game, on the British model . . .

RB: That's true, but where do you stay? What if you want to dine on site? What if you want to play the course again, the next day? In my book, the resort model is still the ideal for traveling golfers.