Invasion of the Senior Golfers
By: Jay Flemma
On a sunny summer Sunday in 1971, deep in the Catskill Mountains, my Dad brought my Mom to the practice range of the second-hardest golf course in America at the time, spent 45 minutes teaching her how to hit the ball, and then turned her loose on the golf world.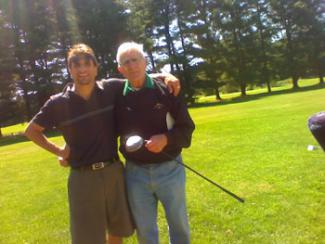 Judge & Judge, Jr. at the Local Muni
He created a monster. By the time I was 15, she was playing 27 holes a day.

But the idea was a great one: The family that plays together stays together, and on March 3, 2012, Mom and Dad will celebrate their 47th wedding anniversary. And there's no question that golf has been the glue which has cemented my family all this time.

Mom and Dad also provide an excellent case study of the true ardent golf fan in America. The real fan plays a great deal (at least every weekend) and watches golf every weekend on TV as well. They may even watch a little Golf Channel during the week from time to time.

"You tell that Tom Rosaforte that I like him!" says mom energetically. "You should dress more like him. He's looks smart on TV!"

"Um . . . Mom, it's Tim Rosaforte, " I replied.

"No, I watch him on TV every week. It's Tom."

"Uh, Jeanne, it's Tim," my father says, rolling his eyes.

"It is?" she asks. "You see?" she says, looking school-marmishly at me. "You should listen to your father. He knows better than you do!"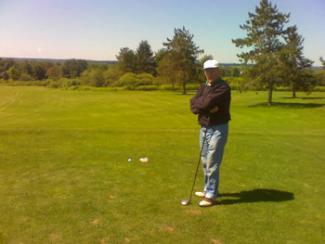 Come on Son, Hit it!
Anyway, once in a while when I'm feeling puckish, I send Mom and Dad to a nice place to play golf. They've spent all their life at the municipal courses down the street in our snowy little upstate New York town, so getting out to play nice courses is a real treat for them.

I say puckish because it also makes for great copy. Just like kids, old people say the darnedest things. There's a reason why "S%$t my Dad Says" is a hit TV show. The laconic, unfiltered and sometimes spunky assessments from the seniors are funniest because they are true. Why do you think Pete Dye is such a great interview?

The other reason they make great copy is because senior golfers can love the game just as much as any Tour player or PGA teaching professional. While "You can't design a course specifically to the talents of the worst member in the club," as architect Brian Silva once said, you also have to remember what Forrest Fezler asked Mike Strantz when they were building the ninth hole at Tobacco Road.

"Mike, how is my 80-year-old mom supposed to play this hole?" The great thing about golf is you can play it until you're 100, so we must not forget our senior golfers. We'll all be one someday . . . hopefully.

So without any further ado, here's some golf course reviews from my octogenarian dad and septuagenarian mom - my own Mr. and Mrs. Haverkamp straight out of Caddyshack. Oh golly, they're hot today . . .

The Hideout, Naples, Fla. (a private course designed by Kelly Blake Moran)

Jay F: What did you like most about the course?

Mom: I like the par-5s and the greens. The par-5s were terrific. The fairways were wide so you had a lot of room to play the hole.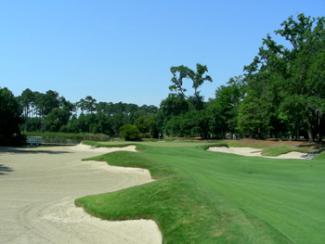 The Sand!
Jay: And there were a lot of ways to play the hole too?

Mom: Yes. There were a lot of angles you could come into the greens from. And the greens were lightning! I three- and four-putted all day long. They were so big and in beautiful condition. They rolled so true, but they were so fast. I like to charge my putts, but these! I had to just touch them or they were gone! Gone! Off the green! Goodbye!

Dad: Well I told you not to hit 'em so hard . . .

Mom: I wanna charge my putts. I like to go for the hole.

Dad: You almost charged them right back to the tee box . . .

Mom: You did it too . . .

Dad: Yeah, but then I figured out you have to just get them started on the right line and they go in by themselves.

Mom: You didn't think they were fast?

Dad: Well of course they were fast, some of the fastest greens I've ever played, too. But the conditioning is pristine, fabulous. So they rolled perfectly true, right to or around the hole for you.

Mom: Oh, listen to him. He thinks he's Ben Crenshaw now.

Dad: Well, you were putting like Phil on Sunday . . .

Mom: Oh don't get me started on Phil. He gives me ulcers every time they show him on TV. Hitting out of trees and over water . . . and every time he gets away with it, he does something even crazier!
Jay: All right, let's get back to the Hideout. What about the rest of the golf course?

Dad: It was a very interesting course. There are lots of doglegs, and it's constantly changing routing direction wise. It was really interesting. It's a really nice layout. We loved it, and we had a great time.

Jay: What was your favorite hole?

Mom: I liked number nine, because this huge bunker was in the middle-ish of the fairway and had four trees growing in it! I also liked all the waste bunkers. They were really interesting and made for a lot of choices off the tee. From the back tees, it has to be murder.

Dad: I liked the 9th also. They have these four trees in the middle of a bunker in the middle of the fairway! And you have to go through them or around them.

Jay: Could you go over them?

Dad: I suppose you could go over them, but the only way to go over is to hit it way the hell up in the air! I can't do that. Now the par-4s are very long from the back tees. Seven par-4s are over 400 yards and one is even 460-something! The par-5s are very long, too. The 579-yard par-5 second is immense from the back tees. 12 was my favorite par-5.

Jay: What else did you like?

Mom: I loved the warm relaxing rustic feeling of the clubhouse. And everyone was so nice, we had a lovely time, and met lots of really nice people. And the conditioning is incredible.

Dad: We loved it. What a great place to play golf. You could play there every day and never get bored of it and never stop having fun. They are so nice there and they really love their course, and that made it impossible not to have fun and have a great time, which is what golf is all about.
Caledonia Golf and Fish Club, Pawley's Island, S.C.

Mom: What are you doing sending me to a course with par-3s where I have to hit my driver? I wanna hit my 5-wood!

Jay: Didn't you like it?

Mom: We loved it! It might be my favorite golf course anywhere. It was beautiful, and it was in magnificent shape, I think it was the most interesting course I have ever played. We absolutely loved it, but my goodness, the par-3s! You tell Furry Fozler I said to make the par-3s shorter next time!

Dad (grinning): Yeah. Tell Furry that the course gets real hairy from the back tees . . .

Jay: I'll pass along the message. What about you, Dad? What'd you think?

Dad: Wow, what a place. The greens were in the best shape I have ever played, and the course was beautiful. The greens were massive! They had to be 50 yards long, and the last one had to be 70 or 80 yards long. And what a finishing hole! Man what a lot of water to carry on that last shot! You hit a big drive, and then you hit it in the water!

Jay: 18 is really something isn't it?

Mom: Oh, that last hole was something else. But it was beautiful and interesting. The whole course was like that, though. There was something new on every hole. It was gorgeous to just walk around, let alone play golf.

Jay: How did you do on 18?

Dad: How do you think? I can't hit the ball the hell over that water. but it sure was something special.

Jay: What about the bunkers?
Dad: The bunkers were murder. You get in the sand and you don't know if you're gonna get out again.

Mom: Oh, the sand was terribly hard! And it was everywhere!

Jay: How about that hole where the green was completely surrounded by sand?

Mom: Which one? It seemed like they all were surrounded by sand! And the par threes . . . that 17th hole!

The Concord Hotel (The Monster) Kiamesha Lake, N.Y.

Mom: We went there for a whole week from the time you were a baby right up until they closed the hotel years ago. We'd stay a whole week at the hotel and play the Monster every day. We loved it. It's called "The Monster" and it lived up to its name. All that water! And the length! Every par-3 was either over water or over 200 yards long. Remember, John, when we saw the Japanese man get a hole-in-one?

Dad: I remember.

Mom: They were so polite. They'd get up to the green on par-3s and then let us hit up, then they'd putt out and bow to us. It was very sweet. Everybody should have such nice manners.

Dad: It was a hell of a shot. Over 200 yards, all carry to a green perched on the edge of a cliff . . .

Mom: Oh, they went crazy when it went in . . .

Dad: Well with good reason . . .

Mom: That's the only time I've ever seen a hole-in-one. Anyway, it was a great vacation place, it was only two and a half hours away, and everything was right there for you. And they had wonderful entertainment - Ben Vereen, Bobby Darin, Englebert Humperdink - it was always terrific.

Dad: Well, not the week we got stuck with Florence Henderson. She was awful. She came out in a hideous flowing dress singing that Stevie Wonder soul song that goes, "You can feel it all ooooooooooooooooooover . . .," and I turned to Jay and I said, "I'm going to play cards. This is dog food." I left too, to go play video games.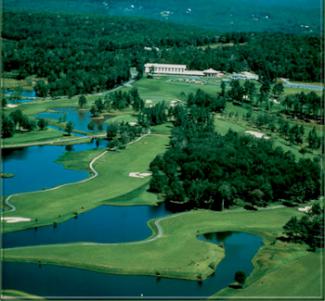 The Monster
Jay: It was frightening. All right, favorite holes?

Mom: Honestly, they were all my favorites. Once you get used to a place, and it feels like home, you see the good in all the holes. There was a lot of water, on nearly every hole, but that's what you got there, so you had to deal with it if you wanted to see how good a golfer you were. I liked the par-3s except the really long one [Author's Note: the 240 yard par-3 7th] and I also liked 18. It didn't have water, but it was a great finish and it sat so beautifully below the clubhouse.

Dad: She's right . . .

Mom: Oh! For once! Mark this down!

Dad: Back then, it was the second hardest course in the country behind Spyglass Hill, and it was right there down Rt. 17. We'd drive down Route 8, stop halfway for homemade ice cream at the famous Penguin Ice Cream shop which is still there and still making hand-made ice cream for two bucks - out of this world - and then drive to Montecello. We looked forward to it every year and met great people every time we went.

Jay: Okay, favorite courses?

Mom: The Monster, the Fazio Course at Palmetto Dunes, and Caledonia. There are others like the Jones Course at Palmetto and Harbour Town, and some others in Hilton Head I like, too. As we got older, Hilton Head was more our speed than Myrtle Beach, but that Caledonia was really something.

Dad: The Monster is my favorite. Then probably Caledonia and the Jones course in Myrtle Beach called the Dunes. That was another great course from back in the heyday of golf when Arnie and the boys ruled the Tour.

Mom: What about Shinnecock? Remember you played there with the Judge's Convocation one year?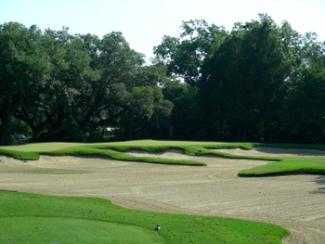 Tell Furry Fozler the Par-3s are too Long
Dad: Oh yeah, I remember that. That was when Jay was still a little kid at St. Agnes. We got paired with a judge friend of mine from here who was the worst golfer you ever saw. He shot 150 all the time, and that was in Utica, so I knew we were in for a rough day at Shinnecock with him. We told them he was slow, so they put us in the last group. They also put people from the same town in the same group so they could play together, so I got stuck with him. Well he took a 13 on the first hole and it got worse from there. I remember we gave him an 80-foot putt for a 10 on the first par-3 of the day. It took forever. We almost missed dinner. It's tough to remember a golf course when you're waiting on every shot like that . . .

Jay: Okay, three courses you'd like to play?

Dad: Riviera, that looked great last week. Everyone seems to love it and it has all that history back many decades. Then Augusta, of course, and Pebble Beach. Bing Crosby sure threw a great clambake.

Mom: Pebble Beach looks so beautiful and there and there is so much history there. Augusta because its home of the Masters. I was impressed with Riviera too. John's right . . .

Dad: Huh! For once!

Mom: Hey! I stick up for you all the time!

Dad: Not in the house . . . (Laughter)

Jay: Okay, three people in golf you'd like to meet?

Dad: Arnold Palmer. He was always my favorite when he was playing. I was in Arnie's Army. Then Annika Sorenstam and Phil Mickelson. Great people, great champions. I'd like to shake Phil's hand and tell him how proud of him all the golf fans are.

Mom: Phil - I want to tell him to stop doing crazy things on the golf course. He gives me coronaries every week. Then Rory McIlroy. What a U.S. Open that was. You were lucky to see that, son. You may never see that again. And then Arnie.
Since launching his first golf writing website in 2004, http://jayflemma.thegolfspace.com, Jay Flemma 's comparative analysis of golf designs and knowledge of golf course architecture and golf travel have garnered wide industry respect. In researching his book on America's great public golf courses (and whether they're worth the money), Jay, an associate editor of Cybergolf, has played over 420 nationally ranked public golf courses in 40 different states, and covered seven U.S. Opens and six PGA Championships, along with one trip to the Masters. A four-time award-winning sportswriter, Jay was called the best sports poet alive by both Sports Illustrated and NBC Sports writers and broadcasters. Jay has played about 3 million yards of golf - or close to 2,000 miles. His pieces on travel and architecture appear in Golf Observer (www.golfobserver.com), Cybergolf, PGA.com, Golf Magazine and other print magazines. When not researching golf courses for design, value and excitement, Jay is an entertainment, copyright, Internet and trademark lawyer and an Entertainment and Internet Law professor in Manhattan. His clients have been nominated for Grammy and Emmy awards, won a Sundance Film Festival Best Director award, performed on stage and screen, and designed pop art for museums and collectors. Jay lives in Forest Hills, N.Y., and is fiercely loyal to his alma maters, Deerfield Academy in Massachusetts and Trinity College in Connecticut.