Ireland's 40 Shades of Green
By: Elisa Gaudet
"I just dress up what the Good Lord provides."- Legendary Irish golf course designer Eddie Hackett.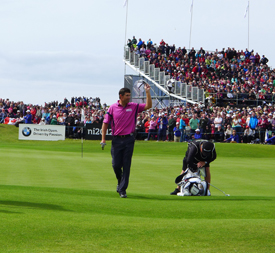 Padraig Harrington at the Irish Open
Eddie Hackett's words best sums up Ireland as a whole. The beauty is simple yet breathtaking, largely due to the "Forty Shades of Green" that describes the country. The reference was also popularized by a 1961 Johnny Cash song by the same title that he wrote during a visit.

The island is currently experiencing a rebirth and maintaining its place as a golf Mecca. I recently visited the "Land of Links" and was not disappointed. The Irish Open at Royal Portrush Golf Club was a huge success, with record-breaking crowds of 130,785 during the week.

It was the first time the European Tour event had been played in Northern Ireland since 1953. The player turnout was also spectacular, with Ulstermen Darren Clarke, Graeme McDowell and Rory McIlroy on hand, while the Republic of Ireland was represented by Padraig Harrington and Paul McGinley, with players from England, Scotland and even America's Keegan Bradley, the 2011 PGA champion competing. Welshman Jamie Donaldson won.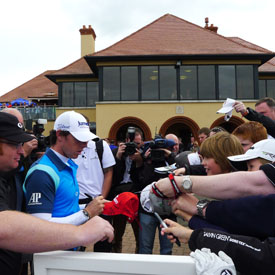 Rory McIlroy Signing
Autographs at Irish Open
The Irish Open had the energy and buzz of a major, and the atmosphere felt more like a mix between a European football (soccer) match and Justin Bieber concert, due to McIlroy's popularity.

In typical "Two Good Rounds" fashion, a trip to Ireland would not be complete without a visit to the world-famous Bushmills Distillery. Tours are available; we were fortunate to have a private tour that concluded a tasting in the bar.

Irish whiskey differentiates from Scotch malt whisky as there's an absence of a smoky taste. In Scotland, the malted barley acquires a peaty character while it's being dried, giving it a smoky flavor. With Bushmills the smoke is not introduced, resulting in more pronounced malt-honeyed flavors. Another difference is that in Scotland most whiskies are distilled only twice, whereas Bushmills distills its product three times to give it more smoothness.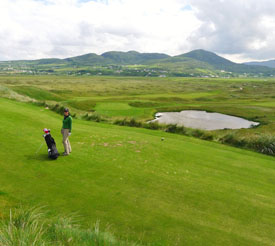 Elisa at Ballyliffin
The Bushmills Inn Hotel is right out of a novel. The beautifully restored hotel, restaurant and bar transport you back in time. The original coach house and stables are believed to have originated in 1608, the same year Bushmills was granted Ireland's first-ever license to distill whiskey. The Gas Bar is rich in history and is still lit by gas lights. Most nights you can enjoy your drink to live, traditional Irish music.

Downtown Belfast is vibrant, combining old with new, and its dining options are outstanding. Notable places include Browns, which serves a prix fixe six-course dinner, with wine pairings so spectacular even the French would give a nod of approval. Other hot spots include Dean's restaurant and McHughs Bar on Queens Square. McHughs is a popular traditional Irish bar originated in 1711 and is in the oldest surviving building in Belfast.

And the golf did not disappoint. Ballyliffin Golf Club and Donegal Golf Club on the northwest coast of Ireland were everything I dreamed Irish golf would be. There was more rain than I'd hoped, but this is Ireland.

The views from these fairways and greens are stunning. Perhaps an Irish caddie's comment after a shot into tall rough best describes the difference between golf in Ireland and the U.S.: "Even if the ball was wrapped in bacon, Lassie couldn't find it."
Elisa Gaudet brings a wealth of entertainment and golf experience to Cybergolf. Elisa has spent the past several years in the golf industry in the U.S., Latin America and Spain. She worked for the PGA Tour and the Tour de las Americas before founding Executive Golf International, a golf marketing company that works with clients to develop strategies using golf as the medium. Often referred to as the Maria Bartiromo (a business analyst for CNBC) of golf, Elisa says: "Golf, as a marketing tool, has been around for years. It's amazing how many new ways companies can align their brand with the golf market to reach their target audience. Our goal is to create alliances and establish cross-border relations." Elisa also worked in the entertainment industry for over 10 years, including five in Los Angeles as a model and actress. She can be seen at many celebrity golf events and often gets the inside scoop from PGA Tour players. In 2011, Elisa published her first book, "Two Good Rounds" (Skyhorse Publishing). Her story for Cybergolf, "Golf a Romantic Affair at Cabin Bluff," won the top prize in ING's 2012 Travel Writing category. For more information about Elisa, visit her websites at www.onthelip.com or Executive Golf International www.execgolfintl.com.