Irish Eyes are Smiling as Four Major Champions Tee it Up at Home
By: Steve Habel
The Irish love golf - especially their golf, their courses and their golfers. But this weekend's Irish Open - a tournament being contested on the inland, lakeside Killeen course at the Killarney Golf & Fishing Club in the southwestern part of the country - takes on added significance with the recent major championship success of a trio of the Republic's native sons.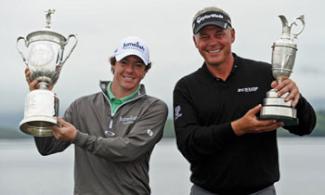 McIlroy & Clarke Show Off Their Hardware
Ireland is still abuzz about the recent win at the British Open by Darren Clarke, who has spent the past two weeks celebrating his resurgence at Royal St. George's. Clarke's breakthrough ended his 20-year wait for a major title and came just a month after Rory McIlroy bounced back from his 2010 Masters' disappointment to win the U.S. Open at Congressional CC in sensational style.

The Irish Open should be a source of national pride for the Emerald Isle and likely one of the most memorable ever with 2010 U.S. Open champion Graeme McDowell and three-time major winner Pádraig Harrington also in the field. Both McDowell and Harrington have struggled of late, but with crowds of better than 100,000 expected for the weekend, all the world - at least on the 7,188-yard, par-71 course - seems bonny and bright.

"Everyone, no matter what country you're from, wants to win their national Open," said McIlroy, who was 3-under par after nine holes but faded to a 70 in the opening round thanks to a double bogey on the 18th. "Being a major champion and coming here this year, everyone's expectations are very high. I haven't had the best results in this tournament last couple of years, but it would be great to win and keep the Irish momentum going."
Everywhere you go in Ireland and especially in this region of County Kerry with about 17,000 people the likenesses of the "Big 4" can be found - in shop windows and on coaches (buses), on banners along the streets and behind the bar at tiny bed and breakfasts.

The Irish Open may be without a title sponsor, but the 2011 event continues to show that golf is at the forefront of the minds of the country's golf-mad fans.

"Having 100,000 people coming to the Irish Open says something about the state of Irish golf," said McDowell, who did little in the opening round while carding a 1-over 72. "You know, you end up pinching yourself because it's pretty tough to get your head around the fact that three Irishmen have won majors in the last 13 months.

"People are excited about it now, and they are going to come and support the Irish players," McDowell added. "Hopefully it will give the tournament the boost that it needs to attract a prospective sponsor to put this tournament back on the map where it belongs as one of the premiere events on the European Tour. It would be just an amazing place to hopefully get the rebirth of this tournament."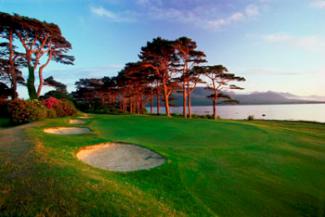 Killarney Golf & Fishing Club
The dominance of Irish golfers in recent majors has spurred questions about the sudden success. Belief and expectation for success are contagious among Irish players, McDowell said.

"I'm sure people are wondering how a small island like ours (Ireland is about the size of Wisconsin) can produce the players that it continues to produce," he explained. "There is definitely an acceptance and belief and an inspiration on some kind of level. Harrington opened the floodgates for the Europeans to really start contending in the majors, because in the last four or five years the belief level has increased dramatically. There were guys that had been coming close, and obviously for me to win and for Rory and Darren to follow it right up, it's some kind of contagiousness."

"Without Harrington's inspiration," Clarke said, "I don't think any of us would be sitting here.

It's just sheer determination, and that's an Irish trait," Clarke added. "Pádraig is the embodiment of that with his practice and hard work. He does that probably more than anybody and G-Mac works hard and Rory is blessed with a different kind of talent than all of us."
The field for the Irish Open is not world-class - in fact not one PGA Tour player is in the grid - but that won't stop the tournament from being special to the players and the fans. "Hopefully we can get a home winner in the sunshine on a beautiful golf course and really get this golf tournament kick-started again, McDowell said.

With Ireland mired in a horrific economic shortfall and more than 14 percent of its workforce unemployed, the Republic continues to market tourism as a way to generate money and buoy disheartened citizens.

Tourism efforts, especially to Northern Ireland - the home of McIlroy, McDowell and Clarke - have been hampered by "The Troubles," a period of an ethno-religious political conflict that spilled over at various times into Britain, the Republic of Ireland and mainland Europe. The duration of "The Troubles" dates from the late 1960s and is considered by many to have ended with the Belfast "Good Friday" Agreement of 1998. But in 2011 sporadic violence has nonetheless continued.
"I travel the world and meet people who have visited Dublin and places on the southwest coast but have never came to the north," McDowell said. "What myself and Darren and Rory and Pádraig have done has helped to remove that border from a golf point of view, and sports certainly transcends the country."

McDowell was part of a media event last week in Portrush outlining a potential event in Northern Ireland. "The south area is a golf destination, and hopefully it will continue to be as popular as it is," he said. "I hope the things I'm doing will help bring people over here. We do our best to promote Ireland and Northern Ireland."
Steve Habel is one of Cybergolf's national correspondents, contributing news stories, features, equipment and book reviews and personality profiles from his base in Central Texas. He is also the managing editor for Texas CEO Magazine and works as a contributing editor for Horns Illustrated magazine, a publication focusing on University of Texas sports. He also writes a blog (www.shotoverthegreen.blogspot.com), which features news on golf and the Longhorns, and another (www.checkinginandplayingthrough.blogspot.com) on his many travels, which took him across the nation and to 105 different golf course in 2009. Habel is a member of the Golf Writers Association of America and the Texas Golf Writers Association.