Irish Golf Journey Continues at Portmarnock & The European Club
By: Rob Duca
[Editor's Note: This is the second installment of an Irish golf adventure taken by Cybergolf contributor, Rob Duca. For Rob's first story, visit http://www.cybergolf.com/golf_news/an_irish_golf_journey_begins_at_ardglass_royal_county_down.]

Upon departing Northern Ireland, we ventured south toward Dublin where we had a tee time that afternoon at Portmarnock Golf Club, host to numerous significant championships through the years, most notably the Irish Open and the Walker Cup. Arnold Palmer and Sam Snead teamed up to win the Canada Cup there in 1960, while Irish Open winners on this sacred land include such luminaries as Seve Ballesteros, Bernhard Langer, Jose Maria Olazabal and Ben Crenshaw.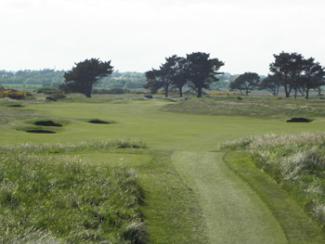 No. 15 at Portmarnock GC
Unlike Royal County Down, where one is subject to unpredictable bounces and unplayable gorse, Portmarnock is a more straightforward links test. The fairways are mostly flat and hard, and there aren't as many blind approaches to the greens. Of course, there are plenty of well-stationed pot bunkers and ample amounts of thick fescue to remind players that this course has existed since 1894 and has remained virtually unchanged since its inception.

Tom Watson has said of Portmarnock that "there are no tricks or nasty surprises, only an honest, albeit searching, test of shot-making skills." In 2009, Golf Digest named it the No. 1 course in Ireland.

Portmarnock feels like it's been around forever. The drive into the club is a narrow two-lane road, and you know you're getting close when you spot golfers warming up hitting balls in the middle of a field. No formal driving range here. The sedate, wood-paneled clubhouse has a museum-like quality, with old golf clubs, photographs and trophies around every corner. It is eerily quiet and dimly-lit; it almost feels like being in a church and, like a place of worship, the wearing of golf shoes and hats is strictly forbidden.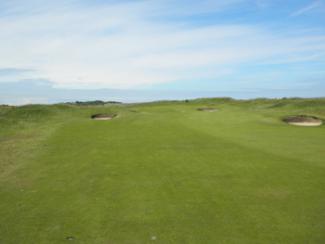 The 14th at Portmarnock
The course sits hard by the sea, but there are not an abundance of spots with ocean views. Be prepared for long and challenging holes, however. Even the forward tees measure 6,701 yards; those venturing to the back markers face nearly 7,500.

The round begins with three par-4s that, from the middle tees, range between 360 and 397 yards, and usually head into the prevailing wind. The opening tee shot must be kept left to avoid an estuary that runs along the right side all the way to the green, where a trio of pot bunkers stands ready to swallow up shots.

The fourth hole ranks No. 1 in difficulty. Measuring 435 yards even from the forward tees and 474 from the tips, the drive must be threaded between bunkers on both sides of the fairway.

Avoiding pot bunkers, which are everywhere, and negotiating the swales and contours of the greens, is what defines Portmarnock. It is a classic links made more challenging when the weather turns nasty, as it often does in these parts. We played it on a calm day, which took much of the bite out of the course.

Unlike Ardglass, County Down and courses to come on our trip, we had difficulty defining memorable holes at Portmarnock. Yes, it was a fine, fair set-up, with all you would expect from an Irish links. And obviously, it exudes a fabulous history of great champions who have walked its fairways. But in some ways it was slightly disappointing. To put it simply, we were not overwhelmed by its beauty or especially intrigued by the layout. Maybe we were spoiled by Royal County Down, which came early in our adventure.
The European Club's Cursing Stone
But then the following day we went to The European Club, about an hour south of Dublin, and realized we could still be captivated by a course, and one might add, by its gracious and charismatic owner, Pat Ruddy.

One can't talk about The European Club without first discussing Ruddy, a former journalist and current golf course designer who made it a life-long mission to build his own golf course. Though that dream came true in 1987, this course will never truly be completed as Ruddy is constantly tweaking the design. He greets visitors in the pro shop, will walk them to the first tee while joking that they should only hope to survive the course, and perhaps even swap stories over an apple tart (a club specialty).

His sense of humor permeates the club. A sign upon entering the premises reads "Spikes: We prefer traditional steel spikes for safety but soft spikes are allowed." Midway through the round golfers come upon a "cursing" stone, where they are asked to revolve seven small stones counterclockwise and invoke a curse. And there is a large box at the bottom of the scorecard with the headline "What My Score Should Have Been."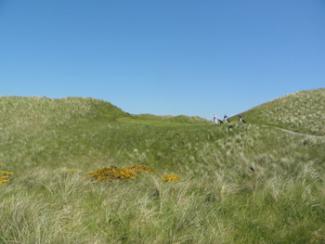 The Actual 7th Hole at the European Club
He also hands out a scorecard-sized booklet with the headline, "Welcome to Our Philosophy." Among its tidbits: "Our approach to golf is fundamentalist. Accordingly, you will not find fuzzy furniture on our links. You might take it to be Spartan, while we think it is akin to the way the game was in the beginning and as it should be now. Take your card and pencil and go out and do battle with a great [landscape] that requires no artificial adornment."

The European Club is a magnificent layout. It may lack the history of other iconic Irish courses, but it possesses superbly designed holes, with nothing to spoil the dramatic views of the Irish Sea and the Wicklow countryside.

The extraordinary scenery begins at the par-3 second, where from the elevated tee you can gaze upon the stunning surroundings, with the ocean as a backdrop. The green sits in a valley, ringed by four deep bunkers faced with railroad ties that, when hit, will repel balls backward onto the fairway. The railroad ties in the bunkers are one of Ruddy's special touches. Another is holes 7A and 12A; yes, there are 20 holes here. "It's a bit of walk from green to tee after 7 and 12, so I figured, why not play a hole along the way?"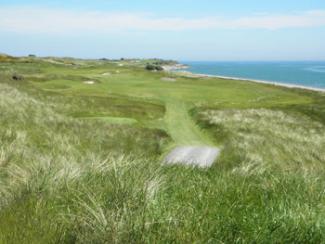 European Club's 12th Hole
The actual seventh, a par-4 of 470 yards, has been named one of the world's 100 greatest holes. A narrow strip of fairway is framed on both sides by heather, requiring precision and length. But I truly loved 7A, a par-3 of 166 yards that heads uphill to a green engirded by grass dunes and fescue, with a steep drop-off in front.

The 459-yard 12th is another stiff test. The fairway parallels the Irish Sea, and a series of bunkers dot its left side. The 12th green is 100 yards long. Before reaching the 596-yard 13th, golfers play the uphill 12A, which is a par-3 bear at 205 yards. When Tiger Woods visited the course in 2001, he reached the 13th green in two by hitting driver off the deck en route to a 67, which still stands as the course record.

That's not an especially low score for an all-time course record. But it tells you about the shot-making demands of The European Club, a magical venue that can rightfully takes its place among the greatest on the Emerald Isle.
Next: A visit to Lahinch Golf Club and Doonbeg Golf Club.
Rob Duca is an award-winning sports columnist who wrote for the Cape Cod Times for 25 years, covering golf, the Boston Red Sox, the Boston Celtics and the Boston Bruins. He is now managing editor of Golf & Leisure Cape Cod magazine and has written for a variety of other publications, including Sports Illustrated, the Boston Globe, Yankee magazine and Cape Cod Life.