Irish Influences on Northern Minnesota Golf? Oh, Yes! - Part 10
Editor's Note: In this 10th installment of golf course architect Jeffrey D. Brauer's ongoing journal about construction of a second course at Giants Ridge in Biwabik, Minn., he discusses how Irish golf courses affected his choices on this quarry course halfway around the world.

I love northern Minnesota. While building courses up there, I have encountered bears, moose, elk and timber wolves. Last week, we saw three bear cubs frolicking on the site of the 14th green. The excitement was tempered a bit by the thought that mama bear must be nearby, and we might be in her path back to the cubs!
The course continues to shape up, as the pictures attest. It seems we forgot to submit them last month, or at least they went out into Cyber Space, never to return. Those pictures should be included with this installment, and hopefully save on some verbiage.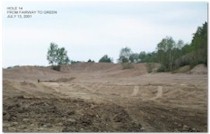 Hole 14 from fairway to green.
In the last installment, I alluded to how many potential design influences there are. My staff almost hates to have me go on a trip, because I inevitably stop to see or play some course, and naturally try to adapt some of its best ideas. As it happens, the plans for the Quarry were being developed just after a trip to Ireland. I have always loved golf in the British Isles. I can't understand how people come back saying it wasn't fair, or not as green or well-maintained as their local municipal course. Certainly, those individuals don't understand the soul of the game! Or they are so concerned with score that they would wish all potentially "unfair" features designed right out of golf.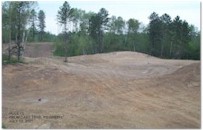 Hole 15, from cart trail to green.
The courses of Ireland, while not quite as famous as Scotland's, are actually set in more dramatic topography. The topography, while formed under entirely different circumstances, reminds me of the Quarry in several ways. It was natural to adapt some holes and concepts from Ireland in the design. As we last discussed, the 9th hole was inspired by a combination of Ireland and the 18th at Bel Air Country Club in Los Angeles.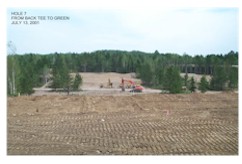 View from the back tee at No. 7.
The Irish influence also shows up on holes 6 and 14. The 6th has three steep-banked pits about 140 yards in front of the tee. These are located similarly to many of the dunes on early Irish courses. They require a blind tee shot, and a penalty in the form of a bunker more than 20 feet deep if you fall short. These must have been fearsome in the days when a good tee shot only went 150 yards. They are still fearsome today! In any event, the quarry remnants are there in Biwabik, and we are going to leave them as a hazard. Unlike Ireland, I finally relented enough to shave down the top bank to provide vision to the fairway from the tee. After all, it is a course designated as a "once-per-year" facility for golf outings for Twin Cities golfers.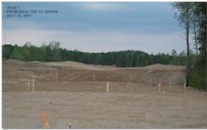 From the back tee at the 1st hole.
The 14th green is more or less a copy of the famous Dell Hole. This hole features a completely blind green, as it sits in the middle of several large dunes, including one that blocks your view. Only a white rock tells you where to aim. Of course, the Dell Hole is a par-3, and our's is a par-5. And, again looking to American sensibilities, we kept the left third of the green open and visible, covering the right two-thirds with an existing mound left over from quarry operations. We then piled up the dirt all around the green to provide a reasonable facsimile of the secluded nature of the Dell, leaving an opening from the cart path, and making sure it fit the requirements of the Americans with Disabilities Act, something Old Tom Morris probably didn't consider when laying out the original.
We actually let this hole sit over the winter, as we debated what was the best thing to do on it. On one hand, I was looking for a place to recreate the Dell, and this flat green site would accommodate. On the other hand, I was also looking for at least one perched green on the course, and this site was naturally elevated. In some ways, it didn't seem right to try to make it look as if it were sunk in a natural hole by piling up dirt all around it. Lastly, I was also looking for a low-profile green on the back nine, and the flatness of this area lent itself to a small green surrounded by fairway-height grass.
What steered it in favor of the Dell copy? First, it was an uphill shot, so the low-profile features wouldn't be noticed from where they would be most important - the tee-shot landing area on this go-for-it par-5. Second, once the tees for hole 9 and 15 were shaped, with attendant mounding, it was obvious that more mounds would fit right in and "complete" the visual picture, not only from 14, but also on holes 9, 10 and 11. We had also modified the 13th green, because of some unknown dramatic topography at its green site, and that in effect, became our elevated green. And, the 12th green is now planned for lots of fairway grass around the edges. It just shows how a potential change to one green may have a ripple effect across the course.
I hope you can see some of the dramatic topographic features present on holes 6, 9 and 14 from the photos.

Next month, we will show you the 7th and 8th holes, which should be finished, and which bear a real resemblance to, and inspiration from, Pine Valley!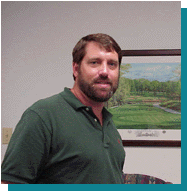 Jeffrey D. Brauer and his firm, GolfScapes, have designed 40 golf courses and remodeled 80. Canterberry Golf Course in Parker, Colo., and Giants Ridge are rated among the best affordable public courses in the United States, while his Avocet Course at Wild Wing Plantation in Myrtle Beach, S.C., was a Golf Digest best new course winner, Champions Country Club is rated 5th in Nebraska and TangleRidge Golf Club is 12th in Texas. President of the American Society of Golf Course Architects during its 50th anniversary year in 1995-96, Brauer also designed Colbert Hills Golf Club at Kansas State, which opened in June 2000 as the cornerstone golf course for The First Tee program as well as the first collaboration between the PGA of America and Golf Course Superintendents Association of America.