Is GolfBoard the Game's Next Big Thing?
Though it's too late to be a Christmas present for the golfer who has everything, the GolfBoard might be the next item on your gift list.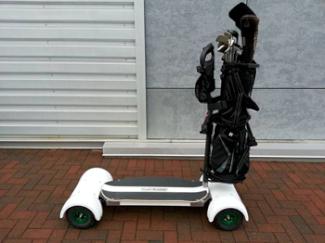 Resembling a large motorized surfboard, the device carries a golfer and his clubs around 18 holes, thanks to a four-wheel-drive system powered by a lightweight lithium battery pack built into the base of the board.

The GolfBoard was recently demonstrated at a charity golf event in California, and will be making its debut at the annual PGA Show in Orlando January 22-24.

The man behind the product, Don Wildman, the 80-year-old founder of Bally Total Fitness and a resident of Malibu, Calif., said, "It will do for golfing what snowboarding did for skiing.

"It's an old man's sport. I know if I had kids, they would really like to come out and play golf if they got to ride around on . . . an electric skateboard," he told AFP.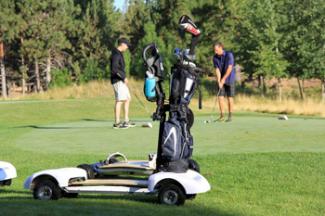 The GolfBoard is being made in the U.S., and Paul Hodge heads the company. "If you really want the industry to grow, and to be accepted by the mass market, you need to kill that stodgy conservative attitude . . . and you need to make it fun . . . and attract the younger crowds," he told AFP.

"Forward-thinking people in the golf industry right now realize you can't focus on what was the game like 100 years ago. You need to focus on, what's the game going to be like in the future?"

The board is 15 inches wide and has tires 3.5" wide and 9" tall. The company promises the tires and even power distribution to each wheel enable the device to navigate all types of terrain, eliminating spinouts even in wet conditions.

Bumps are absorbed by a flexible and adjustable spring plate at each end, and a shock absorber ensures a smooth ride. It is designed to handle golfers weighing more than 250 pounds on a very hilly course, and can go at least 18 holes without the battery needing recharging.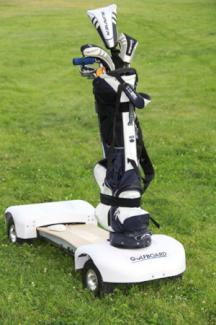 The GolfBoard, which is steered by handlebars and controlled by a wireless handheld remote, can be adjusted to speeds ranging from 7 to 11 mph, the latter velocity the same as a standard power golf cart. The board can be transported in a car trunk.

Safety features include an automatic parking brake that activates when a golfer steps off the board, and a fully enclosed drive train that protects hands and fingers from moving parts.

The company says that that because of the GolfBoard's navigability and wide tires, rounds will speed up and less damage will be made to golf turf than that caused by heavier, conventional golf carts.

Hodge notes the company already has orders for 2,000 GolfBoards, which retail for $3,500 each. He says the company has the capacity at its New Jersey manufacturing facility to build 1,000 units a month. "Now we're moving to mass manufacturing to fill the demand that we've created," he added.

Though the target users are ages 15-40, an older demographic has taken note of the GolfBaord. "We've had a surprising interest from golfers much older than that. The standup (handle) bar that we've added makes it easy for anybody to ride.
"So you don't need to have a really strong athletic background to be able to ride it," Hodge added, while acknowledging, "It's certainly more challenging when you take the bar off."

Chris van der Velde is the owner of Tetherow Golf Club and was among the first course operators to lease the boards to gauge customer interest. "I think it makes golf a lot of more fun, a lot more interesting between shots . . . it will intrigue people who like to surf, or snowboard or skateboard. You certainly don't get bored," the former European Tour player told AFP.

Though Wildman predicts that "eventually the majority of people will be playing golf on a GolfBoard," Van der Velde was a bit more conservative in his prediction of its ultimate popularity. "I'm not sure it's a traditional game-changer," he said.

"Some people will push back. Some people won't like it because it's different. They didn't like going from wooden clubs to metal heads. So it'll push people back. But it's pretty cool."