It's Confirmed: Bandon Dunes to Add another Course
Bandon Dunes Golf Resort has confirmed that it's begun work on a new natural-grass putting course. The new short course will be co-designed by Tom Doak and Jim Urbina, who were reunited by Bandon Dunes owner Mike Keiser for the project.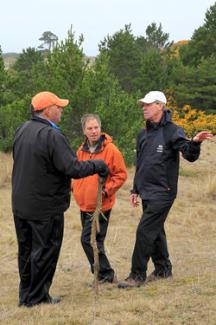 Urbina, Doak & Keiser at Punchbowl
The putting course at Bandon Dunes Golf Resort will be akin to the famed "Himalayas" at St. Andrews in Scotland. The three-acre site, which consists of natural dunes and rugged contours, is located adjacent to the Pacific Dunes clubhouse with views of the Pacific Ocean to the west.

"The Punchbowl" - as it's currently being called - might be the largest putting green in the world when completed, which is expected to occur in fall 2013.

It won't be the first time Doak and Urbina collaborated at the world-famous golf resort on Oregon's southern coast. The two architects oversaw the creation of Bandon's fourth course, Old Macdonald. Doak was responsible for Pacific Dunes, the second layout at the resort that has been lauded by various publications as the best public course in the U.S.
After Old Macdonald opened, Doak and Urbina had an amicable separation from Doak's Renaissance Golf Design, with Urbina forming his own golf firm.
The new putting course may include three 18-hole routings, with two open on a daily basis. It's also possible that the new short track will have lights to allow nighttime play.
For more information about Bandon Dunes Golf Resort, visit www.bandondunesgolf.com.