It's Easy to Be a Fan of Women's Professional Golf
By: Dave Andrews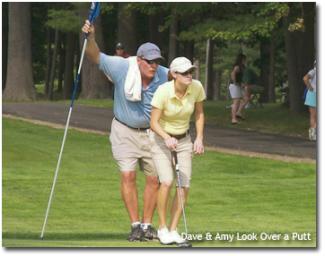 Two winters ago, while some of my golfing buddies and I were on our annual golfing trip in Florida, I happened to spot a young woman golfer down at the end of the driving range at the course we were about to play that morning. I could tell after watching her hit just a couple of shots that she was very good . . . probably a college player, or perhaps even a professional. Her smooth, flawless swing and crisp shots easily identified her as much more than an average player. I walked over to compliment her on her great swing and we struck up a conversation.
She told me she was Amy Schmucker and was from Minnesota and had just graduated from the University of Michigan (where she was captain of the women's golf team). She also told me she had just turned professional and was about to begin her first season (2007) on the Duramed Futures Tour, the official developmental tour of the LPGA. I told Amy that the tour would be playing one of its events in the upcoming summer at my home course in Concord, N.H., and I'd look for her then. I wished her luck and went off with my buddies to play our round. I remember thinking as I hacked it around the course that day that I wished I could swing a club like the young pro I'd just met on the driving range.
I followed Amy's progress that season over the tour's website and when the tour came to Concord, I reintroduced myself to her and she agreed to let me caddie for her in the event. It was a wonderful three days out on the course carrying her bag and even helping her a little with some of my local knowledge of the course. That began a friendship with a charming young professional golfer who has a very bright future ahead of her. We now play together occasionally in Florida, and I caddie for her once in a while at other events when I can.
Through Amy, I've learned about what all of the Duramed Futures Tour players go through as they try to live their dream of making it to the LPGA Tour. They are amazingly dedicated and determined young women. It is inspirational to watch and read about these players as they travel all over the country (driving thousands of miles each season to one tour stop after another), trying to prove to themselves that they have what it takes to eventually compete with the best women golfers in the world.
If I had ever had a daughter, I could not have asked for a nicer one than Amy. It's been a pleasure to get to know her on and off the golf course. The tour's return to Concord every July is always one of the highlights of my summer.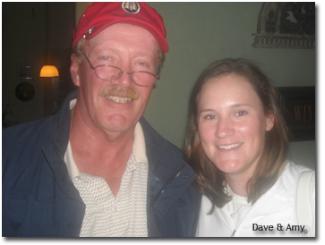 Amy is now preparing for her third season on the Duramed Futures Tour. She had a rocky second year on the tour, and her move up to the LPGA is taking longer than she had probably hoped after turning professional two years ago. There are so many other players on the tour just like Amy, each grinding it out in the "minor leagues" of women's professional golf, working hard week after week to reach the pinnacle of their sport.
If you ever have a chance to take in a Duramed Futures Tour event in your area in 2009, don't pass it up. Go out and meet your own Amy Schmucker. It will make you an instant fan of all these great young professionals.
Dave Andrews is a Harvard-educated former television news reporter. He's also an avid golfer who has become a fan of the Duramed Futures Tour. His home course in Concord, N.H., is annually the site of one of the tour's events. The inspiration for Dave's 2007 novel, "Pops and Sunshine," came from meeting many of the young aspiring women golfers on that tour. Each of them has a passion, dedication and determination that he finds remarkable. His novel is a fictionalization of the dream that these young women share. To order Dave's book, visit http://popsandsunshine.com.