Jack & Arnie to be Co-Starters at Masters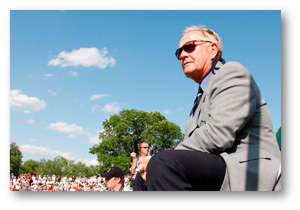 Billy Payne, chairman of Augusta National Golf Club and the Masters Tournament, has announced that six-time green jacket winner Jack Nicklaus will join Arnold Palmer as an honorary starter for next year's Masters.
"I am honored that Jack Nicklaus has accepted our invitation," Payne said. "We are delighted and fortunate to have such a great ambassador and icon of our sport take part in this tradition. He has inspired generations of golfers and having Jack join Arnold on the first tee next April will be a special thrill for his many loyal fans around the world."
Nicklaus made his first appearance at the Masters in 1959 as an amateur. In 45 starts at Augusta National, he became the most decorated Masters champion with six green jackets, winning in 1963, '65, '66, '72, '75 and '86. Among his many remarkable records is his tie for the most runner-up finishes (four) and his record as oldest champion (46 years, 2 months, 23 days) with his final win.
The last time the 69-year-old Nicklaus played in the year's first major was 2005. His longtime friend Palmer, 79, began hitting the ceremonial first tee shot in 2007. The two will be on hand for the first day of the 2010 tournament, which starts April 8 in August, Ga.
"I have had such a long-standing appreciation and love affair with Augusta National and the Masters Tournament, and this honor is a wonderful way for me to say thank you to the many patrons who have supported me over the decades," Nicklaus said. "I am also delighted to join my longtime friend Arnold on the tee. I have always had great respect for Arnold and his legacy at the Masters, and I did not, in any way, want to infringe on the opportunity for Arnold to have and enjoy this Masters tradition for himself.
"He is so deserving of this honor, and thus I felt it was his time, not mine. Recently, I was invited by both Augusta National and Arnold to join him on the first tee, and because he enthusiastically supported the invitation, it became an easy decision for me."
The custom of having Honorary Starters began in 1963 with Jock Hutchison (1963-73) and Fred McLeod (1963-76) performing the duties. Byron Nelson (1981-2001, non-consecutive), Gene Sarazen (1981-99), Ken Venturi (1983), Sam Snead (1984-2002) and Palmer (2007-present) continued the practice.
The presentation of the honorary starters and ceremonial tee shots historically take place before the first tee time of the first competitive round during tournament week, signaling the official beginning of the Masters.