Jack Nicklaus Introduces Own Golf Ball Line
Jack Nicklaus has announced his own line of golf balls. The three balls - Nicklaus Black, Nicklaus Blue, and Nicklaus White - are designed to accommodate three skill levels of players.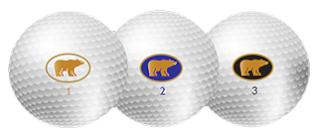 The Three New Nicklaus Golf Balls
The balls are going into production this month and will begin shipping in November. They'll initially be sold exclusively online at www.nicklaus.com and through golf/pro shops at the more than 200 Nicklaus Design courses nationwide.

A percentage from every golf ball sold in those shops will be donated to the Nicklaus Children's Health Care Foundation to support pediatric programs and hospitals nationwide.

"We all know that the game of golf can be challenging enough, so we are trying to simplify the decision-making process of selecting the right golf ball and at the same time provide consumers the highest-quality golf balls and at a price that encourages charitable support," Nicklaus said in press release. "By buying these balls, players will get the added benefit of supporting these wonderful charities that help children in need as well as the families that dearly love them.
"The idea of creating three balls corresponds to the teeing areas golfers typically play. The Nicklaus White ball is designed for the players who might typically play the forward or white tees. Nicklaus Blue is designed for players who would typically play the middle or blue tees. And, finally, Nicklaus Black is designed for the single-digit or better golfer who generally plays from the back tees."
The introduction of the Nicklaus-branded golf ball is the latest venture since he partnered with Howard Milstein in 2007 to help grow his company. Milstein is chairman and CEO of New York Private Bank & Trust, and is actively involved in the Nicklaus Companies as co-chairman along with Jack.
Milstein said, "The beauty of these balls is they solve the golfers' dilemma of which ball to play-all you need to know is the tee you play from-and no matter what your skill level, you know we've designed the highest quality golf ball best suited to your game."
Nicklaus added, "For more than three years, we have contemplated entering the golf ball business, so over that time, I have been researching and testing golf balls. There are a lot of very good balls on the market, but I was not able to find a ball that fully met my expectations and hopes not just for me or other professionals, but more important, for the everyday golfer. So I simply decided not to enter the business until I found that ball. Well, I found that ball. Actually, I found three.
"These golf balls are designed for every level of play, from the everyday or recreational golfer-be it men, women, children, or seniors-to the tour professional. No matter the age or ability, there is a golf ball to fit your game. Our strategy is based on a simple principle: skill level is an extremely important factor when selecting the right golf ball. From the tees you play, we know your swing speed; this is paramount when choosing a golf ball. But no matter the percentage of players who know their swing speed, 100 percent of them know the tees they play."
Online sales will save golfers money by reducing distribution costs typically built into golf balls sold through traditional retail channels. Nicklaus Black will sell in pro shops for $50 a dozen, but while that is the recommended price when sold through Nicklaus.com, site visitors will pay $32, plus a voluntary contribution of up to $20 for those who can afford a donation.
Nicklaus Blue and Nicklaus White are priced somewhat lower at $46 in pro shops, while on Nicklaus.com the price is $28 a dozen plus the optional contribution. During a month-long pre-order period, customers can order the ball for discounted introductory prices of $30 (Nicklaus Black) and $26 (Nicklaus Blue and Nicklaus White).

"My partner, Howard, who is a well-known philanthropist, emphasized from the start that if our company entered the golf ball business, it was going to be with a philanthropic vision," said Nicklaus, who along with his wife Barbara, established the Foundation in 2004. "Specifically, he wanted to make as a priority the ability to raise funds for the Foundation through sales of the golf ball. Profit was secondary. So that is our mission. When Barbara and I created the Foundation, the goal was to provide access to world-class healthcare for all children and support innovative programs focused on childhood illnesses. With the introduction of this golf ball, we have created one more vehicle to help children in need."
For more information about the new Nicklaus Golf Ball, visit www.nicklaus.com.