Jacobsen Hardy Renovating Wedgewood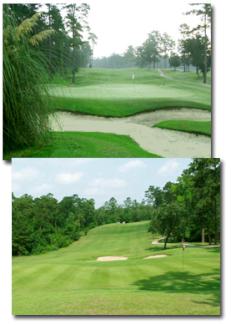 Jacobsen Hardy Golf Course Design will break ground soon on a multi-phase renovation project at Wedgewood Golf Club in Conroe, Texas. Phase I of Jacobsen Hardy's master plan calls for the complete renovation of holes 1-3, creation of an island-green par-3, and the development of a newly situated, state-of-the-art practice facility.

"The schedule calls for construction to take place this spring, with the new holes and driving range to re-open for play this fall," says Rex VanHoose, senior vice president/managing architect at Houston-based Jacobsen Hardy. "Wedgewood is already one of the area's busiest daily-fee courses and the site, adjacent to Lake Conroe, is blessed with some beautiful sandy soil. That's not unusual for this area but it's a big reason why Wedgewood remains so dry and busy. Because the course gets so much play, our clients at Wedgewood have brought us in to improve the playing conditions while making the course more playable and dramatic. And that's exactly what we're going to do."

Wedgewood Golf Club was purchased by Logeman Homes, Ltd. during the summer of 2005. The new ownership immediately laid out plans for upgrading the property. A retail development is now under construction along Highway 105, which borders the club. Logeman is also planning to break ground this summer on a new clubhouse and a 24-building, upscale apartment home project atop the old driving range.
This first phase of the course upgrades (there are five phases in all) includes relocating Wedgewood's driving range to a new parcel recently acquired by the club. As a result of this move, Jacobsen Hardy was charged with designing two new opening holes; the 3rd hole has also been redesigned.
"The island-green 3rd is going to be something special," VanHoose explains. "We've created a wetland theme around the island similar to the water-born plantings we created at Blackhorse [an original JH design in Cypress, Texas]. So many island greens look naked and abrupt to players on the tee. By surrounding the putting surface at Wedgewood with lateral shelves and incorporating wetland plantings, we'll soften that abruptness and make the target look bigger. When it opens in the fall, this little devil is going to be one of the most talked-about holes in Houston."
Wedgewood head pro Mike White agrees. "I think the little island-green par-3 is going to be our new signature hole," he says. "It's going to be a really neat hole, but what's really interesting about Jacobsen Hardy's plans is they're going to make this course a lot better and a lot easier to get around. For example, the current no. 3 hole - a par-5 that's going to be our new 2nd hole, when the work is finished - now requires a forced carry into the green. Jacobsen Hardy is filling in the front of that green, which will help the average golfer play that hole."
"We couldn't be more excited about Jacobsen Hardy's plans for our golf course," adds Karen Day, marketing director at Wedgewood. "Our members and local residents are equally excited because Jacobsen Hardy will be making the course better in addition to making some of our holes a lot more playable. And frankly it's great to be working with a design firm located nearby."
VanHoose agreed, noting that Jacobsen Hardy is especially pleased to be working again so close to the company's home base in Houston. JH has done some celebrated work in Texas: Blackhorse is considered the city's top daily-fee course; its design at Redstone GC played host to the PGA Tour's Shell Houston Open in 2003 and 2004; and the firm's renovation of Galveston CC gave new life to the state's oldest private club. But most of Jacobsen Hardy's recent work is located thousands of miles away: in Los Angeles, at Moorpark Country Club, named to Golf Magazine's "Top 10 New Courses You Can Play" for 2003; in Naples, Fla., at Hammock Bay Golf & Country Club, listed among Travel+Leisiure Golf's Top 10 New Private Clubs for 2004; in Gleneden Beach, Ore., where JH recently refurbished the famed Salishan Golf Links.
"As a firm, we pride ourselves in getting the details just right, and that requires us to spend an inordinate amount of time on the golf course site," says VanHoose, who notes that JH has two more projects poised to open this year in the Pacific Northwest: The Rope Rider GC at Suncadia Resort in Roslyn, Wash., and Brasada Canyon GC in Bend Ore. "So it's a real treat to roll out of bed and head up to Conroe for the day, as opposed to flying off to Oregon for two weeks.
"We have big plans for Wedgewood. Today, too many of their green complexes are íhingedí Ė thatís when a putting surface is overly defined by mounding or bunker features that donít relate well to the shape, size or contour of the putting surface. Weíre going to make sure the grade on each green at Wedgewood is seamless with its surrounding features. When you hear people talking about a greenís ítraditional look and feelí, thatís what theyíre talking about.

"Wedgewood has the potential to be an outstanding daily-fee golf course, and we intend to fulfill that potential."

For more information on Jacobsen Hardy Golf Course Design, call 281/807-4176, or visit www.jacobsenhardy.com. For more information on Wedgewood Country Club, call 936/441-4653, or visit www.wedgewoodgolfclub.com.