Jay's Golf Awards for 2013 - Part 1
By: Jay Flemma
It's time for the annual Jay's Golf Awards, known as the Jazzys to its friends. Let's set the Wayback Machine and look at the game's best and worst in 2013.
Player of the Year - Adam Scott

You can clamor all you want about Tiger Woods winning five tournaments this year (three of them early, limited-field events and one - Sawgrass - besmirched with an ugly asterisk for a highly questionable drop and ugly frat-boy antics with Sergio), but Adam Scott had by far and away the best year of any golfer.

A. Scott won the Masters. Woods wasn't competitive in a single major except the first two days of the Masters where he was almost disqualified for - you guessed it - an improper drop). Indeed, Scott outplayed Woods at every other major this year.

B. Scott won a FedEx Cup event. Woods flushed a gargantuan lead - and the 10 million bucks - by foundering in the nether-reaches of the leaderboard for a month, often finishing before the leaders teed off.

C. Scott won the Grand Slam of Golf. Tiger didn't even qualify.

D. Scott nearly won the entire triple crown of Australian golf, taking two events and leading the third late before bowing to eventual winner Rory McIlroy. Woods was home counting his money.

In the biggest moments of the year, Scott was there, Woods wasn't. Woods was too busy deflecting criticism for rules disputes, threatening a journalist for his published opinion, and showboating with Lindsay Vonn while also wagging his finger and demanding we respect his privacy. It's not even close. Tiger was good from Jan to May . . . Scott was truly great from April to December. Game, set, match, Scott.
Turkey of the Year - Tiger Woods

Tiger pulled a disappearing act worthy of David Blaine this year . . . when the big moments came he vanished from the leaderboard faster than you could say Jack Rabbit Slim. Sure, he won five tournaments (most of them early in the year), but A) he didn't win a major; B) he was nowhere near contention at three of the four majors; C) he blew an almost insurmountable FedEx Cup lead and fizzled the last four weeks of the "Playoffs"; D) he was involved in four separate rules flaps that raised a reasonable question as to whether he was intentionally breaking the rules without taking the same penalty other golfers would face; and E) he ruthlessly, crassly and hypocritically bullied poor Brandel Chamblee. Woods couldn't disappear from either the cameras or the headlines. Of course many in the golf media are not only giving Teflon Tiger a free pass because he used to be the straw that stirred the drink, but more because they are preconditioned, afraid of change and slaves to casual eyeballs/website visits.

And some people want to give that man the Player of the Year award? I smell a one-sided bromance!

No, four rules flaps in one year is four too many for a guy who's played golf since he was in diapers. The so-called "Face of Golf" needs to be someone more clean-cut, forthwith and pleasant - someone the public can look up to. But thanks for the memories, Eldrick. It was fun while it lasted.
Jay on the 10th at Pine Valley
Course of the Year (Classic Golden Age Division) - Pine Valley

The Shangri-La of golf courses, Pine Valley appears out of the mists of history like a reverie, both figuratively and literally. Deep in a forested section of suburban New Jersey, you have to get lost to find it. Moreover, the moment you step on the property you walk back 100 years in time.

There is no rough at Pine Valley; the entire playing corridor is fairway. While that makes for wide fairways, it also makes for marrow playing corridors, if you understand the distinction. And if you miss the wide playing corridors, you're in the woods. And the first thing you do when you get off the fairway is get back on the fairway immediately! Fives and sixes become eights or worse when you try heroic recoveries at Pine Valley.

There are so many architectural treasures there: the acre-and-a-half-large "Hell's Half-Acre" bunker complex that bisects the seventh fairway; the cone-shaped depression guarding the 10th green known as the "Devil's Asshole"; the double-greens at eight and nine; the idyllic serenity of the waterside holes of the back nine, to name a few. Stately and refined, beautiful and challenging, historic and restorative, Pine Valley earns every lofty superlative. It's a reunion with old friends every time you return, a microcosm of all golf was meant to be.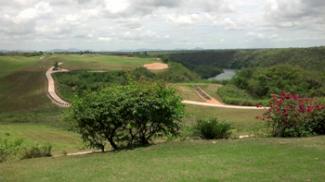 The Rugged Beauty of Dye Fore
Course of the Year (Modern Design Division) - Dye Fore at Casa de Campo

Dye Fore shatters all expectations and resets the bar for the highest quality of golf in the entire Caribbean, Mexico, Central America and Atlantic Ocean region, hands down. It's every bit as good as Teeth of the Dog and is even stronger, 1-18, than fabled Mid-Ocean in Bermuda. The golf course looks - but more importantly plays - like it was 100 years old. To look at it, you'd be convinced it was designed by Seth Raynor, which was exactly what its architect Pete Dye would hope.

"Seth Raynor is my favorite designer," he's said countless times, and nowhere does it show more than at Dye Fore. Enormous geometric bunkering, the ground game back in play, great movement in the fairways and greens, brilliant strategic angles and options, and an all but unparalleled natural setting, nothing short of majestic.

For everyone who laments that Pete Dye never designed a UK or Irish seaside links, his greatest and most authentic-looking links is right here at Casa de Campo. Gone is the "hypermodern" shaping at Whistling Straits and the sculpted marshland ecosystem of Kiawah Island. If you didn't know you were in the Dominican Republic, you'd think you were playing a Golden Age U.S. or UK links by a classic designer, which is doubly astonishing considering Dye built Dye Fore in 2003 during his move towards a more hypermodern look to his courses, with Purdue, Colleton River, Barefoot Landing, Whistling Straits and Old Marsh all behind him. Suddenly, out of nowhere, comes this masterful blast of unapologetically classic architecture.

"Absolutely it's a links," explains Dye Fore PGA Head Professional Dave Pfisterer. "You can recognize elements in the uneven lies, the windswept heights, the bunkering style, and the ground game options. It looks and plays right out of the U.K."

"I agree," concurred golf writer Jeff Neumann. "I love to play the ground game and Dye Fore, with all the fairway undulations and huge playing corridors, allow you to hit all sorts of different shots. You can be as clever and creative from 150 yards in as anywhere in the world."

"I guess you could say it's a links. It does play like it," agreed Dye, reflecting thoughtfully for his answer. "I don't normally think about things like that when I design. It's never 'I'm gonna do this or that' - I just go out there and design the best holes the land has."

"Let me tell you something," began outspoken and intelligent golf architecture expert Pat Mucci, who once played a competitive match against Dye in the North and South Open back in the late 1960s. "This is what's good for golf: 6,500-yard courses with good green contours, fairway undulations, and interesting architecture, even some quirkiness, along with three- to three-and-a-half-hour rounds. We need more of that in golf. That's how to grow the game!"

Well guess what? That's Dye Fore, only it's 6,600 yards. It has great green contours, uneven lies in the fairways, fascinating Golden Age architecture and, yes, it's quirky in places, but not in the least bit unfair, especially if you think creatively when you play golf.

The first word that comes to mind when you think about Dye Fore is "gargantuan." It's absolutely enormous in scale. The fairways can be as wide as 120 yards across (useful in a crosswind!), the bunkers can be up to 100 yards long (like the great courses of Macdonald and Raynor), and greens are upwards of 6,500 square feet. It feels so big when you're out there, that I was astounded when I heard it was built on only 190 acres, until it hit me that it's all playable - there's almost no rough to speak of. There's scarcely any rough at the entire resort actually, another thing they do amazingly well. It's refreshing to have interesting golf and no rough. Plus, no rough brings out the great fairway undulations! PGA of America and USGA take notice! (There are 129 bunkers, however, many of them deep.)

Moreover, there is great horizontal sweep to the fairways as they curve around the bunkers, hillocks, river and oceanside. There is terrific vertical movement in the earth as well in the form of everything from fairway undulations, to severely uphill or downhill shots. That means you have to factor in the ground game in two ways: first, you can play low running shots, and second, you have o consider what the ball is going to do after it lands. With tilted fairways, you must account for how much your ball will run out.

Before dismissing such architectural features as unfair or anachronistic, remember that both Tom Doak and Alister Mackenzie called ground movement the soul of golf, and they are right. Tilted fairways and blind shots are part of the ancient game, but they have tried to be marginalized by modern players, not because they are unfair, but because those players want to have an excuse for when they don't have that particular skill or when a shot just doesn't come off the way they planned had it been a flat lie teed up perfectly. At Dye Fore in particular, all this makes for a golf course both super-intelligent and palpably thrilling.
Teeing off is Greg Tallman - Jefe of Cabo San Lucas
PGA Head Professional of the Year - Greg Tallman

Greg Tallman isn't just the director of golf at the No. 1 golf resort in all of Mexico and Central America, Cabo del Sol. He's a regional jefe of the tourism and travel industries - powerful, resourceful and remarkably well-informed. He has a hand in everything - golf operations, travel itineraries, food, accommodations, HOA administration, condo hotel operations, marketing, everything. He's even an active participant on Los Cabos Tourism Board Golf Committee and the executive director of the Los Cabos Junior Golf Association.

Whatever you need to know about Cabo, Greg's got the inside information. He knows what chefs are happy and content in their gigs and making their specialties instead of what they see in TV; he knows where the best Jacuzzi suites are on the beachfront; and he knows every blade of grass from Diamonte Dunes to Costa Baja. But it's more than that when you come to Cabo. You're in his town, and he will show you the best time . . . perfectly tailored to your tastes.

Greg's also a solid stick. He's got Iron Byron's shoulder turn, and a vicious downward move that catapults the ball like a stone being shot from a trebuchet. Irons shots in particular have laser accuracy. It's easy to see why he was a former NAIA All-American for Glenville State. (Trivia Question - What state is that in? Answer below.) And for those of you who like to participate in those marathon golf-for-charity events, check this out: he even had a hole-in-one in the American Cancer Society Golf Marathon while playing 162 holes.
Part 2 Tomorrow

It's in West Virginia. You have to watch those Mountaineers - every time they shoot that musket off, they think it's time to go invade Pennsylvania.
Since launching his first golf writing website in 2004, http://jayflemma.thegolfspace.com, Jay Flemma 's comparative analysis of golf designs and knowledge of golf course architecture and golf travel have garnered wide industry respect. In researching his book on America's great public golf courses (and whether they're worth the money), Jay has played over 420 nationally ranked public golf courses in 40 different states, and covered seven U.S. Opens and six PGA Championships, along with one trip to the Masters. A four-time award-winning sportswriter, Jay was called the best sports poet alive by both Sports Illustrated and NBC Sports writers and broadcasters. Jay has played about 3 million yards of golf - or close to 2,000 miles. His pieces on travel and architecture appear in Golf Observer (www.golfobserver.com), Cybergolf, PGA.com, Golf Magazine and other print magazines. When not researching golf courses for design, value and excitement, Jay is an entertainment, copyright, Internet and trademark lawyer and an Entertainment and Internet Law professor in Manhattan. His clients have been nominated for Grammy and Emmy awards, won a Sundance Film Festival Best Director award, performed on stage and screen, and designed pop art for museums and collectors. Jay lives in Forest Hills, N.Y., and is fiercely loyal to his alma maters, Deerfield Academy in Massachusetts and Trinity College in Connecticut.