Jay's Mailbag - Where to Play Public Golf Outside NYC - Part 1
By: Jay Flemma
Dear Jay:

Long-time reader, first-time "mail bag" correspondent here . . . I'm a New York City denizen who is completely frustrated with the City Parks Department and the terrible way in which they run our municipal golf courses. They are way too expensive, take far too long to play, and are usually in awful condition. Where should I go to get out of the City for golf? I'll even drive an hour out of the way if it'll save me an hour-and-a-half waiting on every shot behind some losers taking six hours to play in Brooklyn or Queens.

Signed,

Fed-up Les from Middle Village

Dear Les: Thanks for the letter, and thanks for being the starting point of a new travel series.

There has been serious blowback against the NYC Parks Department and the way it maintains and operates the city public golf courses. Happily, two of the worst examples - Forest Park and Marine Park - took matters somewhat into their own hands, and through hard work and raising capital have turned those two facilities around. In both cases they hired Stephen Kay, the only top-echelon golf architect born and bred in New York City, and he's made a world of difference, not only in conditioning, but strategic design as well. Both courses are expected to go from being among the worst in the city to being the absolute best, at least until Ferry Point opens. It shows you what happens when the Parks Department gets out of the way and lets golfers handle golf courses without interference from bureaucrats and bureaucrat wanna-bes.

Les also raises another great point: Friends don't let friends "golf slum" (pay too much for crappy courses). Only chumps pay $70 for poor conditions and six-and-a-half-hour rounds in the five boroughs. Besides, it's nice to get out of the city and bask in the bucolic splendor of the Catskills, the ocean breezes of Long Island, or the Garden State countryside. Happily for Les, we can recommend a few courses that will suit those needs quite admirably.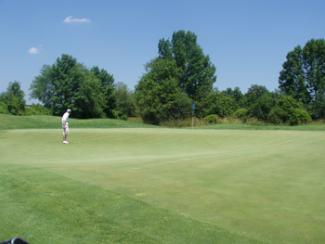 Thumbprint Feature of 7th Green
Green Light Special!

The Links at Union Vale
138 North Parliman Road
Lagrangeville, NY 12540-6209
845.223.1000
www.thelinksatunionvale.com

Won't you take me down…
to that Texas town…
to that town…they…call…LaGrange!

Apologies to hairy rockers ZZ Top (of La Grange, TV Dinners and "Sharp Dressed Man" fame), but you do have to make it to the upstate New York town of Lagrangeville for some excellent golf designed in the tradition of holes you'd play at the great heathland courses of the U.K. and the great Golden Age holes built in America by such quintessential designers as Charles Blair Macdonald, Seth Raynor and Herbert Leeds. Once again, it's Stephen Kay, the hometown boy, who got the design job and got it done well.

"It's an Irish golf course, but a great American success story!" Kay gushed energetically. "You basically had 17 Irish golf clubs that form the northern part of greater-NYC metro area band together to build their dream club. Four hundred guys raised 4 million dollars, and built the golf course."

Four hundred Irish guys, because on the walk from your car to the clubhouse alone you'll hear the lilting tones of accents from every mile between Galway to Dublin and back again. It's one of the coolest vibes in American golf, remarkably similar to the Irish ethos achieved at the famous Fox Club in Florida, home of Irish ex-pat and well-decorated champion Eoghan O'Connell. Slainte, guys. Well done.
Huge Chocolate Drop at 11 Greenside
Sheds Balls Every Which Way
More importantly, one of the biggest goals was to build the Irish guys a course that reflected Irish ideas about golf - i.e. the ground game, fairway and green undulations, and interesting use of the terrain. That's where Kay far surpassed everyone's expectations, and game them a course that stands head and shoulders above almost all its regional competition. To do that, he called on the strategic design principles of some of the greatest holes in golf.

"The strongest holes are the Reverse Redan at No. 3, No. five (the Cape hole), No. 7 (the Short), No. 9, which is a variation of a hole at Gleneagles, with bunkers in the middle of the fairway setting up strategic angles, and No. 10, a variation of a hole at Myopia Hunt Club," Kay explained.

Players tend to agree with Kay's assessment. Golfer Rob Cockburn, a low single-digit handicap, also liked the Cape hole and the Reverse Redan, calling them two of the strongest and most memorable holes at Union Vale.

"Five really makes you think off the tee as to how much of the water you want to try to carry. But the more you try to avoid the water, the more you bring the fairway bunkers into play. It's so tough to visualize your shot there, but that's what a great golf hole does, it messes with your head," Cockburn noted, clearly impressed with the course's architecture.

"Three is a great hole too," he continued. "221 yards and you can't miss it right or you're down in the ravine, but left, you have a tough chip. It's a par-3, but it's not pushover or a breather hole by any means."
Indeed, none of the par-3s are a pushover. Perhaps the toughest comes at the seventh, in what amounts to the longest version of a "Short" hole your author has yet seen. Dramatically uphill all the way (and guarded by a gargantuan bunker, the lip of which partially obscures the putting surface), the green contains an old-school C.B. Macdonald design element, a thumbprint - a roundish depression in the front of the green so that a small circle of green is much lower than the rest, effectively bisecting the green into two distinct parts. Two-putting from one to the other is a harrowing proposition.

But the course isn't just about the template holes of other great designers. Kay shows the fusion between his creative side and his strategic side is as good as any architect in the business. Two other outstanding holes are 11 and 16.

At 11, an enormous chocolate drop (a grassed-over rock) guards the front of the green, "but we also extended its reach into the green itself," explains Kay. "Everyone thinks that it existed beforehand, that it was there originally, but we designed it that way." The massive humps shed balls like a magnet with the polarization reversed. Balls that hit it scurry every which way!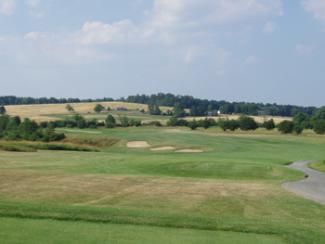 Three Sisters Bunker Complex at Trinity Hole
Then there's the long par-4 16th, a Kay original the he tries to build at every course: a "Trinity Hole," - a hole with a "Three Sisters" bunker complex guarding the knee of the dogleg. Unquestionably the best example is at Alister Mackenzie and Perry Maxwell's fifth hole at Crystal Downs, but the features Kay employs here are both strategic - as the bunkers create a diagonal hazard to be challenged according to how aggressive the player wishes to be off the tee - and aesthetically pleasing.

PGA head professional Pat Sullivan immediately seized upon those same holes when discussing the strongest parts of the golf course. "You have so many options at 16 - go for it or bail out? Then with the excellent fairway undulations, you may have the ball above your feet to make approach the shot go left, Sullivan said. "To the right of the green complex, if the ball lands short right, it will bounce on anyway, so shorter hitters can use the ground game."

And that's perhaps the most authentic aspect of Union Vale - like the great courses of Ireland and the U.K. you can use the ground game as well as the aerial attack.

"You can bounce or roll a ball onto the green on almost any other hole on this course," Sullivan stated proudly, and justifiably so. Architects from Old Tom Morris straight to Stephen Kay know the ground game is the soul of golf and multiple options are the secret to designing great golf holes. "It gives shorter hitters a chance and is easier and more encouraging for beginners. On 11, for example, the ground game is incredibly important. You must approach the green from the correct angle or else you'll bounce the wrong way and you'll have a forty foot putt," he concluded.

The course has a solid mix of long and short holes, but although the short holes play tougher than their yardage would indicate, nothing is "hard for hard's sake," like you'll find at the more penal offerings of some of the big-name, big-ticket designers.

"The course is totally fair," states Cockburn. "It's not a great natural setting, but the design of the holes really makes you think your way around on pretty much every shot. I walked off 18 saying I can't wait to play it again . . . I want revenge on the holes I messed up!"

At the end of the day, isn't that the greatest compliment golfers can pay a golf course: That they can't wait to play it again?

Though the premium weekend rate is $92 with cart, $75 for walkers, the course's twilight rate stars at a player friendly 2 p.m., and is only $65/49. Weekday rates are substantially less.

Design: 5 stars (all ratings out of 7)
Natural Setting: 3˝ stars
Value: 5˝ stars
Overall: 5 - 5˝ stars

Honorable Mention

Richter Park Golf Course
100 Aunt Hack Road
Danbury, Conn.
203.792.2550
www.richterpark.com
Idyllic Setting of Richter Park
Keeps New Yorkers Coming Back
It may be 75 minutes from Manhattan, but New York public golfers have embraced Richter Park in Danbury, Conn., as a second home because for decades it did what the City Parks Department could not do: give city golfers an interesting, well-conditioned public golf course with beautiful views at a fair price!

You can get around Richter Park in four hours, meet some nice people, get a great meal, and be home before rush hour hits. Sure, decades have passed since it was ranked in the "Top 25 U.S. Public Courses." The rise of daily-fee courses and dawn of the Second Golden Age of Golf Course Architecture raised the bar past a great many munis nationwide. But it's pretty, it's fun, it's cheap, and you meet plenty of nice people. So what's not to like?

In 2007 golf architect Mark Mungeum restored many of the bunkers, extended some tees, and even moved two greens on the Edward Ryder design, touch-ups which met with universal approval.

"Mungeum did a great job. The bunkers are a whole world better than they were before," explained golfer Bruce Moulton. "He also added some new tees which add more strategic angles you can take off the back tees on a few holes."

That was necessary because Richter Park does tend towards being a center-line golf course. There are no less than three 90-degree doglegs, some of which dogleg in awkward places (the optimum shot shape off the tee at 12 is a goofy slice…), and water (or quicksand!) comes into play on 12 holes.

You read that right, by the way. Quicksand pools border the right side of the 15th and 16 fairways. They found them inadvertently while building the course . . . when a bulldozer sank into the mire never to be seen again. They say the ghost of its operator haunts the back nine on nights with a crescent moon . . . looking for golfers to drag to a dank, silt-filled grave!

Okay, I'm kidding about the ghost, but the quicksand hazard is real, perhaps unique in the world of golf. The course's two bets attributes are is routing and the natural setting. Far from being your typical back-and-forth muni, original architect Edward Ryder had a huge tract of land and made sure to visit almost every corner of the property. Golfer play along ridges, traverse hills, and skirt several lakes.

"It's a pastoral setting, truly relaxing," said Moulton. It's low impact - on both your head and your wallet."
Since launching his first golf writing website in 2004, http://jayflemma.thegolfspace.com, Jay Flemma 's comparative analysis of golf designs and knowledge of golf course architecture and golf travel have garnered wide industry respect. In researching his book on America's great public golf courses (and whether they're worth the money), Jay has played over 420 nationally ranked public golf courses in 40 different states, and covered seven U.S. Opens and six PGA Championships, along with one trip to the Masters. A four-time award-winning sportswriter, Jay was called the best sports poet alive by both Sports Illustrated and NBC Sports writers and broadcasters. Jay has played about 3 million yards of golf - or close to 2,000 miles. His pieces on travel and architecture appear in Golf Observer (www.golfobserver.com), Cybergolf, PGA.com, Golf Magazine and other print magazines. When not researching golf courses for design, value and excitement, Jay is an entertainment, copyright, Internet and trademark lawyer and an Entertainment and Internet Law professor in Manhattan. His clients have been nominated for Grammy and Emmy awards, won a Sundance Film Festival Best Director award, performed on stage and screen, and designed pop art for museums and collectors. Jay lives in Forest Hills, N.Y., and is fiercely loyal to his alma maters, Deerfield Academy in Massachusetts and Trinity College in Connecticut.