Jim Bunch Named New Chairman of Western Golf Association
Jim Bunch first learned of the Western Golf Association as a 12-year-old caddie at the Glen View Club, just a mile from WGA headquarters in the village of Golf, Ill. Now Bunch, of Denver, Colo., will be leading the WGA as its Chairman for the next two years.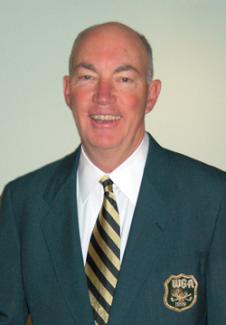 New WGA Chairman Jim Bunch
The WGA Board of Directors elected Bunch to serve as Chairman in December following his two years as the organization's Vice Chairman. The first WGA Chairman from Colorado, he succeeds Roger Mohr, of Lake Forest, Ill.

For Bunch, leading the WGA will be the fulfillment of a lifetime commitment to, and passion for, the WGA's support of college scholarships for caddies.

"Caddying is in my DNA, and the Evans Scholars program hits all my hot buttons - caddying, golf, education and helping to build a better future for our young people," said Bunch, who also caddied and worked in the golf shop at Evanston Golf Club in his childhood hometown of Skokie. "When I caddied I met and gained a tremendous amount of respect for men who were leaders at the WGA. I thought that if they were motivated to volunteer for the WGA, it would be something that I should do."

Since 1992, Bunch has fulfilled that commitment by serving as a WGA Director from Colorado. He also has been a long-time volunteer with the USGA, serving on the 15-member USGA Executive Committee from 2003 to 2010. He resigned that post principally to devote more time to the WGA.
"When I was asked to consider serving as Chairman, it was an easy choice for me," Bunch explained. "Working for the WGA and Evans Scholars is good for the soul."
One of his top priorities is to continue the WGA's recent efforts to raise the money needed to cover the ever-increasing tuition costs for the 825 current Evans Scholars, with the goal of increasing that number annually. "I'm going to focus primarily on fund-raising and telling our success story to potential donors," Bunch said.
"I want to build greater awareness of the good we are doing and give more people the opportunity to support this wonderful program. Through promoting caddie programs and education, we're developing leaders with a great work ethic. That's a powerful message, and I think we need to get that message out."
Through his work with the USGA and WGA over the past 20 years, Bunch has built a network of friends in golf that will help him accomplish his goals, noted WGA President and CEO John Kaczkowski.
"Jim has been an invaluable contributor to the Western Golf Association and Evans Scholars Foundation," said Kaczkowski. "His commitment to our scholarship and championship programs and his experience as a leader at the USGA, make him well-equipped to guide our organization the next two years."
Bunch - a former practicing lawyer who now is a managing member of a private-equity firm - is a member of Castle Pines Golf Club in Castle Rock, Colo., Denver Country Club in Denver, Colo., the Royal and Ancient Golf Club of St. Andrews in Scotland, and the Prestwick Golf Club in Scotland.
As Chairman of the WGA Board of Governors, Bunch also heads the Executive Committee and is a member of the ESF Board of Trustees. He also has served as Chairman of the Long Range Plan Committee and as a member of the Nominating Committee and the Human Resources Committee. In addition to serving on the USGA's Executive Committee he was at various times Chairman of the USGA Rules of Golf Committee, Finance Committee, Grants Committee, Mid-Amateur Championship Committee and Bob Jones Award Committee, as well as Secretary of the Executive Committee.
The above report is courtesy of the Western Golf Association. For more information about the WGA and the Evans Scholars Program, visit www.westerngolfassociation.com.