Jim Engh - The Dakota Kid Gun-Slings His Way to the Top
By: Jay Flemma
Since forming his own design firm in 1997, Colorado's Jim Engh has seen his works earn four "best-new course" awards from Golf Digest; been named "Golf Architect of the Year" in 2003 (ahead of such luminaries as Tom Fazio, Pete Dye, Rees Jones and Tom Doak); built a reputation for getting world-class work done on time and under budget; landed one gorgeous site after another upon which to craft yet another epic layout; and has developed a legion of loyal fans not just in Colorado and his former home of North Dakota but around the country.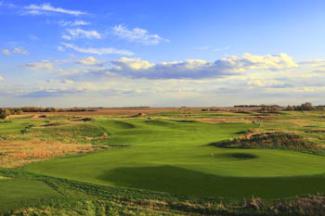 Lakota Canyon
Yet somehow the golf industry and fans actually underestimate Engh and fail to truly appreciate why he's such solid designer.

You read correctly. Underestimate the winner of multiple-best course awards. Because Engh has had gorgeous canvases on which to work - pristine, unspoiled North Dakota and gorgeous Colorado Canyonlands, and scenic Northern Idaho mountain tops - the uninitiated attribute his success to the superficial.

Well, Jim Engh's courses are not just another pretty face. Fossil Trace Golf Club in Golden, Colo., routed around 64-million-year-old fossil monuments, might never have become a golf course and archaeological treasure without his tireless efforts to offer concessions to environmentalists. The Golf Club at Redlands Mesa in Grand Junction, Colo., might be far more ordinary instead of a quintessential example of wonderful green settings and an ingenious routing. And his newest course, Awarii Dunes, is a first world-class venue in the Nebraska Sand Hills region, a public rejoinder to the fabled Coore & Crenshaw masterpiece, Sand Hills Golf Club, voted by Golf Magazine as the best modern golf course in America.

Engh's design secrets are "lines of charm," "trapdoors and hidden staircases" and "muscle bunkers," not merely great sites in virgin North Dakota, pristine verdant Coeur D'Alene, Idaho, and incomparable Colorado. The result is fascinating golf courses loaded with options and refreshingly innovative routings (frequently with five par-3s and five par-5s). Only then can you add in the jaw-dropping natural settings, especially gorgeous putting greens a la Mackenzie. But as it happens, we're lucky to have Jim Engh with us at all.

His introduction to golf was not pleasant. "I crashed my first golf cart when I was two years old." Jim's dad was a John Deere dealer who sold to course builders and helped build a local nine-hole layout, so Jim was on golf courses since leaving the cradle. "Well, Dad was playing and I hopped behind the wheel and hit the gas. I still don't know how I could have done it, I was so small. The cart rolled over on top of me."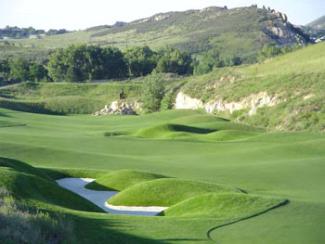 The Trap Door at Fossil Trace's 15th is Hidden
It was a frightening crash. The cart crushed one of Jim's kidneys and his life was in the balance for several days. "I was lucky though. I got up from my deathbed." Engh still has one only kidney, he notes grimly.

Despite this particularly negative introduction to the game, Jim kept playing and studying the game and golf architecture. After all, if there is a wall that feels good against your head, it's golf. Fellow architect and a buddy since Engh's college days, Tim Nugent, remembers an epic moment shared with his long-time friend.

"In 1985, my dad hired him out of college and he helped us with Golf Club of Illinois before I had to go back to Arizona State for school," said Nugent. "So we took a road trip together that summer to the U.S. Open at Oakland Hills. We jumped in my mom's black '79 Biarritz (the Oldsmobile, not the golf hole), blew out some carbon and stood right next to T.C. Chen as he did the infamous double-hit."

But timing was everything and Nugent and Engh grabbed a bit of history as well. "We snagged the divot Chen took before anybody was any the wiser and brought it back to the office in a film canister. We didn't keep it or sell it. This was waaaaaay before eBay you know."

Other early memories are comical. Award-winning architect Jeff Brauer recalls one such moment. "I first met Jim as a summer associate for Bill Kubly. You could tell he was a 'gunner' (Kubly's term for an up-and-comer) back then, but he was also green as peas. Once he left one of Kubly's drafting tables in a pickup truck overnight in a rainstorm, ruining it!"

Nevertheless, the folksy, humble, stand-up Engh survived the episode, taking it as a learning experience. "Happily, we all have a good laugh about it now."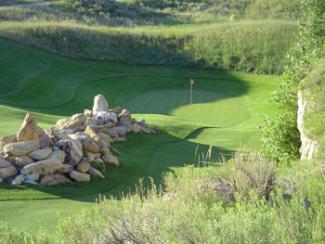 But You Can See the Trap Door from Behind
The foundations of Engh's design philosophy are based solidly on the design features of the great UK courses, which he has studied extensively (even though he is a modernist and moves an average of 300,000 to 400,000 cubic yards of earth per design). Like Alistair Mackenzie, Engh eschews the doctrine of framing (where the player is spoon-fed what to do on the tee box and responds to the dictatorial will of the architect) and, instead, keeps the direct line to the hole playable, even tempting, but marked by dangers as well.

Like Mackenzie, he also breaks up the direct line of play to the hole with hazards and creates the line of charm, a perilous but achievable shortcut that requires perfect planning and execution. There is a boatload of danger squarely in the direct line of flight to the target. Meanwhile, the other side of the playing field is wide and welcoming, but a longer way round. The player gets to pick how to play the hole - according to his talent and greed.

"I'll give a player a shot to reach a green in one shot less than regulation, but I sure won't help him or make it easy!" he adds with an almost scandalous look as I note that the green on the par-5 18th at Fossil Trace is not designed to be overly receptive to a long fairway wood approach. "If they want a putt for eagle, they have to hit two great shots to earn it.

"I also love short holes" he continues. "There are a lot more options for all players, regardless of their skill level. I especially like a short par-5 to finish the round." For example, Engh brings Fossil Trace, Red Hawk Ridge and his private triumph and home course, The Club at Pradera in Parker, Colo., to a crescendo with short par-5 closers.

"The shorter the hole, the more sex appeal I can add in terms of design features to make the hole interesting. Long par-4s can get dull. The shorter 'in between-length holes,' you know - short par-5s and par-4s - are short enough for amateurs to have a shot at making par, but there is enough danger lurking that amateurs and experts alike stand as much chance of making six as they do three," he finishes.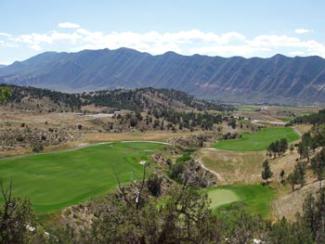 A Panoramic View at Redlands Mesa
Trapdoors, Hidden Staircases & Muscle Bunkers

Engh also designs with a unique artistic voice. His originality shines through in his trademark bunkering style (called "muscle bunkers" by the team) and in the unexpected twists in his designs that he calls "trapdoors and hidden staircases."

"I was in Ireland touring Donegal Castle," Engh recalls energetically. "I had done this particular tour once before, so I slipped away from the main group up a back staircase and started exploring on my own. I found all sorts of trapdoors and hidden stairways and secret passages."

"Golf courses are the same," he continues, his eyes flickering with enthusiasm. "Each time you play a course you learn another secret about it . . . some way to play avoiding a hazard or some bump off which to play a creative shot. You learn something new every time you play a great golf course. So I incorporate the concept in my design and it makes for many exciting playing options.

"My goal is to create a course that you can play every day and never get bored and play every day and find some new way to attack a hole," he added. "Some people get frustrated, but it's only because they are seeing something new and they haven't figured out how to successfully play the hole. Most people like the course more with lots of options and interesting windows and trapdoors. That's something I try to accentuate on every course and on many shots. There is always more than one way to get close to the hole."

Take, for example, the par-5 15th at Fossil Trace. The rock wall seen in the distance from the tee appears to be the end of the fairway. However, behind the rock wall is a hidden sliver of fairway that meanders its way to the back of the green and sidewalls to allow long shots to carom back toward the center of the green. Seen from below, the green can be attacked from the front and rear.

Engh also has a totally revolutionary and unique style of bunkering - fanciful sperm cell-shaped squiggles set six to 10 feet beneath heaving and bumpy, high-sloped and rounded mounds that resemble a flexed bicep, hence the "muscle bunkers."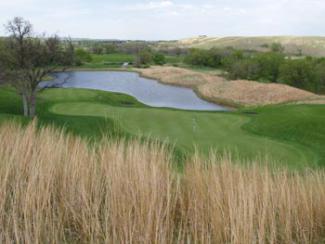 Hawktree
There is also an old adage in the golf course construction business: much success will depend on the accurate interpretation and creation of the architect's wishes. Although Engh plans out every single contour of every single yard of every single hole on every single course, his team of Mitch Scarborough and Tim Hartnett and their shapers must have the same DNA and neural synapses as Jim.

"Mitch reads my mind and Tim is talented and enthusiastic. I'm the luckiest guy in the world to have the team around me that can take my contour drawings and turn it into a golf course."

Hartnett, a dead ringer for Pittsburgh Steelers quarterback "Big Ben" Roethlisberger, rivals Engh for his lifelong passion for golf course architecture. How devoted is Tim?

"When I broke my arm in high school playing basketball, I doodled golf holes on the cast," Hartnett said. "My doctor was astounded. He kept half the cast, my mom kept the other half."

Engh is so loyal to his staff that when one shaper was tragically killed driving home in a snow squall, he dedicated a greenside plaque on the eighth hole at Red Hawk Ridge to his memory.

Engh's few critics say the drawback of his moving a lot of earth means that he tends to superimpose golf holes on the land, rather than work with what is offered naturally. This critique, while true on its face, belies the actual reality. First, despite moving a great deal of dirt Engh usually reserves the bulk of the building for elevated tee boxes, while the fairways and greens play through the natural lay of the land. He may make some low areas lower and build pulpit tees, but Engh, like Mackenzie, does not overpower the excellent natural settings with which he has been blessed.

Engh actually preserves what the land featured had originally, and also promotes the history and content of each plot to give a course a flavor of its natural setting. Critics also decry his work as unwalkable, but that's only Sanctuary and Lakota, both of which would be remedied by simply adding walking paths.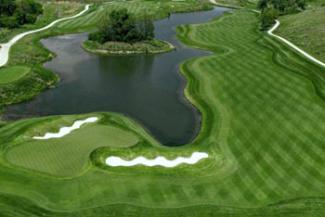 The Squiggly Shapes of Muscle Bunkers at Fossil Trace
Keeping it Real

If Mike Strantz parallels musician Jeff Buckley, then Jim Engh is the Talking Heads. He has raw power, a vibrant imagery and fearless style - no matter what the detractors say. You've never seen anything quite like this, but its diamond-hard foundations are the strategies of golf architecture we have embraced for centuries. He bequeaths substantive design features of real value to players and students of the game alike and brings them to life with vivid clarity. Moreover, his unique energy and fresh interpretations are palpable and infectious. Thankfully, they are also playable for higher handicappers.

His par-5s especially are some of the best being designed today. The panoramic sweep and full-blown grandeur of holes like Nos. 7, 16 and 18 at Pradera on the private side, his soon-to-be-built three-greened 18th at Reynolds Plantation, and his amazing templates for the craft on 13 at Redlands Mesa and 18 at Lakota Canyon Ranch on the public side are heart-pounding.

As if the architectural talent weren't enough, Jim plays to a 2.3 handicap and competes in long-driving tournaments, pounding out 300-yard lasers like a human "Iron Byron." Some friends boast Jim could shoot 75 with a rake and an Easter egg.

Nevertheless, though all his successes came in his mid-40s Jim is remarkably human, compassionate and generous. He has a great sense of humor. He took perverse delight in making me play the ball that embedded in the fossil monument at Fossil Trace's famous 12th hole. He gleefully prodded me 12 feet up the sandstone monument with my ball retriever to "play the ball where it lies, Jay." Also, after I hit in the monument he commented, "You couldn't do that again in 64 million years." After I missed by five feet, he impishly added, "that's the best shot you've hit in the last 12 holes."

Engh's greatest source of pride is not his work but his family; his wife Monie (pronounced "MOE-knee") and children, son Brian, 16, and daughter Bailey, 14. "We have a house on Lake Coeur d'Alene [where he built Black Rock] and every year in the winter we go to Hawaii. I never play any golf. Instead, it's two tanks of scuba diving in the morning, then Mai Tais by the pool with Monie and the kids all afternoon," he notes with a serene smile, as though he's momentarily back there.

Jim lets his hair down as well. "Monie and I are huge Van Morrison fans. I've seen him everywhere from the UK and Ireland to California to Colorado," Engh declares with loyalty lighting up his face. He still goes to Red Rocks and the Odgen Theatre for many concerts. He even moshed with his 11-year-old son during "The Last Rock Show" at a concert of rock band Bowling for Soup. "It was Brian and Bailey's first concert," he recalls fondly.
Jim Engh in his Own Words

Jay Flemma: What's the most important goal for you in creating a successful design?

Jim Engh: The game of golf was invented as a way to make the walk to work from the town (St. Andrews) to the sea more enjoyable. The origins of the game are as a fun pastime. I have recognized over the years that I am in the entertainment business. My focus for any golf course is fun. Certainly that involves many issues when playing within the structure of a game with rules. However, when the game was invented, there was no "fair" and no "unfair." There was simply the land provided by nature. The joy of the game included the emotional intrigue of challenging nature.

For me, the single most significant lesson has been to determine why I like what I like. I have been in love with playing golf in Ireland since my first visit in 1988, when I was working, in the early stages, on the new course at Portmarnock. I was absolutely smitten by the Irish golfing experience.

However, it was not long before I realized that it is not possible, in most situations for projects in the U.S., to recreate the seaside landscape of Ireland. How was I going to recreate that wonderful golfing sensation that I so craved from Ireland? Certainly, I knew what I liked about the experience. But that did not solve the issue of how to recreate it. I needed to understand why I liked what I liked.

In May of 1999, while playing the first hole at Carne, I was smiling and looking this way and that way walking down the fairway trying to absorb everything about this special place. It then occurred to me - I loved this experience because of the emotional feeling, the rush that I got simply from being within this setting. My brain was 100 percent turned on for the entire three hours that I was on the course. Endorphins were firing in my brain and I was on a little high. I was intrigued, infatuated and sometimes exasperated by trying to play the game of golf within this amazing setting. It was at that moment that I understood that I have to recreate the emotional feeling of Ireland, not necessarily the landscape itself.

Somewhere along the way, the game has become more sterile. We have to some degree lost the open-mindedness of the origins of the game. Golf has in many ways become a game that is purely about the game. It encourages you to "turn off your brain" and hit the ball straight to the white flag with the perfect technique.

The best way for me to describe my design philosophy is to say that I try to design golf courses that are fun. Of course finding ways to recapture that fun feeling from Ireland, within lands that are not Ireland, involves some creative design positions that some within the "traditional" world of golf consider to be . . . strange, off the wall, unfair or really wild. And that's okay with me. After all, as long as my courses continue to be playable, with some out-of-the-box thinking at times, I will continue to inspire and provoke the creative emotions of those that play my courses. Ultimately, what is more "traditional" than taking the game back to the mindset by which it was founded?

JF: What courses of the British Isles have given you ideas for your own holes?

JE: Certainly, there are many courses in Ireland that inspire my design concepts. Carne, Ballybunion, Inniscrone, Lahinch and the Island Club are my favorites. However, as I described previously, it is the emotional feeling of Ireland that I am trying to recreate. Most importantly, from a physical aspect, Ireland provides me with a template to know how far I can push the envelope of design in order to create new ways to inspire golfers to have fun on my courses. As an example, I took on a trip to Ireland a superintendent that had been uncertain about certain fairway slopes on one of my courses. After seeing the fairway slopes in Ireland he has become inspired to be even better than he was.

JF: How did you decide you wanted to be a golf course architect and what course of study did you follow to embark on that career path?

JE: I started playing golf as a young boy in Dickinson, North Dakota. My parents were both good players and I spent summers working as a caddie and on the grounds crew. My passion has always been toward design, and I was in an architecture program and working a summer job in Denver as a draftsman for an engineering firm. We did some work with Dick Phelps. Dick was kind enough to give me advice about the industry - "get a Landscape Architecture degree and work summers for golf course construction firms." I changed colleges to Colorado State University and worked summers for Bill Kubly at Landscapes Unlimited. I am still grateful to Dick and Bill for their kindness.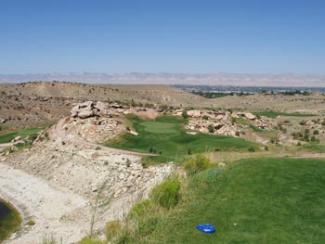 Redlands Mesa
JF: What were the most valuable lessons your early employers taught you about designing courses? About anything else?

JE: Out of college, Dick Nugent hired me because of my construction experience. The first day that I walked into the office, May 1985, Dick handed me plane tickets and I was to oversee the remodel of the then La Crosse CC in La Crosse, Wisconsin. During that first summer, I was responsible for overseeing five different remodel projects. The most valuable lesson that I learned from Dick was in watching him deal with people. He truly cared about his clients and employees.

JF: What are the hallmarks of a great golf hole? Of a great golf course?

JE: Interest, intrigue and variety. Ultimately, that equals fun.

JF: On that note, when we build new courses should they feature more fairway undulations and interior green contours?

JE: I would certainly agree in general. In my opinion, by having every fairway flat or every fairway undulating in a consistent manner is a recipe for monotony. I have in the past come under fire for my opinion about Royal Portrush. Royal Portrush sits amid some of the most perfect links land in the world. It is truly a wonderful golf course. However, I must say that while playing it I realized that it was, in fact, too perfect. Every hole, with the exception of two, was on quite similar, yet perfect land. I began to lose attention toward the course because the holes were so much similar. From an emotional point of view, I prefer courses that have a great variety of styles and landforms. Carne, for example is a mixture of wacky contours and the perfectly mundane. This is simply a personal observation.

JF: Why will learning about golf course architecture make players of any skill level better golfers? High handicappers? Mid-handicappers? Low handicappers?

JE: From my perspective, there are two ways of learning about golf course architecture. If you learn about the history of the profession and professionals of the past, you will be well informed to have conversations with those of similar passion. However, I do feel that by taking this route, one can become so polarized by a designer(s) of the past that an open mind toward other eras and styles becomes difficult. I feel that an open mind toward all styles of design will make the game most enjoyable.

If someone should choose to learn about the technical aspects of the profession, golfers of all levels can understand more about how the course works. For example, in many instances, if you can understand where drainage water leaves a green, you will have great insight as to the general break of a putting surface.

JF: What mistake have you made in designing a course that you'd like to have back and what would you do differently?

JE: I've discovered that many of the mistakes that I have made over the years have, with time, developed into some of the truly interesting and quirky features of my courses, and as I get older I understand that it is weird and quirky (in moderation) that sets one course apart from another.

It is important to realize that necessity is, in fact, the mother of invention. For example, the eighth green at Sanctuary was originally designed as a traditional uphill green with no vision to the putting surface. However, through some creative thinking by the project manager, we added the flip-down tongue that allowed for surface vision and a lower hole location. Weird, wacky, unique and fun to play. And it also solved the problem of vision to the green surface.

JF: What's the zaniest, craziest, most laughable thing you've seen or had happen to you in the course of building a golf course?

JE: We have a saying at our office, "Until Jim goes to the ER it's not a real project." I have a tendency to climb, jump, four-wheel and ride in places that are hazardous to my health. For example, while riding an ATV around Sanctuary before we had even routed the course, I flipped the ATV on a steep hillside and it rolled over me to the bottom of the hill. The project owner, Dave Liniger, watching from nearby, was laughing his fanny off. Thirty minutes later, I got to drag Dave's ATV off from on top of him. Fortunately, I am now mellowing with age. However, I truly believe that there is a certain passion for the land that folks in my industry share in bond.

JF: Why do you do what you do? Build golf courses, that is?

JE: It is my passion. I love the challenge of trying to determine what will inspire people.

JF: What's your next life goal?

JE: As an avid scuba diver, I would like to create the first underwater golf course. I will call it Desmond Muirhead Memorial.

JF: What do you think is the greatest achievement you've accomplished?

JE: Aside from marrying way over my head, it is my two great kids. (Laughter)

JF: When you are walking a site how do you find the green sites and fairways? How did the routing come together for various courses? On a mountainous site like a Lakota or Redlands? On a more amorphous site like an Awarii Dunes, Fossil Trace or Hawktree?

JE: The layout of every course is about finding 'hotspots.' Whether it's a rock formation, a single tree or a gorgeous valley, it's about identifying those places and finding a way to incorporate those elements into the golf course. Certainly, with Fossil Trace it was about preserving the existing rock formations and 64-million-year-old fossils. And it's also about finding a playable way to keep them in the golf course. That is an example of creating the Irish feeling without an Irish setting.

JF: How about at Redlands Mesa? What were the hot spots and how did you rout the course around them?

JE: Well, 14 and 17 at Redlands because of the prominent rock features. 17 had a natural bowl that a made a great green site, and 14 had the two pinnacle peaks that are fun to fire a ball through. Then we went around the various rock outcroppings and it was like a jigsaw puzzle routing around all those formations.

JF: What about Red Hawk Ridge? Hawktree? Awarii?

JE: Awarii was just the great rolling, undulating natural terrain, and it was a matter of finding holes within those that linked together as a golf course. I found some great holes that didn't link together with anything else, and so they would have been left alone on an island. And of the green sites, there's only five of the greens that we did any grading, the rest are natural and in the form as we found them.

As to Hawktree, it had beautiful panoramas and valleys that we went up and down. One thing most people don't know is that the creek that runs through there had to be raised above floodplain. There are a lot of floods and many local courses have problems, so we had to raise it out of the hundred-year floodplain. That was beautiful, rolling prairie and it was easy to take what was given to us.

JF: At Four Mile Ranch you say you didn't design bunkers so much as "sandy waste areas." What's the difference? How has that effect been received?

JE: Once again, necessity is the mother of invention. We simply did not have the money in the budget for bunker-shaping and sand. And since we only moved 24,000 cubic yards of dirt on the project we were able to protect the natural landforms that we called "hogbacks." These were really interesting wedge-shaped features that varied in height from five feet to 30 feet high, and were prevalent throughout the amazing landscape. It was simply a matter of routing the course to best take advantage of the natural hogbacks and find a few places to create them within the play areas. With soft shale rock on the top of the features they play much like a bunker. I'm really proud of this golf course and the way we solved a problem here inexpensively and with ingenuity. It's different, but it works.

JF: How did you come up with the idea for the shape of your "muscle bunkers?"

JE: Funny thing, it was originally inspired by the fairway bunker at Royal Portrush. The diving form of that bunker gave me an idea.

JF: Which bunker? Which hole?

JE: The first hole, left fairway bunker. It caves into itself and is really recessed. From there it has evolved many times into what it is today and will be tomorrow. The muscle bunker is and has always been evolving. In fact, there have been no muscle bunkers on our last two American courses, Four Mile Ranch and Awarii Dunes.

JF: Who are some of your favorite architects?

JE: I have always said that my favorite designer has been the golf courses of Ireland. I have been inspired and learned so much from these courses. I was and continue to be a big fan of Mike Strantz. His work was truly from an artistic heart with little regard for the stigmas of the industry. His partner, Forrest Fezler, and I have become good friends and in fact we have spent time in Ireland telling stories and being inspired.

JF: Other than your own designs, what are some of your favorite courses in America? Public? Private?

JE: In America; Cypress Point, Pine Valley, Royal New Kent and a wild card, the Country Club at Castle Pines in Colorado.

JF: If someone wanted to study architecture, what American courses would you suggest and why?

JE: Obviously, I would suggest 20 trips to Ireland.

JF: What's the first duty of a golf course architect?

JE: Put food on the table. (Laughter and a sarcastic look from your author.)

JF: I meant in terms of doing your job designing a course . . . (More laughter)

JE: To create a course that's fun to play.

JF: A few vocal critics have said that your golf courses are too tough to walk. What public courses of yours are walkable? Private?

JE: All of my courses have been walked and therefore are technically walkable. The easier ones to walk would be Fossil Trace, Harmony Club, Four Mile Ranch, Snowmass Club, Blackstone CC and Tullymore.

Some of my courses on mountainous sites are tough walks, no question. That does not mean that I do not like the walking aspect of the game. In fact, I still carry my walking Sunday bag for just such an occasion. Also, do not think that there is only one way to walk a golf course. My favorite mode of playing my home course, Pradera, is to have my Sunday bag and jump on the back of a cart for the steep walks. This allows me to walk the golf holes. It is great exercise and great fun.

JF: Someone once misquoted you as saying that you don't design courses with walkers in mind. What did you really say and what point were you trying to illustrate?

JE: I suppose that by living in Colorado and having many projects on rugged sites, it is - perhaps - common to have a need for a cart on those courses. Unfortunately, I don't have a great amount of control over the type of land that is offered to me. In fact, it would be safe to say that I have gained a reputation for being able to work on sites that are challenging.

On very rare occasions I will have a decision to make about the walkability of a course. As I previously stated, when laying out a golf course, I look for exciting areas of natural feature and try to incorporate those areas into the golf course. Quite often, such areas are located within difficult terrain. The decision then becomes one of creating a very exciting golf course that, in many instances, requires a cart to play, or creating a much more boring course that does not incorporate great natural beauty. In light of the fact that in America today, regardless of how walkable you make a golf course, the great majority of players will choose to use a cart. That is the simple truth. To ignore that truth would simply be unprofessional to your clients.

JF: How has your design philosophy changed over time?

JE: I am always striving to add variety to what I do. Pushing the envelope is my way of staying fresh. But you cannot find the edge of the envelope without trying to find it. You can only find out how far you can go if you keep pushing yourself to go further.

JF: Some architects say that you have to compromise and make trade-offs pretty much at every course. Can you recall some moments that you had to make some trade-offs you were concerned about initially that actually might have worked, just specific examples from some courses that you built?

JE: Lakota Canyon, was a really rugged piece of land that was very close to being unbuildable. The main valley was a conveyor of a great deal of stormwater. The 14th hole was in that main valley and the client did not have the budget to place drainage pipe to the size required. We ultimately designed the cart path with a berm to convey that water when needed.

JF: Where are some of the trapdoors and hidden staircases at Awarii? At Four Mile Ranch? At Redlands? At Lakota?

JE: Trapdoors and hidden stairways is a term that I used to describe the feeling that I got when I was searching through an old castle in Donegal Ireland. It describes the intrigue and anticipation of the search in a new place and was very much like the feeling that I got from playing the great golf courses of Ireland. Hidden greens, wild undulations and elevated tee shots might be some of the tactics that I employ to convey my concepts.

JF: Give us some examples at Awarii. At Lakota.

JE: The one that comes to mind best is a combination of the 13th and 14th holes at Awarii. A trapdoor or hidden stairway is finding something you weren't expecting. So the 13th is only 120 yards max and the green is 11,000-12,000 square feet so it's an odd combo of length and green size. But the green is in the exact natural form (the contours and the terrain) we found it. Within this green is maybe five other greens separated by contours. I've never seen anything like it, so we left it that way so it's a really difficult par no matter where the hole is cut.

JF: Let's assume Phil, Ernie, Vijay and Tiger all decide they are fed up with talking and speculating and put up $1 million of their own money each in a one-hole, winner-take-all shootout that will be televised nationwide. Which one of your public golf holes would you select for them to play?

JE: (without hesitation) Number 12 at Fossil Trace. The sandstone pillars in the playing field create all sorts of options, but can also make you find a creative way to the hole if you put one in your way. Also, the viewing public should see that hole and this course. It's pretty for the TV audience, it's exciting, and it's got fascinating history that the university has done a great job preserving.

In general, touring professionals are masters at focusing. In order for these guys to shoot the scores that they do on a consistent basis, they have to focus their minds into something like tunnel vision. They see only what they need to see and deal only with what they need to deal with. I believe that when these athletes are focused to that degree, the biggest obstacle for them is something that makes them have to leave the comfort of that focus zone. Like some crazy design feature that requires a thought process that is abnormal. Maybe an approach shot to a green that requires the shot to be hit well away from the flag stick is a good example. In other words, having to leave the comfort of the focus zone in order to figure out a tough, unfamiliar shot. It is always interesting for me to watch this scenario.

JF: You just won the Masters. What's for dinner?

JE: North Dakota prime-aged Grade A steaks in an Irish Guinness stew.

JF: What are some of the things that make you cringe as a designer when playing golf?

JE: People playing the wrong tees is the biggest issue for me. It slows down play, people enjoy the course less and they view the course in the wrong proportions. They don't see the course as it was laid out for their skill level and then they just brand it as too hard.

JF: What about in terms of architecture?

JE: I try not to close my mind about different things other architects do because I might learn something. My biggest pet peeve is when I see a lack of passion in someone's work . . . you can tell when somebody mailed it in or if they didn't care about every inch of the place. The greatest honor to me is when someone says, "Take my property and build a golf course on it."

Discography

Public

Red Hawk Ridge GC (CO, 1999)
Hawktree GC (ND, 2000)
The Golf Club at Redlands Mesa (CO, 2001)
Tullymore GC (MI, 2002)
Fossil Trace GC (CO, 2003)
Lakota Canyon GC (CO, 2004)
Snowmass Club (CO, 2004)
Reynolds Plantation Creek Club (GA, 2007)
Four Mile Ranch (CO, 2008)
Awarii Dunes (NE, 2010)

Private

Columbia Point GC (WA, 1997)
Sanctuary G.C. (CO, 1997)
The Club at Black Rock (ID, 2003)
True North Golf Club (MI, 2004)
The Club at Pradera (CO, 2005)
Blackstone CC (AZ, 2005)
Harmony Club (CO, 2009)

Foreign

Dragon Hills GC (Thailand, 1998)
Dong Guan Hillview GC (China, 1998, 2001)
Since launching his first golf writing website in 2004, http://jayflemma.thegolfspace.com, Jay Flemma 's comparative analysis of golf designs and knowledge of golf course architecture and golf travel have garnered wide industry respect. In researching his book on America's great public golf courses (and whether they're worth the money), Jay, an associate editor of Cybergolf, has played over 420 nationally ranked public golf courses in 40 different states, and covered seven U.S. Opens and six PGA Championships, along with one trip to the Masters. A four-time award-winning sportswriter, Jay was called the best sports poet alive by both Sports Illustrated and NBC Sports writers and broadcasters. Jay has played about 3 million yards of golf - or close to 2,000 miles. His pieces on travel and architecture appear in Golf Observer (www.golfobserver.com), Cybergolf, PGA.com, Golf Magazine and other print magazines. When not researching golf courses for design, value and excitement, Jay is an entertainment, copyright, Internet and trademark lawyer and an Entertainment and Internet Law professor in Manhattan. His clients have been nominated for Grammy and Emmy awards, won a Sundance Film Festival Best Director award, performed on stage and screen, and designed pop art for museums and collectors. Jay lives in Forest Hills, N.Y., and is fiercely loyal to his alma maters, Deerfield Academy in Massachusetts and Trinity College in Connecticut.