Joe Keller - Living a Golfer's Dream
By: Rob Duca
Joe Keller has lived a life most golfers can only imagine. He's played the world's greatest courses, from Augusta National, Pebble Beach, Winged Foot and Cypress Point to many of the iconic layouts in Scotland. He is a member at Hyannisport Club, Oyster Harbors, Old Palm Golf Club in Florida and Royal Dornoch in Scotland.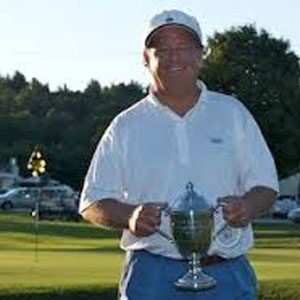 Joe Keller
No dog tracks listed there.

He never took a lesson in his life, yet shot 76 on a par-70 course at age 13 to win the caddie championship at his hometown club in Fairfield, Conn. He has a flat swing powered by thick wrists and bulging forearms that have made him one of Cape Cod's most successful amateurs. He's won multiple Seagulls Fourball Championships with numerous partners, and qualified for many national tournaments.

Yet he never truly considered turning professional. And when you think about it, why would he?

As an amateur, he's been invited to play in what many consider the "Grand Slam" of amateur golf tournaments in the United States: the George Crump Cup at Pine Valley Golf Club in New Jersey? Keller, 63, has played 25 of those, once advancing to the finals before losing on the 18th hole.
The George Coleman Invitational at Seminole Golf Club in Juno Beach, Fla.? Been there, done that. The Hugh Wilson Invitational at Merion Golf Club outside Philadelphia, site of last year's U.S. Open? Check. The Walter Travis Tournament at Garden City Golf Club in New York? Of course. The National Singles Invitational at National Golf Links on Long Island? Naturally.

"It's one of the reasons I encourage people to stay amateur. They'll have more fun," he says.

Keller has made his living in real estate development and once co-owned Hyannis Golf Club with another local amateur legend, Fordie Pitts, allowing him the freedom to pursue his passion for golf. His Osterville home is testament to those experiences. The walls, a mantel over the fireplace and bookcases are lined with commemorative plates, photographs, medals and ribbons from the tournaments he's played. Keller has a separate "sports room" that displays more trophies, plates, medals, statues, golf clubs and newspaper clippings. His Hyannis office is much the same.

When Keller says he wasn't surprised to see the pros have trouble last summer at Merion, his words ring with authenticity. He once competed in a Wilson Invitational there - scheduled shortly before the U.S. Amateur was coming to town - and the winning score over three rounds was 16-over par.
"They say Merion is short, but it's not, because it's a par-70," he says. "There are eight short holes, but there are also eight extremely difficult, long par-4s. The rough is deep and thick - the ball just sinks to the bottom. And I have never putted on greens that were faster or had more slope. They were like a glass table."

The Coleman Invitational is played at Seminole, one of the country's most exclusive, prestigious venues. Keller calls it "sacred ground."

Seminole was founded by E.F. Hutton and designed by Donald Ross in 1929. Dwight D. Eisenhower was an honorary member, and John F. Kennedy often played there. Charter members in 1947 included such titans of corporate America as Joseph P. Kennedy, Henry Ford II, Jack Chrysler, Paul Mellon, John Pillsbury and Robert Vanderbilt.

Keller raves about the course, which sits by the ocean, and the massive locker room that has a Cypress-beamed ceiling, animal-head hunting trophies, wooden boards listing past club champions, and polished pine lockers.
"It's the nicest locker room in all of golf," he says. "You could sit in there all day, and sometimes we have."

The Walter Travis Invitational has been contested at Garden City Golf Club since 1902, the year the club hosted the U.S. Open. Bobby Jones and Francis Ouimet competed in numerous U.S. Amateurs there. Travis was a founding member, and the tournament was named in his honor upon his death in 1927. It remains one of the country's few remaining all-male clubs.

"Jackets are still mandatory in the clubhouse, even though you only have to walk five feet to turn into the locker room," Keller says.

On Peconic Bay in Southampton, L.I., sits the iconic National Golf Links, designed by C.B. MacDonald with assistance from Seth Raynor. The club hosted the inaugural Walker Cup in 1922, with the amateur matches returning last summer. National Golf Links is ranked 15th in Golf Digest's list of "100 Greatest Golf Courses."
Keller has stayed on the property in a room above the clubhouse, where ocean breezes blow in through open windows and breakfast is served by waiters wearing tuxedoes.

"You're playing this tournament in June at its peak," he says. "It's like playing Augusta during the Masters."

Still, no experience matches the Crump Cup at Pine Valley in Camden, N.J., consistently ranked by national magazines as the world's No. 1 course. Pine Valley has never hosted a major pro tournament. The Crump Cup, named in 1922 for course designer George Arthur Crump, is the public's only chance to view Pine Valley without being accompanied by a member and it's allowed onto the grounds only on the final day of play.

Keller once birdied the opening hole, considered perhaps the toughest on the course, in six straight rounds.

"Each hole is its own masterpiece," he says. "You can't see one hole from another. It has elevation changes, gigantic greens and not one hole is like any other. There is a men's lodge with a camping-retreat atmosphere. And everything they do is perfect. The course, the caddies, the food, the sleeping accommodations are all top-notch."

Keller has also stayed and played golf at Augusta National, Muirfield and The Country Club in Brookline.

He doesn't need to be reminded what gifts golf has given him. "When you're out there in these tournaments, you're grinding, but you're still looking around and thinking, 'Man, what a beautiful place. I'm lucky to be here.' "
Rob Duca is an award-winning sports columnist who wrote for the Cape Cod Times for 25 years, covering golf, the Boston Red Sox, the Boston Celtics and the Boston Bruins. He is now managing editor of Golf & Leisure Cape Cod magazine and has written for a variety of other publications, including Sports Illustrated, the Boston Globe, Yankee magazine and Cape Cod Life.