John English - the Dean of American Golf Writers
By: Rob Duca
You could say that John English has been around and made a few connections in his nearly 102 years on this earth, many while he was second in charge at the United States Golf Association for 10 years beginning in 1949.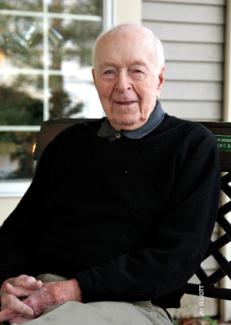 John English
Over 20 years ago he visited St. Andrews, Scotland, on a golfing vacation only to realize that the tour package didn't include a round on the Old Course. So he sought the help of Joe Dey, the former executive director of the United States Golf Association and later the commissioner of the PGA Tour.

"The next morning a fine British gentleman phoned me and said he was going to take me to play the course," English said. "And another gentleman phoned me the following day, so I got to play it twice."

He was walking alongside Sam Snead when Slammin' Sammy, needing only a par five to win the 1939 U.S. Open, scored eight. English saw all eight of the shots, and then interviewed Snead. "He was not a happy man," he said.

Years later, Snead was preparing to tee off in the 1954 Open at Baltusrol when he spotted English. "I wonder what will go wrong this time," he said. Snead promptly blasted his ball out-of-bounds.
English was running a USGA junior amateur tournament in Oklahoma in 1953 when he noticed a red-headed teenager whacking the ball down the fairway. "He was hitting it quite well," English remembers. He hit it pretty well for a few decades after that, too, Jack Nicklaus did.

Two years later, English was assigned to escort unknown Jack Fleck for his 18-hole U.S. Open playoff against Ben Hogan. Fleck won and English had another memory for a lifetime.

Oh yeah, the man has memories. Hey, he played golf with Babe Ruth, and he has the autographed photo to prove it. "If I didn't have that picture, it'd probably be long forgotten," he says. "But Babe was a fine guy, and we had a very nice match."
It was in North Conway, N.H., in 1938 and Ruth defeated English in the first round of match play in a celebrity tournament. "I thought I could beat him, but I couldn't," he said.

English turns 102 in May. He didn't stop playing golf until 10 years ago. He retired to Orleans, Mass., in 1975 and moved 12 years ago to Heatherwood, a retirement community in Yarmouth Port, Mass.

In his prime, he carried a 5 handicap, once winning the school championship in prep school. He twice shot rounds of 70 and spent three years on the Williams College golf team. He has recorded two holes-in-one, the last coming when he was 68.

But English made his mark working in and writing about the game. His golf-writing career began at the Boston Herald in the 1930s, a position that took him to most of the major events. "Someone heard that I played golf, and the golf writer was retiring, so they offered me the job," he said.
He was on assignment at the 1935 Masters when Gene Sarazen scored his famous double-eagle, and on the scene again four years later to watch Snead blow the Open. He was friends with Byron Nelson, who often played tournaments in Massachusetts, and also knew Francis Ouimet, winner of the 1913 U.S. Open.

"Ouimet was such a perfect gentleman," he said. "He had the most wonderful memory for names of anybody I've ever known. He might have met you 10 years before and he'd say, 'Oh, hello John.' "

English mentions Ouimet when he laments the shift through the years away from amateur to professional golf. "It isn't the same game at all. It has changed tremendously," he says. "I regret the passing of amateur golf. In my day, the U.S. Amateur would lead the sports pages. But now, if it isn't pro, it doesn't count."

English joined the Navy in 1941 and spent four years on a destroyer in the Pacific, then another year after the war as a public relations officer. Not long after returning to civilian life, he moved to New York City to become editor of True magazine. Shortly after, Dey, by now in charge of the USGA, asked English if he'd help launch a new magazine to be called Golf Journal.
"I spent weekends at Joe's house in New Jersey blocking out the first issue," he said. "Joe later called me and said, 'Why don't you come work for us?' "

English became assistant executive director of a three-person staff that included Dey and Eddie Miller. He spent 10 years at the USGA. His chief responsibility was the magazine, but he quickly absorbed numerous other duties that involved public relations, running tournaments and making rules interpretations.

His office was in Manhattan, and when he returned to work after a week at a tournament, his desk would be piled high with paperwork. "My experience in the USGA ruined my golf game. I had no time to play," he said.

He left the USGA in 1960 to become director of alumni relations at Williams College. "I think I did it mainly so I would get to play some golf," he said.

English shakes his head when asked to consider the changes at the USGA, which has since built expansive headquarters in Far Hills, N.J. "I once went to see (former executive director) Frank Hannigan and when I drove in I saw automobiles all over the place," he said. "I told him I was sorry to come when he had something going on. He said, 'That's just staff.' There must have been 50 cars. Joe, Eddie and I used to run the whole thing."
Life quieted down once English returned to Williams College. He was able to spend more time with his wife, Nora, and his children, Chris, Michael and Sara. Nora passed away in 1985.

During his 16 years at the college, he regularly played Taconic Golf Club in Williamstown, Mass., which he lists as one of his favorite courses. He served as Massachusetts Golf Association president and director and remains a member. He donated many of his golf books to the MGA's museum, located in Norton, Mass.

When the MGA produced a coffee-table book nine years ago celebrating its 100th anniversary, English was asked to contribute a story.

Who better to write about golf history? After all, he was on the scene for much of it.
Rob Duca is an award-winning sports columnist who wrote for the Cape Cod Times for 25 years, covering golf, the Boston Red Sox, the Boston Celtics and the Boston Bruins. He is now managing editor of Golf & Leisure Cape Cod magazine and has written for a variety of other publications, including Sports Illustrated, the Boston Globe, Yankee magazine and Cape Cod Life.