Jones Shows Versatility at Kansas City's Tiffany Greens
By: Steve Habel
When it comes to designing a golf course with a lot of variety it's hard to go wrong with Robert Trent Jones, Jr. as the man at the light table drawing up the plans.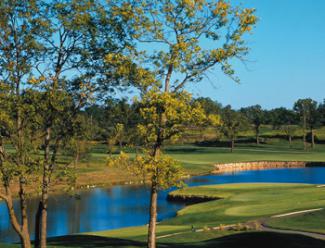 Tiffany Greens GC
Jones, Jr. has become a golf architect for the people, and his work at Tiffany Greens Golf Club near the Kansas City (Mo.) Airport is an example of his versatility. Here, Jones fashioned a challenging but not too punitive track in a residential area without allowing the nearby homes to dictate the course's playability and fun factor.

Opened in 1999 and owned by and managed by John Q. Hammons Hotels Management LLC, Tiffany Greens began its existence with a bang: it hosted the Champions Tour's TD Waterhouse Championship from 1999 through 2002. It has since settled into one of Kansas City's most respected and coveted plays, receiving a top-10 ranking in Missouri by Golf Digest.
The par-72 course stretches 6,977 yards from the back set of four tees, and has fairways grassed with Zoysia (which makes the ball almost seems like it's on a tee) and undulating but smooth bentgrass greens. The layout occupies rolling terrain and involves tree-lined creeks, and the majority of Tiffany Greens' scoring equation comes on the approaches to the putting surfaces.

The first four, 10th and 13th holes play around and over a creek that splits the course in half. While these might be the most picturesque junctures, the other dozen holes are the toughest.

With a rating of 74.0 and a 135 Slope from the tips, Tiffany Greens will test all players. There are just two par-4s of 425 yards or more (the third and ninth), so success requires placing the ball on the correct side of the fairway to allow an attack to often-tight pins.
The 1st Green Is Surrounded by Water
Spectacular Start & Whopping Finish

Tiffany Greens gets off to a rugged start with a risk-reward, 510-yard par-5. The first fairway is receptive and inviting, and healthy drives give golfers the option to attack the green in two. But accuracy is a must as the mid-sized target is surrounded by water and anything less than a spot-on approach will result in a lost ball and a bad starting number on the card.

The outward nine's two par-3s are as hard as they come. The 195-yard fourth plays over water to a green with a small hill on the right and behind it; the target looks small from the tee but is actually bigger and more receptive than you think. The granddaddy of Tiffany Green's one-shotters is the 234-yard sixth, which is protected by bunkers right and left. A miss on the port side will force an uphill chip to a severely mounded green.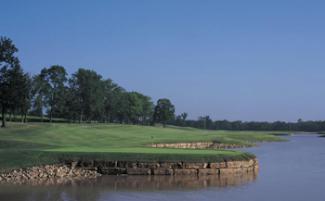 The Green at the Demanding 13th
Though its front nine is longer than the back by about 90 yards, the stretch from No. 10-13 asks golfers to employ just about every shot in the bag. The quartet begins with the 188-yard par-3 10th, which is all carry over water to a cape green guarded by three bunkers on the right. No. 11 is an uphill 530-yard par-5 lined both sides by trees. Bunkers on the right narrow the landing area, and there's another trap left of the green.

The 410-yard par-4 12th descends along an "S-shaped" route to a raised green that tends to repel shots; it's also protected by a bunker and a creek. No. 13's drive is over water to a fairway that has water running down its left side and behind the green; carded at 400 yards, this par-4 plays at least two clubs longer.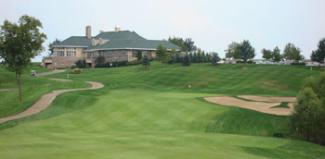 The 18th at Tiffany Greens GC
Many regulars consider the closer at Tiffany Greens as the best and most picturesque hole as it winds uphill toward the clubhouse. At 420 yards, the uphill par-4 turns hard left-to-right and features plenty of sand, including a massive bunker cluster right of the green.

Tiffany Greens showcases the best of RTJ's prowess at optimizing a piece of property for golf. It's also the centerpiece of one of northern Kansas City's most desirable neighborhoods, and - since it's so close to the airport - is convenient for travelers.

For more information, visit http://www.tiffanygreensgolf.com.
Staying Nearby

There are three lodging options close to Tiffany Greens and it's tough to go wrong with any of them. The Residence Inn Marriott, Embassy Suites and Homewood Suites-Kansas City Airport are each less than five minutes from the course and right down the road from the airport. Guests staying at any of these hotels receive $10 off green fees and 25 percent off club rentals at Tiffany Greens.
Steve Habel is one of Cybergolf's world correspondents, contributing news stories, features, equipment and book reviews and personality profiles from his base in Central Texas. He is also works as a contributing editor for Horns Illustrated magazine, a publication focusing on University of Texas sports, covers the Longhorns for CBS Sports, is regional editor for Texas Golfer magazine and files stories for Golf Oklahoma magazine, Texas Links magazines and Golfers Guide. Habel's main blog (www.shotoverthegreen.blogspot.com) features news on golf and the Longhorns, and another (www.checkinginandplayingthrough.blogspot.com)chronicles his many travels, on which he has played more than 350 golf courses since 2009. Habel is a member of the Golf Writers Association of America and the Texas Golf Writers Association.