Just Call it Oak Hole-Outs!
By: Jay Flemma
It's not Oak Hill, it's Oak Hole-outs as balls disappear faster than rabbits on conjuring tricks around here. This time it's South Africa's Tim Clark getting into the action, holing a 3-hybrid from 220 yards on the par-3 11th in the PGA Championship's final round for an ace.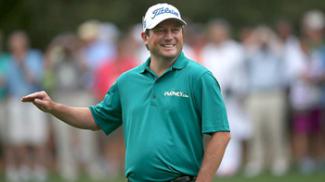 Tim-Clark-(at-the-2013-Masters)
For the long-putter-wielding Clark, that's one way to get around the USGA's ban on anchoring.

T.C. (as he's called by his fervent fans in the "Tim Clark Posse," led by the indefatigable William Nathan), isn't the only hole-out this week. En route to his Oak Hill record breaking, all-time major-tying 63 on Friday, Jason Dufner canned a 7-iron from 153 at the par-4 second hole for a deuce. Then Martin Kaymer holed a 100-yard pitch for eagle at the gargantuan, 600-yard par-5 13th.

But there have been plenty more through the years. Back in 1989 there was the act on the final day of the U.S. Open that became known as the Four Aces - when in the span of 117 minutes Mark Wiebe, Nick Price, Jerry Pate and Doug Weaver all made aces at the 167-yard sixth, a hole Tom Fazio added to the course when he homogenized it back in 1976. All four used 7-irons, all four hit it past the pin and sucked it back into the cup.
"The pin on six must have been too easy," said some rocket scientist from the USGA.
Perhaps the 1995 Ryder Cup saw the most electrifying drama of all. On Saturday morning Constantino Rocca aced the 11th hole while teamed with Sam Torrance. They went on to whup Jeff Maggert and Davis Love 6 and 5.
Then, on the last shot of the day, outracing the sunset and the imminent onset of darkness, Corey Pavin pitched in on 18 to steal a 1-up victory (with partner Loren Roberts) against Nick Faldo and Bernhard Langer. Finally, in Sunday's singles, Howard Clark aced 11 again on his way to upsetting Peter Jacobsen 1-up.