Just for Women - Revolution at PGA Merchandise Show
By: Nancy Berkley
For the last 10 years, I have trekked to Orlando, Fla., every January to walk the 10 miles of exhibitors' booths at the Convention Center to spot new products and trends in the golf industry - especially for women. Usually there is not much to report except a lot of hand-wringing about the decreasing number of golfers in the U.S.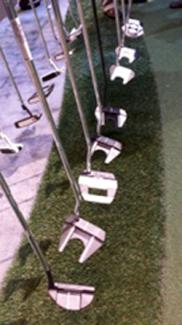 Choose a New Putter from Odyssey
But, the 2014 PGA Merchandise Show was the best show in many years. For women golfers, I view it as a revolution in club design, golf balls, shoes and apparel. It may not fix the golf industry's dwindling participation numbers, but it did have an innovative spirit to it. And innovation is what the industry needs. Here's what to look for this coming season.

Equipment

Putters. It's as if the whole world just discovered how important putting is to the game of golf. For women, we already knew that. We can make up for our shorter drives and fairway shots by sinking putts on the green. There were more putters on display at this show than ever before. And there seemed to be no limit to the designs, from mallets to blades. Check out photo display of Odyssey putters, the No. 1-selling brand of putters, for an idea of the range of designs now available.

Balls. This year I learned that women do not have to play a soft "low-compression" ball because they have a slow swing speed. Wow! That's revolutionary talk because a whole line of golf balls have been marketed for "lady" golfers.

The theory behind the "lady" golf ball is that women, who generally have a slower swing speed, do not compress the ball as hard upon impact as a faster-swinging (presumably male) hitters. Based on a theory that I never quite understood, a low-compression ball with a softer cover will go farther when hit by a woman golfer with a slow swing speeds.

Personally, I have always liked playing with a hard-surface ball. I like the sound and the feel at impact although I am just a bogey golfer with a relatively slow swing speed. A bit embarrassed by playing with a Titleist Prov1x - as if falsely pretending to be a really great golfer, I switched to a more standard ball. Every now and then I would take out a Titleist ProV1x (especially if there's no hazard in my line) and enjoy it.

Thank you, Titleist, for clearing up the compression theory! Titleist now reports that, "High-speed photography of golfers with different swing speeds shows differences in ball compression are virtually indistinguishable." In fact the new Titleist marketing campaign specifically states that the ProV1 and ProV1x top-of-the-line balls are for both professionals and amateurs. It will be interesting to watch how other golf-ball manufacturers respond to the new Titleist pitch (pun intended).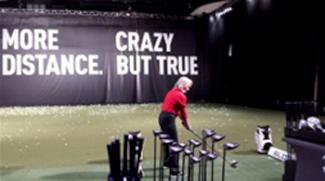 TaylorMade says
Clubs. Another revolutionary discovery was made at the TaylorMade booth where this year's motto is "Loft Up." My understanding has always been that strong hitters like men can use drivers with 9-degree lofts -that is, the face of the driver is closer to vertical, which allows men to hit the ball farther. But recreational and amateur women have historically had drivers with higher lofts - like 12-degree lofts. The theory is that with a higher loft, women can get the ball up in the air easier and hit it farther.

Women have been right all along! At the TaylorMade exhibit of scientific displays, I learned that if you hit a ball with a higher-loft driver, it will go farther. "More Distance. Crazy But True" is how TaylorMade is marketing the new clubs. I played recently with my friend, Linda. She clocked a 13-wood longer than my standard fairway woods. I should have known: she "lofted-up!"

And in case you haven't heard, "Bertha is Back." Callaway is getting lots of praise for its new woods. Like many of the other models this season, Callaway drivers have different screws or mechanisms that allow the golfer to customize the club for her swing type and form.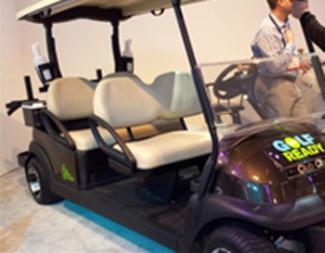 Club Car's New Family Cart
Golf Carts. Every year I ask the salesman at each of the major golf cart manufacturers large exhibits, "Do you have a cart that would work for a family - like a mom and dad (or grandmother or grandfather) taking out a couple of children on the course?" In the past, I have been met with blank stares, a lecture on the danger of children on golf carts, and an apology for not being more helpful.

Club Car was ready for me this year! They're now selling carts for family use that even have a "4-Fun" logo on the side. I was told that many private clubs are purchasing at least one of these carts at a cost of $10,000. In some gated communities, this might be a perfect family vehicle.

And when I asked about seat belts, the salesman was prepared for that, too. Yes, although Club Car does not supply the belts a cart-service company can easily install them for the safety of young riders.

Interestingly, I saw the cart in the photo at last year's PGA Show. It was designed to advertise the golf industry's grow-the-game initiative, "Get Golf Ready." At many courses featuring the program, the golf facility needed to transport golfers to various parts of the course. Some smart marketing person at Club Car realized there was another market for this cart: A family!

Club Car is now ahead of the game in catering to more family-centered golf facilities. My bet is that next year I will see more companies offering a family cart, probably with beverage holders for the back-seat riders!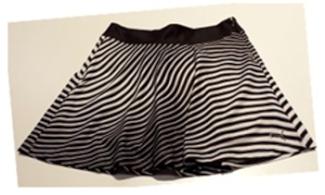 Puma Swirl Skort
Women's Golf Apparel

It takes some pizzazz to make a golf outfit different and stylish but still comfortable and playable. This year, I call it "The Skort Revolution." Skorts look like skirts but have shorts beneath them. Skorts are usually shorter than traditional golf shorts or old-fashioned golf skirts. Some skorts are now even made with under-shorts that eliminate having to wear additional underwear. Yes, that's true!

One of the skorts that caught my eye was a new design by Puma, a division of Cobra Golf. Lexi Thompson, one of the young stars on the LPGA Tour, wears clothing designed by Puma. A new Puma black-and-white swirl skort will be available this spring. The fabric is soft and won't get in the way of a golf swing, even on a breezy day.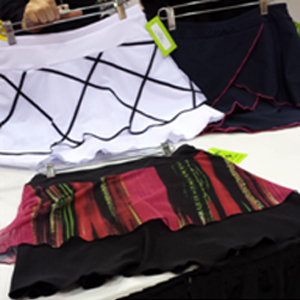 Eliza Audley Golf Skorts
But, the real show-stopper for me was a new golf line by Eliza Audley. The company, known for its women's tennis attire, has just launched a stylish new golf line. The skorts have beautiful chiffon layering with comfortable waist bands and even pockets! I was so sure that the line would be picked up by LPGA Tour players that I put in a call to Eliza Audley, company president. She reported that two LPGA Tour players from the United States, Amy Anderson and Ema Jandel, will be wearing her clothes this season on the LPGA Tour as well as Jessica Hauser and Carly Werwie on the LPGA developmental Symetra Tour.

The Audley skorts come in two lengths - the length Michelle Wie will wear and the length I will wear. The Audley spring golf line will soon be up on www.elizaaudley.com and available at many private and resort golf clubs.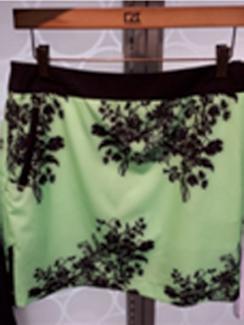 Annika Prinit Skort
Another good women's golf line this coming season is by Annika - in partnership with Cutter & Buck. Annika also shows shorter skorts. She has good fabric, good fit and good comfort - just what you would expect from her. She has a playful leaf-patterned addition to the skort trend.

But what if you don't like your legs in a short skirt? Answer: Just wear tights beneath your skirt! If tights take off as appropriate golf attire, it will qualify as another golf-apparel revolution. Actually, I have been waiting for tights to appear for several years because tights are becoming more common on LPGA Tour players, especially from Asia.

This year at the Show there was a Ralph Lauren Polo mannequin with a pair of black tights worn with a short golf skirt. (They wouldn't let me take a photo.) I was told that the tights only came in black.

Welcome to Colmar - an Italian company known for its ski wear that is now designing for female and male golfers. Last year at the PGA show, I spotted the Colmar apparel in a little corner of an equipment booth. This year the company had its own booth in the big apparel section and is receiving some marketing guidance. Much of the clothing is designed for cool climates.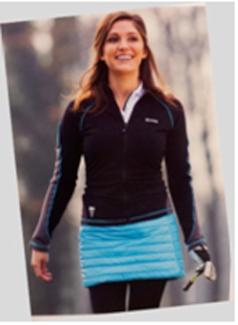 Colmar Down Skirt over Tights
But what caught my eye are the Colmar women's golf tights along with a down lightweight wrap-around skirt. A really new look! Bravo!

Colmar also has one of my favorite golf shirts, which I am told will be available online this spring: A blue-mesh with short, layered cap sleeves. The mesh fabric is a great new look. I will probably wear it with a camisole underneath, but the possibilities are endless. The Colmar line can now be found on the web. More golf clothes for women are designed to work both on the golf course and off. But finding the right balance is not easy.

The boutique designer Kevin Hall, a designer for very high-end women's clothing, showed off his new women's golf collection. The skirts are pleated and cute. But the Kevin Hall collection looks to me like a work-in-progress with a few features needed to make the clothes "playable" on a real golf course as opposed to a runway. His white front-button blouses are beautiful, but just not sure I could make a full shoulder turn in one.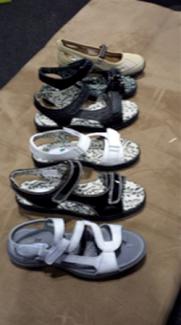 Golfstream Sandal Golf Shoes
Shoes. There were more golf shoes on display than ever before, except they don't look much like golf shoes anymore. It's a "shoe revolution." The new shoes are made out of light fabrics and feature smaller and softer cleats. The new-style shoes are made to be worn on and off the golf course. Forget about a locker or car trunk for storing your street shoes. You only need the one pair.

The new golf shoes with softer cleats are being manufactured by many companies. FootJoy, one of Titleist's brands, no longer dominates the golf-shoe market. And there are many more sandal-type designs for women. Here are some by Golfstream. Their booth was very busy!

Finally, and ending on a positive note: Reports are in that in 2012 the percentage of beginner women golfers outnumbered men. It may be because women's golf clothes are better than ever or golf shoes are more comfortable. But it's more likely that golf professionals know they must welcome women golfers to the game. And they are doing it. It's not the only fix that the industry needs, but it does represent a more customer-focused industry.

It probably doesn't matter what you wear or what clubs or balls you use or even how many holes you play or how many shots you take. What matters is that you enjoy being out on the course for however long it is and for as many shots as you take. With the right attitude, playing golf can be relaxing and the golf course can be that special "space" we need to maintain balance and perspective in our busy lives.

My message to all current and future girls and women golfers remains: "Be Happy, Be Healthy, Live Longer, Play Golf."
Nancy Berkley, President of Berkley Golf Consulting, is an expert on women's golf and junior-girls golf. She is a frequent contributor to www.cybergolf.com/womensgolf. Her book, "Women Welcome Here! A Guide to Growing Women's Golf," published by the National Golf Foundation, is an industry reference on marketing golf to women and spotting trends within the industry. She offers information and advice about the golf industry on www.berkleygolfconsulting.com and is often quoted in national publications. She was a contributing editor of "Golf for Women" magazine and a founding advisor of "Golfer Girl Magazine." Her interviews with women in the golf industry now appear on www.golfergirlcareers.com. Nancy lives in Palm Beach Gardens, Fla., and is a graduate of the University of Minnesota, Harvard University and Rutgers Law School. After a business and legal career, she decided to write about the game she learned and loved as a teenager. She describes herself as a good bogey golfer with permanent potential.