Just Say 'Yes!' to that Golf Invitation
By: Nancy Berkley
I often hear women say they can't accept an invitation to play golf because they are not good enough. Here's an important reality check: Over one-third of all U.S. women golfers – that is, women who play golf at least once a year – score over 120. They enjoy the game, and so will you!

If you are a new golfer and feel unsure about how good a golfer you have to be to say "Yes" to an invitation at your corporate outing, for a casual game with friends or to venture out on the golf course at a resort, follow the seven guidelines below. And, by all means, accept that invitation. (I know these guidelines work because I have given many pre-outing workshops – and the feedback confirms success.)

1. Play in Your Comfort Zone

It's okay to feel like a beginner and announce it up front. Actually, it's even better to describe yourself as an educated beginner. If on the course you have trouble keeping up with your golfing partners, be prepared to pick up your ball. Simply put it in your pocket and announce you will tee it up on the next hole. This is perfectly acceptable in casual golf games. If you are not finishing the hole, make yourself valuable by tending the flagstick when you get to the green.

2. Avoid Tournaments Where You Must Play & Count Every Stroke

During the early stages of learning the game, it just doesn't make sense to be a stickler about rules – like counting every whiff and playing every bungled shot. So steer clear of these easily-avoided situations! Instead, look for tournaments with a scramble or best-ball format. Four-player team scrambles are very popular at corporate and charity golf events.

Here's how a scramble works. Each foursome usually has players of varying abilities. Each player in the foursome tees off, and then everyone hits again from the spot where the best of the team's tee shots landed (that's often the shot of one of the strongest players in your team). This is repeated down the fairway until all four balls are on the green, and then until one gets in the hole. (You only count your team's best shots from the tee into the cup.) If you are a good putter, you can end up as the star of your team, even if you miss fairway and tee shots. For more information about tournament formats, see www.nancyberkley.com.

3. Learn Flawless Green Etiquette

Every beginner golfer can be an expert on the green. Learn how to mark your ball, who putts first, when to pull the flag, where to walk, and where to stand while others are putting. If there is one single lesson that I recommend new golfers take before a corporate outing, my choice would be golf etiquette – especially on the green. Find a teacher or good friend and ask her or him to spend 30 minutes with you on etiquette – that's all it should take for the basics.

4. Let Faster Golfers Play Through

If you are slower than the group behind you, let those faster players "play through" your group. Letting players "through" is simple when a faster group catches up to you on the next tee, but here's how to do it on the fairway. After your group has teed off and reached their balls, move off to the sides of the fairway. Motion with a "this-way" wave for the players behind you to hit their next shots. They will probably hit beyond where you are standing (that's why they've been faster!), but keep your eye on their shots just in case they come near. (Do not be surprised if the hot-shot golfers behind you don't play as well playing through – everyone is watching and it makes them more nervous.)

After they have hit their next shots and are out of range, resume play. Most women play faster than male golfers. Nevertheless, women get a bad rap for slow play because we just don't hit the ball as far. But since we hit it straighter, we spend less time looking for balls, and it more than evens up. The most important pace of play suggestions for women golfers are to: learn to take only one practice swing, walk very quickly between shots, and always have in mind the club to hit next and get that club in your hand as soon as possible.

5. Do Some Research on the Course You're Playing

Try to find out about the course you'll be playing. The more you know the more confident you'll be. Many golf facilities have websites, so look at these. (If you can't find the website, call the pro shop for this information.) Look at the course's online scorecard and learn the yardage from the forward tees (sometimes called "red" tees).

Women generally play from forward tees that commonly range from 4,800 yards to 5,900 yards for 18 holes. If the total yardage for 18 holes from the forward tees is longer than 5,400 yards, the course is probably more difficult than average courses. Most importantly, look at the slope and "scratch" ratings from the forward tees. Slope is most important. If the slope is higher than 124, the course will be more challenging than most. The challenge may be water or bunkers on the course, or the layout could be hilly or very wooded. If you'd like more information about slope and "scratch" ratings and the handicap system, use the FREE HELP LINE on www.nancyberkley.com. (Cybergolf will run a future article demystifying slope rating and handicap systems.)

6. Be Prepared Beforehand

Call the pro shop and ask these questions: Where will I park my car? Is there a place to drop my golf bag (the bag-drop) and then park my car? Is there a women's locker room, (perhaps for changing from work to golf clothes)? Are cell phones permitted on the course? Are there rest rooms on the course? Is there a dress code (some courses do not permit halter tops or short shorts)? Are there women's rental clubs? I mention rental clubs because, even if you have a set of clubs, sometimes golf courses have the newest and greatest clubs available as inexpensive rentals. This could be a great time to try out new equipment.

7. Help Golf Facilities Become More Women-Friendly

Finally, compliment golf facilities on what they're doing right, and where there is room for improvement. If you want to know what a women-friendly facility offers, go to the list of Best Practices on my website (www.nancyberkley.com/676303.html). Feel free to direct your golf professionals to www.nancyberkley.com, where there is extensive information and help for the golf professional and golf industry.

If you follow the seven guidelines above, you can play golf with anyone – or at least almost anyone. And there's nothing that will improve your game more than just playing more.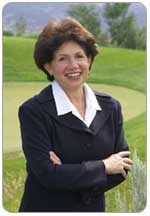 Nancy Berkley is an expert on women's golf. Her book, "Women Welcome Here! A Guide to Growing Women's Golf," published in 2003 by the National Golf Foundation, is the industry reference on how-to attract and retain women golfers. She updates her research and best practices on her website www.nancyberkley.com.

Nancy consults with facilities on how they can increase participation and revenues from women golfers and is a frequent speaker at industry events. Nancy also reviews courses for "The Golf Insider," an international golf and travel newsletter, and "Ladies Golf Journey," a golf publication for women. She's contributed articles to "Golf For Women" magazine and is the author of the 2004 PGA Magazine cover story about women golfers.

A respected resource in the golf industry, Nancy participates in Golf 20/20, the annual strategic invitation-only conference sponsored by the PGA Tour, the PGA, the LPGA, and the World Golf Foundation. At the November 2004 Conference, she moderated the panel discussions on player development with a focus on women golfers. She has addressed the National Golf Course Owner's Association at their National Conference as well as at numerous marketing seminars for the PGA and LPGA professionals. Nancy serves as a consultant to the Golden Links Advisory Board of Corporate Meetings & Incentives, a PRIMEDIA Business Publication. Nancy is an experienced golfer and has competed on the Metropolitan Women's Golf Association (N.J., N.Y., Conn.) interclub matches. She's served on the Board and Golf Committees of her golf clubs in Florida and New Jersey.

In 1998, Nancy founded Berkley Consulting and The Woman's Only Guide® to Golf to share her long-time passion for golf and to help grow the game. Prior to working in the golf industry, Nancy was an attorney for a Wall Street firm and then held a number of senior executive positions with Prudential Financial, including Assistant General Counsel and Vice President of Corporate Marketing & Business Integration. Nancy began her professional career as a high school teacher.

Nancy holds a bachelor's degree in political science from the University of Minnesota; a master's degree in teaching from Harvard University Graduate School of Education; and a law degree from Rutgers University School of Law, where she was a member of the Law Review. She is a graduate of the Program for Management Development at Harvard Business School.

Nancy describes herself as a bogey golfer and plays on her home courses in New Jersey and Florida. To contact her, write, call or email Nancy at: Nancy Berkley, Berkley Consulting 16 Fordham Road, Livingston, NJ 07039; Telephone: 973/992-1656; Fax 973/533-1986; E-mail: NMBerkley@aol.com. (Winter: 242 Eagleton Estates Blvd, Palm Beach Gardens, FL 33418; Telephone: 561/776-7243).