Kauai Honored as Hawaii's No. 1 Island & Golf Shines Too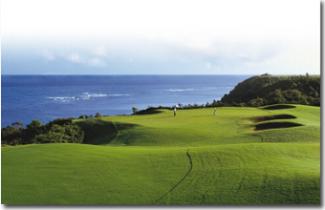 The Kauai Visitors Bureau has announced that Travel + Leisure magazine has named Kauai the second-best island in the world and Hawaii's No. 1 island.

Announced this week by the publication's annual "2006 World's Best Awards," the distinctions for Kauai were garnered via a numerical rating system which tabulates feedback from Travel + Leisure readers. Survey respondents judged islands on five characteristics: natural attractions, activities/sights, restaurants/food, people and value.

One of Kauai's most popular activities is golf. The island boasts several golf clubs and affiliated resorts, virtually all of which are rated among the best in their categories. Combined, the facilities offer visitors 117 holes of diverse beauty and style featuring everything from tropical golf to layouts atop cliffs buffeted by trade winds overlooking the Pacific Ocean.
"Kauai is honored by this award as it comes from travelers, people who have many choices but opt to spend their precious time and resources based on their experiences," says Sue Kanoho, Executive Director of the Kauai Visitors Bureau. "Visitors are increasingly recognizing our golf experiences which is appropriately reflected in our promise 'Kauai: Discover Golf's Ultimate Island Green.' "
The golf destination includes:

1. Princeville at Hanalei (www.princeville.com, 800-826-1105)
Home to Golf Digest's No. 63 rated course in "America's 100 Greatest Golf Courses/2005-06" (Prince Course)
45 holes of golf – the 27-hole Makai nines and the 18-hole Prince – all designed by Robert Trent Jones II
Overlooks exquisitely beautiful Hanalei Bay
2. Poipu Bay Golf Course (www.poipubaygolf.com, 800-858-6300)
Home to the PGA Grand Slam of Golf
Its Grand Hyatt Kauai Resort & Spa rated No. 32 in Golf Digest's "Sublime 75: America's Greatest Golf Resorts/2004-05"
Four closing holes rise 150-feet to a red sea cliff
3. Kaua'i Lagoons Golf Club (www.kauailagoonsgolf.com, 800-634-6400)
Home to Golf Digest's No. 90 rated course in "America's 100 Greatest Public Golf Courses/2005-06" (Kiele Course)
36 holes designed by Jack Nicklaus (Kiele and Mokihana courses)
Features multiple spine-tingling ocean holes
4. Puakea Golf Club (www.puakeagolf.com, 866-773-5554)
Kauai's newest 18-hole course, unveiled in 2003
Owned by AOL Founder Steve Case
Adjacent to lush site where Steven Spielberg filmed "Jurassic Park"
Kauai ranked second among the overall listing of World's Best Islands, trailing only Bali. The remaining top 10 islands were, in order: Maui; Cape Breton Island, Nova Scotia; Mount Desert Island, Maine; Tasmania; Hawaii's Big Island; Galapagos Islands; Santorini; and Phuket, Thailand.

The complete listing of the World's Best Awards will be published in the August issue of Travel + Leisure magazine.

Nicknamed the Garden Island, Kauai features lush flora that runs from the mountains to the ocean. Kauai offers more than 50 miles of white sand beaches – more beach per mile than any other island in Hawaii. Only 3 percent of the island is developed for commercial and residential use.

Other natural wonders include the 3,567-foot deep Waimea Canyon, dubbed "The Grand Canyon of the Pacific" by author Mark Twain, and the 3,000-foot-high mountain cliffs overlooking the Napali Coast along the northwest shoreline.

A wealth of outdoor activities like kayaking, snorkeling, hiking, mountain tubing, horseback riding, ATV adventures, zipline aerial tours, helicopter and boat tours, offer memorable vacation experiences for the whole family.

For travel information about Kauai, visit www.kauaidiscovery.com or call KVB's toll-free information line at 800/262-1400.