KemperSports to Manage Quail Lodge Golf Club
KemperSports has been selected by The Hongkong and Shanghai Hotels, Limited, parent company of The Peninsula Hotels, to manage the Quail Lodge Golf Club, in Carmel, Calif.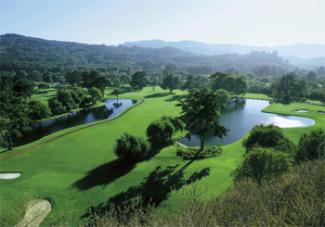 Aerial View of Quail Lodge Golf Club in Carmel
Opened in 1964 and designed by Robert Muir Graves, the 6,500-yard, par-71 golf course is situated alongside the scenic Carmel River in the Carmel Valley. With an active and loyal membership, Quail Lodge Golf Club offers a full schedule of member events and social activities. Quail Lodge also features a clubhouse, tennis courts, and a 90-room lodge, which is currently under renovation and scheduled to open on April 1, 2013. The 20,000-square-foot clubhouse includes banquet rooms, meeting space, bar and grill room with indoor and outdoor casual dining, golf shop, as well as a "members only" lounge, pool, workout facilities and men's and ladies' locker rooms.

"The members at Quail Lodge Golf Club have supported the facility for many years and we plan to continue the tradition of delivering a high-level club experience to the members and their guests," said KemperSports Chief Executive Officer Steve Skinner. "We look forward to welcoming Quail Lodge Golf Club into the KemperCollection, our network of clubs throughout the U.S."
Quail Lodge Golf Club also boasts a practice facility and golf school. The Golf Academy at Quail Lodge features a MAT-T (Motion Analysis Technology by TaylorMade) system - a high-tech tool that takes swing analysis and club-fitting to a new level. Previously only available to PGA Tour professionals, the MAT-T system gathers vital swing information and statistics using multiple high-speed cameras and converts the data to create a three-dimensional image of any golfer's swing. Quail Lodge Golf Club is the only club in northern California with the MAT-T system.

"With its newly renovated lodge, a player-friendly golf course and its advanced golf instruction program, we believe the Quail Lodge Golf Club offers a unique golf and resort experience for golfers of all types as well as to groups looking for a resort offering golf, lodging and meeting facilities," added Skinner.
KemperSports begins management of the Quail Lodge Golf Club on September 1, 2012.

For more information about Quail Lodge Golf Club, visit http://www.quaillodge.com.
About KemperSports

Northbrook, Ill.-based KemperSports operates golf facilities as well as athletic clubs, lodging venues and major sporting events, including nationally ranked courses and tournament venues such as Bandon Dunes Golf Resort, The Glen Club, Desert Willow Golf Resort and Chambers Bay, host of the 2015 U.S. Open. For more information about KemperSports, visit http://www.kempersports.com.