Kite's Work at Gaillardia Brings Hazards to Forefront
By: Steve Habel
A visit to Gaillardia Country Club, set on more than 240 acres on some of the highest elevations in Oklahoma City, can be a bit daunting at first glance, but once inside its substantial entry gate things become much warmer and friendlier. When you tee it up here, expect to experience both challenge and satisfaction.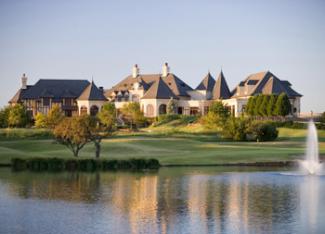 Gaillaridia's Clubhouse and Ninth Green
For a while, the course at Gaillardia was actually too friendly. The original track - as designed by Arthur Hills and opened for play in 1998 - was good but needed to be updated to create a better overall test and look.

Enter Tom Kite, the World Golf Hall of Famer, Champions Tour player and discriminating golf architect, who, as it turns out, was the perfect choice to add a "wow" factor to the layout while energizing the club's membership.

With the help of the (now-defunct) team of Roy Bechtol and Randy Russell, Kite added flair to Hills' initial routing with great variety and playability, while adhering to the preferred relationship with the community's peripheral housing development. Here, homes have views of the golf course, but golfers do not feel claustrophobic or confined by the residences.

"We worked hard to design a course that is a little more pleasing to the eye, a little more pleasing to golfers' shot selections and a track where good shots would be rewarded and poor shots would be penalized but not absolutely killed," Kite said of his renovation at Gaillardia, which was unveiled in August 2004.

Because the property was extremely expansive, one of the challenges was how to fill all the space "outside" the playing areas with interesting features. Kite determined that more definition was needed in contrast to the landscape as, apart from Oklahoma City's steady winds, there was little to challenge better players.
The solution was to create large and dramatic hazards, both sand and water. The bold shapes and flashed bunkers allow the pure-white sand to glisten in the sun. Also, new water features were added and existing ones expanded, creating an opportunity to highlight great shots. The lakes, streams and waterfalls not only surround play, but also provide a natural ambiance for an enjoyable round.

Add in native grasses, which were reseeded and have grown in beautifully in the past five-plus years, and you have a course that is not only beautiful but a very good test.

Par-72 Gaillardia stretches 7,212 yards from tips, where it's rated 74.0 and has a slope of 131. The course can be set up as much as 70 yards longer than the scorecard, and it has two holes - the 10th and the 18th - that can be changed from a par-4 to a par-5 (or vice versa), depending on the winds.

A round at Gaillardia begins with a straightaway 440-yard par-4 defined by rolling and mound-strewn fairways. No. 2 is a 345-yard par-4 that turns hard to the right around a huge bunker that comes into play if you have a go at the green off the tee.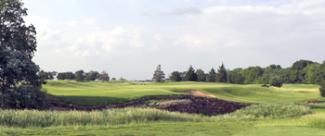 The green on No. 4 at Gaillardia
The third hole is one of the course's true gems: a 562-yard par-5 split in two by a deep creek. It plays across the hazard to a perched putting surface supported by a huge rock wall. If you can muster a 290-yard drive, you have a chance at going for the green. But huge trees left of the fairway must be missed; better off to lay up short and go for a birdie the conventional way.

No. 5 at Gaillardia is a dogleg-right 457-yard to a long but narrow green guarded by a bunker along the right. The 556-yard par-5 sixth is played over a pond and turns back leftward; it can be reached in two with a pair of stout shots.

The seventh reintroduces water in a big way as the 403-yard par-4 has a green surrounded on three sides by liquid and at the back by a bunker. Your challenge here is avoiding the bunkers on each side of the wide fairway; you must be on the left side of the fairway if the pin is back right.

The ninth is a 183-yard par-3, where you play over a pond to a green fronted by trees and bushes and with a 30-yard long sand bunker on the right. The hole also contains an "extreme" tee at 240 yards that is put in play in tournaments.
The back side starts with a 529-yard par-5, which can be changed to a 488-yard par-4 depending on the winds. Either way, it's a tough nut to crack with bunkers on both sides of the landing area and an off-kilter fairway from which to attack the green.

The 597-yard par-5 14th is the longest hole at Gaillardia. The pinched fairway is elusive, and a bunker near the 100-yard marker catches wayward lay-ups. The green is backed by water and flanked by sand.

Perhaps the hardest hole on the course is the 468-yard par-4 16th. The drive from a spit at the edge of a lake must carry water to a fairway that turns hard left. Anything less than a perfect tee ball can find the bunkers on either side of the landing area. The approach is uphill to a huge green that tilts back to front.
The 508-yard par-4 18th rises up to Gaillardia's impressive clubhouse; it can be also played as a par-5 if the 10th hole is switched to a par-4. As a par-5, this hole can be attacked, even into the wind, and birdie is a real possibility if you can negotiate the rolling, three-tired green. The approach is paramount, as the entire putting surface seems to float over the creek in front of it.

In Gaillardia's brief but impressive history, the club hosted two PGA Senior (Champions) Tour Championships in 2001-02, a Shell "Wonderful World of Golf" Match Play Tournament (pitting Fred Couples against Phil Mickelson), and conducts annual events for PGA Tour professionals.

The centerpiece of the experience is its Gaylord Learning Center, which features an expanded practice range and short-game facility, all designed by Kite. The "wedge world" has nine target greens configured in a serpentine pattern that range in distance from 20 to 140 yards.

The greens and bunker complex is modeled after the practice facility at Augusta National, and simulates different lies, distances and stances.
"Our redesign of the course, the construction of the new practice areas and the impressive Learning Center position Gaillardia as one of the premier golfing venues in the state," Kite said. "The capabilities of the Learning Center itself provide a combination of teaching and technology unmatched in this part of the country."

Gaillardia's clubhouse boasts a spectacular setting that is refined but relaxed, lavish yet functional, suitable for weddings, galas, receptions and presentations, luncheons, dinners, social gatherings and special events of all types and descriptions. The expansive men's locker room must be experienced to be believed.

Gaillardia is dedicated to providing a world-class golf facility for members and guests. After spending an afternoon here, I'd say they've hit the nail right on the head.
Steve Habel is one of Cybergolf's national correspondents, contributing news stories, features, equipment and book reviews and personality profiles from his base in Central Texas. He is also the managing editor for Business District magazine in Austin and works as a contributing editor for Horns Illustrated magazine, a publication focusing on University of Texas sports. He also writes a blog (www.shotoverthegreen.blogspot.com), which features news on golf and the Longhorns.