Kiva Dunes Gets High Ranking
Alabama's Gulf Shores Golf Association recently announced that one of its 10 member courses, Kiva Dunes Golf & Beach Club, has been named the No. 1 course in Golfweek's 10th annual, state-by-state ranking of "America's Best Courses." The course was ranked No. 2 in Alabama last year by the magazine.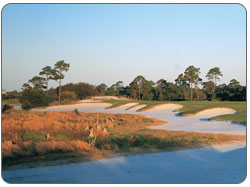 Golfweek's survey, which included all of Alabama's courses, examined overall strength of routing, feature shaping, natural setting, greens, variety and memorability of holes, conditioning and maintenance, landscape management and other criteria. Golfweek, which has a readership of more than 400,000, perennially sends roughly 300 "America's Best" raters in search of notable places the public can play.

"Kiva Dunes is thrilled to have received this wonderful honor and objective, critical praise," says Kiva Dunes Director of Golf Mark Stillings, President of the Gulf Shores Golf Association. "Everything we do is geared toward providing an unparalleled experience for our resort guests."
Other kudos for Kiva Dunes include it being named to "The Sublime 75: The Best Golf Resorts In North America" by Golf Digest magazine last fall.
Designed by former U.S. Open champion and Alabama native Jerry Pate, Kiva Dunes is part of a resort-residential community that offers private and rental condominiums. "We're thrilled for the hard-working folks at Kiva Dunes, who ensure that resort visitors are provided with great course conditions, customer service and the other amenities that go into creating an excellent golf experience," says Mike McArthur, Director of the Gulf Shores Golf Association (www.golfgulfshores.com). "Golfers say that our group of 10 member courses – all of which are outstanding, as the Kiva Dunes' award helps demonstrate – is the equal to virtually any golf destination in the country."
About Kiva Dunes Golf & Beach Club
Besides its highly rated golf course, Kiva Dunes boats the Kiva Lodge Clubhouse and Condominium, which opened in 2000. The full-service clubhouse contains meeting facilities, fitness area, three swimming pools, 3,000 feet of private gulf beach, and on-site rental management of condominiums and beach homes. For more information about Kiva Dunes, call toll-free 888/TEE-KIVA or visit www.kivadunes.com.
About the Gulf Shores Golf Association
The Gulf Shores Golf Association is comprised of 10 golf courses that offer 198 holes of beauty and challenge. Association-member courses have joined forces with hotel and resort accommodations to offer affordable "stay-and-play" experiences. Association lodging partners offer a broad selection of accommodations, from beachfront condominiums to on-site golf villas and national-chain hotels. In addition to golf, the area has clean, safe beaches, thousands of acres of nature preserves, historical sites, deep-sea fishing, shopping, and fine restaurants. To assist with your vacation planning, visit www.golfgulfshores.com or call 888/815-1902.