Knights Joust, 'Noles Chop, Bull Romps at Hootie at Bulls Bay
By: Jay Flemma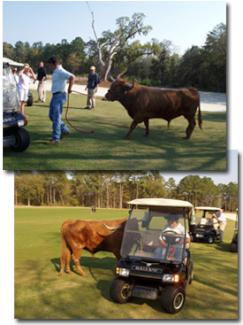 Editor's Note: Associate editor Jay Flemma recently completed his stint at Bulls Bay Golf Club in Awendaw, S.C., host site of the Hootie at Bulls Bay invitational college tournament. Here's the second of Jay's daily reports, one highlighted by the unexpected appearance on the course of a rather large bovine creature.

In a zany day at the Hootie at Bulls Bay Collegiate Invitational, unranked Central Florida and Florida State temporarily ran away from the field, while "Titleist" the Bull got loose and scampered around the course to the delight of the patrons.

Their mascot looks like Marvin the Martian from the Bugs Bunny cartoons. You might mistake the team's nickname for the Golden Eagles or Golden Gophers (that's Marquette and Minnesota respectively, but thanks for playing). And I'll bet you some down-home South Carolina barbecue that you can't name their collegiate athletic conference (Conference USA for those scoring at home), but the Golden Knights of Central Florida topped Florida State for a runaway lead after Day 1 of the Hootie at Bulls Bay Collegiate Invitational Golf Tournament.

Central Florida's Fab Five fired a fiery 14-under to lead by four strokes over Florida State (10-under). First-time Hootie competitor Baylor was tied for third at 1-under with Wake Forest. 11th ranked Coastal Carolina finished 1-over, with South Carolina and tiny Augusta State tied for seventh at 2-over.

Greg Forest of UCF raced out to 6-under start after 12 holes and finished with a 5-under 66. Teammate Preston Brown joined him at 5-under, while fellow Golden Knight and Madeira, Portugal, product Nuno Enriques carded a 4-under 67. They finished the day with three of the top five individual scores. Only Jonas Blixt and Seth Lauer of Florida State broke the stranglehold on the top tallies with 67 and 68, respectively.

"I hit my irons great today," said Forest. Starting on the back, he birdied 10, 12, 15 and 16. He missed only two greens all day, bogeying Nos. 7 and 9. "On 9 I was in the left rough and it was in a divot," he explained. "I hit it long and couldn't get up and down." Nevertheless, he remained upbeat. "This course is forgiving, the greens are great, the fairways are firm so I had a lot of roll, but the last six holes played completely differently because it went from the calmest day I've seen here to the windiest I have played in a long time," he said with a mix of surprise and respect for the sudden ferocity of the elements. "And it's treeless," continued the sophomore finance major from Palm City, Fla., "so all shots, even putts was affected."

Forest credited UCF coach Nick Clinard's laid-back, hands-off faith in his team for the squad's success and unexpected surge to the top of the leaderboard. "Coach Nick is terrific," Forest explained with a loyal, proud grin. "He just lets us play. He isn't a 'do it my way or no way' guy. He gives us space and he's the hardest working guy I have ever met. And with this course being laid back and cool it fit with our team perfectly. It has an atmosphere different from any other tourney. The course is downright unique and the Hootie and the Blowfish concert was great. All that fit with us. We're not uptight, but we're focused. We're getting a chance to blossom. We have a chip on our shoulder because we haven't played well and know we can do better."
"You have to watch out for the directional schools at this tournament," said competition director Doug Carnes. "Tiny Augusta State lost in a playoff in the tourney's first year. PGA player J.B. Holmes sank a putt to lift Kentucky to victory over the Jaguars and ASU had a strong showing last year as well. It doesn't surprise me that Central Florida leads at all."

Baylor University, making their first trip to the Hootie, also had a strong first day showing. Jeremy Frye led the way with a 3-under 68. "I only missed two fairways and one green, the par-5 sixth. I made a double-bogey there, but offset that with birdies on the par-5 second, and the fourth," (a par-4 reduced from a par-5 for the members). He also bogeyed the ninth, but closed with a birdie on 18, sinking an 18-footer to finish. "I hit the ball close all day long, but missed a couple short birdie putts inside five feet. Hopefully those will go for me tomorrow."

The Bears have been road warriors this season. "We played in Myrtle Beach two weeks ago at Coastal Carolina's tournament and we finished second in Laredo, Texas, at the Border Olympics," Frye said. They also placed third at the Louisiana Classic. Both tournaments were won by powerhouse Lamar University. The team travels to Purdue (this) week. "I'm really enjoying this week. The Hootie concert last night was awesome and the golf course layout is really interesting," he noted fondly. "And I love fast greens and these are rolling beautifully." Frey's teammate Jeremy Alcorn followed him with a 1-under 70.

The tournament has fast become one of the crown jewels of NCAA golf. Carnes stated: "Our triple goals are to make this the best college tourney based on strength of field, the quality of the golf course, and how much of a fun, unique experience we provide." His eyes light up as he recalls the team selection process. "Our goal is to have all 15 schools that compete be ranked in the NCAA top 25."

This year's field, a mix of ACC, SEC and top "at-large" schools from several other conferences, is the strongest in the tournament's three-year history. Seven schools are ranked this year including Duke, UNC and Coastal Carolina, the top team in the field according to the Coaches' Poll. "Three ranked schools that have competed here before, Auburn, Clemson and Alabama chose to compete in Hawaii this fall and could not attend due to NCAA rules that limit the number of school days an athlete can miss," Carnes noted. "But we visited No. 1 Oklahoma State, No. 2 Florida and the University of Georgia in the hope of getting them for the future."

Bulls Bay, a stunning gem of a golf course with its treeless landscape, fickle winds and devilish Mike Strantz design, is already turning heads as one of the hottest courses in the country. "We plan on making some minor adjustments to ensure the course is a stiff challenge," Carnes stated. "We added some new bunkering on No. 10, a 635-yard par-5, to stop players from cutting the corner and playing it driver, 6-iron. We'll extend that bunkering and add some scrub so players can't just bomb and gauge." Due to an elevated tee and downwind prevailing wind, the hole plays much shorter than the yardage listed on the card.
The tournament has made a firm commitment to college golf, already turning down an offer from the LPGA to be considered as a possible venue for the ladies' tour.

ACC juggernauts UNC and Duke, (pre-tournament favorites along with Coastal Carolina), have work to do to catch up. They finished at 3-over and 4-over respectively. "As a team, we played the par-5 13th hole six-over," noted red-haired assistant coach Don Hill, who shares his name with New York City's famous rock and roll venue. "It's also a locksmith and gun shop, don't forget that," adds irreverent team jokester Rob Reisin, who carded a 1-over 73. "We didn't play 13 well and it hurt us today," Hill said of the brutally long horseshoe par-5 around and over an insidious water hazard.

The teams re-tee at 9 a.m. tomorrow for the second round.
"THE BULL IS LOOSE!"

The event had a madcap moment when tournament mascot, "Titleist" the bull, got loose from his tether near the 16th green and roamed around the golf course for 20 minutes.

"Apparently he got stung by a wasp right on the nose," said spectator Mike Adams. "He was fine and then all of a sudden he rubbed his nose on the ground and on the tree where he's tied and then he rolled around on the ground snorting. He is normally totally mild-mannered and tame, but he just got agitated when he got stung." Scoring official Bobby Wilson saw the whole thing unfold. "One minute Titleist was fine and the next he was haulin' ass down the fairway dragging his tethering rope behind him."

Chase Duncan - appropriately named for this misadventure - a sophomore finance major from N.C. State, met Titleist up close and personal. "I was lining up a nine-inch putt for par on 17 and my playing partner, Mark Silvers from South Carolina, said 'Holy shit!' I looked up and it's running over the hill, about a hundred yards away from us and closing fast. So we start walking slowly in the opposite direction, but the bull made eye contact with me. I just saw the movie 'Jackass Number 2' where Johnny Knoxville gets knocked into next week by a bull and here I am with no rodeo clown or gate to jump over. All I remember next was thinking about those massive horns, so I bolted," he explains in between laughs.

"Thankfully the bull slowed down and turned away into the woods. Now I still have a nine-inch putt and I'm still petrified. I never shook over a nine-inch putt like that in my life," he said with a grin.

Silvers was equally incredulous over the ridiculousness of the situation. "My girlfriend is here with me. While Chase was putting, I saw the bull running loose and pointed it out to her, laughing. She asked me if it was a big dog. Then I putted and made my putt," he continued.

"When I took my ball out of the hole, I looked up and suddenly he's coming right at us and here I am in a red shirt! I'm a prime target. We ran. It kept getting closer and closer, it's a freakin' bull and it's huge!" he said, grabbing his sides laughing as he later explained the situation in the clubhouse. "At least I made my birdie." The sophomore from Savannah, Georgia studying finance shot 2-over 73 with an 8 on the par-5 13th. "I hit a tree and it went in the hazard and I couldn't get it out. But I finished with two birdies, one after having my life flash before my eyes. Golf didn't seem quite so serious after that."

"It was hysterical," giggled spectator Sarah Gondrin. "I never saw golfers move so fast in my life. They scrambled like rabbits and scattered like ants!" she said, breathless with laughter. "Yeah, golfers became track stars real quick," joked Bobby Wilson.

The bull then led everyone on a merry chase, tromping all over the front nine before getting cornered by tournament staff on the eighth fairway. "We just dropped our clubs and ran," said Florida State's Matt Savage, who scattered off the eighth fairway as Titleist roamed the course apparently looking for his handlers and heading towards his paddock.

"That happens occasionally," said one Golfstats scorer turned ersatz animal handler. "He gets free sometimes, but Titleist is completely docile. He loves people and being ridden, so it's fine. Besides, the winner has to ride him in order to collect his trophy." Titleist got one of the biggest ovations of the day from the gallery as he was led back to his post near the 16th green. The bull had no comment.
Since launching his first golf writing website in 2004, http://www.jayflemma.thegolfspace.com, Jay Flemma's comparative analysis of golf designs and knowledge of golf course architecture and golf travel have garnered wide industry respect. In researching his book on America's great public golf courses (and whether they're worth the money), Jay, an associate editor of Cybergolf, has played over 220 nationally ranked public golf courses in 37 different states. Jay has played about 1,649,000 yards of golf - or roughly 938 miles. His pieces on travel and architecture appear in Golf Observer (www.golfobserver.com), Cybergolf and other print magazines. When not researching golf courses for design, value and excitement, Jay is an entertainment, copyright, Internet and trademark lawyer and an Entertainment and Internet Law professor in Manhattan. His clients have been nominated for Grammy and Emmy awards, won a Sundance Film Festival Best Director award, performed on stage and screen, and designed pop art for museums and collectors. Jay lives in Forest Hills, N.Y., and is fiercely loyal to his alma maters, Deerfield Academy in Massachusetts and Trinity College in Connecticut.