La Costa - Mediocre Expectations Become a Magnificent Reality
By: Tony Dear
My cards are on the table: Last November I visited La Costa Resort in Carlsbad, Calif., for the first time, determined not to be swayed by its somewhat extravagant claims and a reputation I suspected had been largely self-awarded. Words like "iconic," "legendary," and "synonymous with excellence" popped up on promotional material even though the evidence on our TV screens sometimes painted a quite different picture.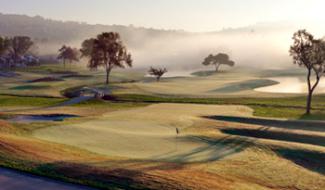 The 18th is Now a Considerably
More Interesting Finishing Hole
Sure, a number of A-List celebs frequented the place back in the day when it was touted as the "ultimate international watering hole," and the PGA Tour did make an annual visit for many years bringing Jack Nicklaus, Arnold Palmer, Lee Trevino, Tom Watson, Gary Player, Tiger Woods and Phil Mickelson with it (the Tournament of Champions was played here from 1969 to 1998, and the WGC Match Play in 1999 and 2000 and then from 2002-06).

But those tournaments were often blighted by heavy rains that didn't sit well on the property's heavy clay soil, and the course would invariably end up covered in puddles. What's more, the flowers were never in bloom, the trees were bare, the bunkers looked old and tired, and some of the holes themselves appeared rather plain. To me, the overall effect wasn't terribly moving.

The players certainly enjoyed the opportunity to stay on-site, and their wives no doubt loved the spa. But rarely did you hear a competitor speak in glowing terms about the course.

Tod Leonard, a golf writer for the San Diego Union-Tribune, wasn't exactly speeding up I-5 from downtown to get there either. "No one I know ever made much of an effort to drive up to La Costa," he says. "Once a year, I might go to Aviara, which is next door practically, but not La Costa. To be honest, the place didn't have much cachet in San Diego."

A large part of the reason why Leonard and many of his fellow San Diegans would venture the 30 miles north so infrequently was because there really wasn't a need to. "There were plenty of decent courses much nearer town," Leonard says. "Good courses where you didn't have to pay such high green fees. And because of the drainage issues at La Costa, you could be there in the middle of summer but still need to keep your cart on the cart path, which never goes down well."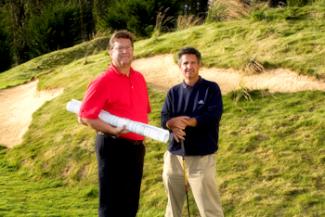 Damian Pascuzzo & Steve Pate
Steve Auckland, superintendent at La Costa for the last 11 years, had his work cut out to keep the resort's 36 holes (called the North and South courses) in good shape. "If it rained, the playing surfaces would stay wet for several days," he says. "And on top of that, we were battling greens that had all been constructed differently, which meant we needed a different plan for each one."

When KSL Recreation Corp. purchased La Costa from a division of Japanese firm Sports Shinko in 2001, the resort began to see the level of investment it had obviously needed for years. KSL Resorts managed the property and continued to do so even after it was sold to Goldman Sachs' affiliate Whitehall Street Global Real Estate LP in 2007. In March 2010, the resort was sold again: to KSL Capital Partners, meaning many of the same individuals that had been part of the purchase group in 2001 were back in the driver's seat.

According to KSL, $200 million had been invested in the property since 2001. And yet the money hadn't quite had the desired effect. La Costa's status in the high-end luxury-resort industry was still a few notches below where it had been in the latter stages of the 21st century, one Union-Tribune writer (not Tod Leonard by the way) even complaining of "smelly, unclean rooms" and "terrible service").

The $50 million renovation the resort embarked upon at the start of 2011 certainly wasn't a last-ditch effort to regain the popularity and acclaim it once enjoyed, but you have to wonder if the owners had begun to lose patience. This time they really meant business, hiring the renowned interior design firm Forrest Perkins to update the resort's 610 guest accommodations, the 43,000-square-foot spa, an events center and public rooms. A pool especially reserved for adults was added along with two locations for outdoor functions. And this time, at long last, the golf courses got their share of attention.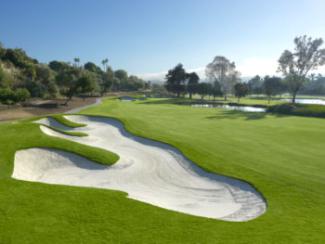 The Beautiful 13th - the Author's Favorite
Having completed a handful of projects for KSL-owned ClubCorp, Damian Pascuzzo and architect-partner Steve Pate were well-positioned to bid on the job, but still had to compete with nearly a dozen other firms to land the prestigious commission.

"I was in San Diego for the Golf Industry Show in February 2010 and went up to La Costa to have a look," says Pascuzzo, who learned the trade from Robert Muir Graves. "It was the middle of winter, which didn't help, but the tees, fairways and greens looked pretty bad. And the bunker sand had migrated, which is typical for a 45-year-old course. Dick Wilson's routing and the location had always been great, but the course had definitely lost its luster. It basically looked as bad as it could."

Pascuzzo spoke at length with Auckland about drainage and asked what he thought the resort owners' wishes were for the course. "They knew they had to do something," says Pascuzzo. "I'm just not sure they knew what exactly. But it was in dire need of some upgrades. Aviara and Pelican Hill, its nearest competitors, had moved ahead and were getting a lot more good press. La Costa was losing ground."

Pascuzzo and Pate got to work writing up their proposal saying what they thought the course needed. With them was fellow architect Jeff Brauer, a good friend of Pascuzzo's who had trained under Dick Nugent. "Jeff and I have been friends a long time," says Pascuzzo. "Our mentors had similar ideas about course design, so we always knew we could collaborate. We'd never had the opportunity before, but this time the stars aligned."

Pascuzzo says he dearly wanted the job. "I'd never been there prior to 2010, but I'd watched the Tournament of Champions so knew all about it. We knew it was going to be a 'game-changer', and Steve was obviously eager to work there having won the ToC."

"I'd never been there prior to 2010, but I'd watched the Tournament of Champions so knew all about it. We knew it was going to be a 'game-changer,' and Steve was obviously eager to work there having won the Tournament of Champions."

Pate, a two-time Ryder Cup player and the 1988 TofC champion (that event was cut to 54 holes because of . . . yes . . . rain), was obviously excited to be back at the scene of the second of his six Tour wins. "I played my first big amateur tournament at La Costa and watched my first pro event there," he says. "The place is obviously very special to me. I've always loved it."
The team was hired in May, and began by generating generating a series of conceptual plans and budgets, and agreeing on a final master plan with KSL executives. "After that we prepared a full set of construction drawings and specifications," says Pascuzzo.

"These had to be reviewed by the city so that they would issue a grading permit. While the city was reviewing the plans we went through an extensive contractor bidding and interview process that took up November and December."

The contractor was selected by the middle of January 2011 and their terms were negotiated for the next three weeks. The grading permit was issued in February and construction began later that month.

By this time, Pascuzzo had asked fellow architect Jeff Brauer to join them. "Jeff and I have been friends a long time," says Pascuzzo. "His mentor was Dick Nugent, mine was Robert Muir Graves. They had similar ideas about course design, so Jeff and I always knew we could collaborate. We'd never had the opportunity before, but this time the stars aligned."

There were two main priorities - improve drainage and make the course more amenable to resort guests. "La Costa's clientele was changing," Pascuzzo says. "KSL's corporate business had been stagnant for a while, so it wanted to give the course a broader appeal, maintaining the challenge for seasoned players but making it family-friendly at the same time," he says.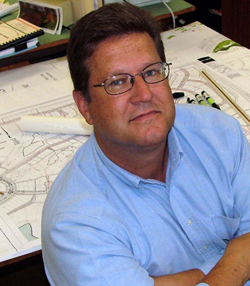 Damian Pascuzzo in his Office
Pascuzzo suggested putting "family" tees in about 150 yards from every green, an idea the client liked. "The course had long had a reputation for favoring the better player," says Pascuzzo. "Dick Wilson favored good strategy, but the North Course had begun to look penal. The fairways had gotten narrower over time and the greens smaller. But at the same time, the pro game had sort of passed it by. The fairway bunkers were now totally obsolete for today's power hitters. So now it was neither a tournament-caliber course nor a true resort course."

Asked to give a brief summary of what he and his partners ended up doing, Pascuzzo says he can't. "Where do I start?" he says. "We did a lot an awful of things in a relatively short period. The tees, greens and bunkers were all restored from the ground up and, in some cases, repositioned. We added lakes on the 17th and 18th to add a little strategy and interest. We capped the fairways with seven inches of sand (about 43,000 tons), added new drainage, contoured them, and seeded them with 419 Bermuda.

"We moved the first green back 25 yards, and shifted the 15th green further from the clubhouse and across the creek to create more space in what had been a pretty congested area. We made minor adjustments to cart paths. And we took out 30 acres of irrigated turf and replaced it with native areas."

They also altered the four holes on the South Course that are visible from the clubhouse - the first, ninth, 10th and 18th - capping the fairways with sand to prevent them from getting waterlogged. The original intention had been to use the $8 million budget on both courses, but Pascuzzo decided it was better spent on bringing the North Course, since renamed the Champions Course, up to tournament-standard.

Flicking through his notes, Pascuzzo sees that he made 24 visits to La Costa between February and October 2011, averaging three days per trip. "I practically lived there," he says. "And that's on top of the 10 or so trips I made in 2010."

Considering how many balls the designers had to juggle and how many parties they needed to appease simultaneously, it's remarkable what they achieved. On the one hand, they had to convince the client their ideas were workable, affordable, sustainable and would, ultimately, result in more play. They had to accommodate the club's membership (yes, the resort's two courses are also home to a private members' club) and keep it interesting for good players, with the thought never far away that the PGA Tour could one day come calling again. They had to make it more playable for less-proficient golfers. And they were committed to restoring Dick Wilson's strategic elements while satisfying their own creativity.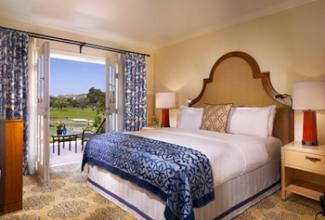 New Room at La Costa
The feedback thus far has been almost entirely positive, but really, how could it not be? The bunkers look considerably more imposing, not to say attractive, than they did before and are positioned just so, forcing you to wrestle with the choice of taking the safe line or gambling on several holes.

The course is in immaculate shape and was perfectly playable throughout the sustained downpour in which I played it. Good players have all the length (7,172 yards from the back tees) and challenge they need, and it shouldn't strip the irregular player of his dignity. Indeed, Golf Magazine writer Cameron Morfit, who played the course in November, says he found it "imminently playable."

"We had a high-handicapper in our group, and he did fine," Morfit added. "There are one or two forced carries, but they're at par-3s that don't require unusually long tee shots."

Leonard has been similarly impressed. "The course is markedly different," the writer says. "Now it will be so much more playable in all conditions. The 15th has been dramatically altered, and should now be a very interesting hole for the pros - is it worth taking a driver and aiming at the green, or should they just play it safe? The changes are a major improvement."

And Leonard doesn't stop at the course, adding the restyling of the resort has made it much more appealing. "The resort is 100 times better," he says. "It used to be almost dingy; never quite as good as its reputation suggested it might be. Now it's spectacular."

Celebrating La Costa's revival the most thus far, however, might well be Auckland, who says the Champions Course is now dry within hours of a heavy rain. "The new drainage has had such wonderful results," he says. "But more than that, we now have 18 greens that were built at the same time and with the same material. That makes the putting surfaces so much more consistent and easier to maintain. We can water the course much more efficiently than before, and the upgraded pump station allows for electrical savings."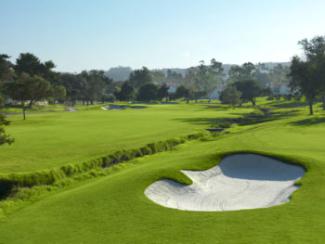 The Long Par-4 14th is One of the Strongest holes on the Course
Auckland adds that while the job is still demanding - the Champions Course has bentgrass greens while the South's are poa annua - it is at least a little more predictable. "I can be confident that on the Champions Course everything is working and acting correctly," he says.

Pascuzzo says the course will evolve for several years, and warns the members not to expect it to remain static. "It will be two years at least before the course reaches its full potential," he says. "The native areas and mowing patterns will be established by then. Actually, that should make it very appealing for once-a-year resort guests. They will see significant developments every time they visit."

However it develops though, Pascuzzo, Pate and Brauer can feel justly proud of the changes they've made. Dick Wilson built a great course, but it didn't stand the test of time, or occasional inclement weather, particularly well. Pascuzzo, Pate and Brauer have ensured Wilson's layout will endure for many more decades, while enhancing their own reputations with several inspired alterations and additions.

Pascuzzo says it would be nice to see the best players in the world return to La Costa and take on the Champions Course, but adds that really isn't the measure by which he will gauge his success. "How well the course is received by members and paying guests is far more important to me," he says. "If paying customers return to play it again and again, that will give a better indication of how well we did."

When time comes to hang up his architect's hat, Pascuzzo says he will likely look back on La Costa as a notable milestone along with his 1999 restoration of La Quinta CC (with Graves) and 2006 design of the superb Monarch Dunes in Nipomo, Calif.

One hopes he gets the opportunity to restore (and build) a few more courses yet, but there would be no shame at all if, when he did decide to put down his tools, the Champions Course at La Costa was the career highlight that still shone brightest of all.

For more information, visit www.lacosta.com.

This story originally appeared in Cybergolf on February 13, 2012.
Tony Dear is an Englishman living in Bellingham, Wash. In the early 1990s he was a member of the Liverpool University golf team which played its home matches at Royal Liverpool GC. Easy access to Hoylake made it extremely difficult for him to focus on Politics, his chosen major. After leaving Liverpool, he worked as a golf instructor at a club just south of London where he also made a futile attempt at becoming a 'player.' He moved into writing when it became abundantly clear he had no business playing the game for a living. A one-time golf correspondent of the New York Sun, Tony is a member of the Golf Writers Association of America, the Pacific Northwest Golf Media Association and the Golf Travel Writers Association. He is a multi-award winning journalist, and edits his own web site at www.bellinghamgolfer.com.