Laguna Seca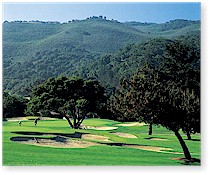 Laguna Seca is a Robert Trent Jones Jr. and Sr. designed golf course. Built in 1970, this well maintained layout winds through oak-studded coastal hills along the Monterey-Salinas corridor.
This is a vintage Trent Jones layout with many elevated tees and well placed strategic bunkers guarding both greens and fairways. The course plays to a wide range of yardages. From the red tees it plays just over 5300 yards and stretched to over 6100 yards fro, the blue tees.
One of the most challenging and fun holes to play at Laguna Seca is the 548 yard par 5, 15th hole. The tee shot must be placed accurately between a lake on the left and bunker on the right. From here long hitters will be temped to go for the green in two over a couple of well positioned lakes. Most players will have to loft a lay-up shot between two lakes leaving an approach shot of between 150 to 100 yards to a well bunked green.
Laguna Seca offers a very enjoyable dining experience and the pro shop is well stocked. They offer a variety of tournament services run by a warm and friendly staff.