Leading Indicators for Women & Junior Girls Golf
By: Nancy Berkley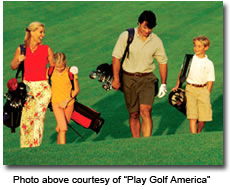 Three golf events were held this summer specifically for women and girl golfers. The results are in and they represent leading indicators of market. Here are the recently-released participation numbers:

PGA Free Lesson Month May 2006

"PGA Free Lesson Month" is a grow-the-game initiative backed by the PGA of America, Golf Digest, the Golf Channel and Golf for Women magazine, with additional support from Nike Golf. Almost 6,000 golf facilities participated and about 7,500 golf professionals offered free 10-minute golf lessons (for more details, visit www.playgolfamerica.com). Here are some of the more salient results.

• Twenty-five percent of the 147,000 free lessons were given to women (who represent about 25% of all golfers in the U.S., so this number is right on target). The PGA reports that lessons this summer were up 21% over last summer.
• But here is a very interesting statistic: About two-thirds of the May lessons to women were given to women under the age of 18. What does that tell you about junior girls' golf?
In its 2005 Consumer Golf Profile, the National Golf Foundation recognized significant growth in girl juniors ages 12-17, but said that they were not sure it was a blip in their stats or a trend. I say "trend!"
Expect to see more growth in that segment and for it to spill over into "family" golf, which is increasingly visible in advertising and promotions.
The issue for the industry is "if" and "how" they will support budding girl golfers. If the backing of the World Golf Foundation and the PGA Tour – which supports The First Tee and National School Golf Program – continues, the future of women's golf and the overall health of the game will be rosy.
American Express Women's Golf Week – June 3-10, 2006

This is the second year of a Women's Golf Week – the result of a suggestion that arose from Golf 20/20 a few years ago. The 2006 event featured strong American Express branding. (Since women make many financial decisions for themselves and their families, the investment by American Express makes sense.) The personable Suzy Whaley, LPGA and PGA member, instructor and TV commentator, was the national spokesperson for the program. The week was also sponsored by many industry golf organizations (for further details, visit www.playgolfamerica.com). During Women's Golf Week, courses and instructors offer numerous special learning and playing programs for women.
Here are some numbers:

• About 600 golf facilities participated in Women's Golf Week this year – more than double last summer's total. The number of women golfers also doubled as the program reports that 20,000 women participated. The official beneficiary of the program was the American Heart Association's "Go Red for Women" campaign. Women are good-health consumers, and golf is a heart-healthy game. Since women respond to cause-related marketing, the fit is good. The test will be whether next year the marketing will be broader market-based to reach more women. There should be more advertising in publications outside the golf industry in an attempt to reach more new and occasional female golf consumers. I think American Express knows how to do that!

Take Your Daughter to the Course Week July 10-16 Sponsored by the National Golf Course Owners Association (NGCOA)

The NGCOA, which has about 4,000 facility-members in the U.S., continues to be a leader in welcoming women and girls to the game. The "Take Your Daughter to the Course" program began in 1999, and in this, its seventh year, reached 75,000 players (adults and children combined) during the week. Over 1,200 courses participated, offering free green fees and clinics to young girls accompanied by an adult. Many facilities added their own special attractions to make the game fun for young players – like a long-drive contest using marshmallows for golf balls. Brad Faxon, father of four daughters, was the national spokesperson. (For details, visit www.ngcoa.org.)

More Observations

• Fashions are changing very quickly for women golfers of all ages. Styles are much trendier and no longer purchased only in golf-specialty shops. (Just check out Abercrombie and Nordstrom for their golf clothing lines.) The result is that it will become impossible to gather accurate statistics on how much (or little) women spend on "golf" apparel. Yes, you can learn what pro shops sell. Yet that is not an indicator of the strength of the female-consumer golf market but rather a sign of the marketing-savvy clothing manufacturers and golf shop buyers.

• The fastest growing segment of women golfers are those between the ages of 18 and 29. They represent almost one-quarter of all female golfers. Young female golfers average only about three rounds a year. The challenge for marketing to the occasional golfer is that there is only one chance to get it right and only one chance to capture consumer information.

• Interestingly, the average score of young women golfers (even when they play only a few times a year) is not much different than older women golfers and those who play more frequently. According to the NGF, the average 18-hole scores range from 104 to 109.

• Why do young women who don't play golf often still seem to play golf as well as avid, older women? I think it's because today's younger golfers are the second generation to benefit from better sports education and athletic programs in school – thanks to Title IX. The impact of both Title IX parents and children provides positive context for the growth of the game. Today, there are little girls' soccer teams, baseball teams, lacrosse teams, and tennis teams, to just name a few. Contrast that with the dumpy uniforms women now in their 60s wore in gym classes, where the most vigorous sport may have been volleyball.

• Older women, however, may be a better golf customer today. Looking at averages, the older the woman golfer the more golf she plays. Female golfers over age 60 average about 30 rounds a year. They have more time for the game because they are less likely to be working or raising children.

• The fact that older women play more golf – and have played at the same skill level for years – confirms that golf is a social activity for many women. Nothing beats several hours on the golf course with good friends – even if you don't break 100.
Nancy Berkley is an expert on women's golf. Her book, "Women Welcome Here! A Guide to Growing Women's Golf," published in 2003 by the National Golf Foundation, is the industry reference on how-to attract and retain women golfers. She updates her research and best practices on her website www.nancyberkley.com.

Nancy consults with facilities on how they can increase participation and revenues from women golfers and is a frequent speaker at industry events. Nancy also reviews courses for "The Golf Insider," an international golf and travel newsletter, and "Ladies Golf Journey," a golf publication for women. She's contributed articles to "Golf For Women" magazine and is the author of the 2004 PGA Magazine cover story about women golfers.

A respected resource in the golf industry, Nancy participates in Golf 20/20, the annual strategic invitation-only conference sponsored by the PGA Tour, the PGA, the LPGA, and the World Golf Foundation. At the November 2004 Conference, she moderated the panel discussions on player development with a focus on women golfers. She has addressed the National Golf Course Owner's Association at their National Conference as well as at numerous marketing seminars for the PGA and LPGA professionals. Nancy serves as a consultant to the Golden Links Advisory Board of Corporate Meetings & Incentives, a PRIMEDIA Business Publication. Nancy is an experienced golfer and has competed on the Metropolitan Women's Golf Association (N.J., N.Y., Conn.) interclub matches. She's served on the Board and Golf Committees of her golf clubs in Florida and New Jersey.

In 1998, Nancy founded Berkley Consulting and The Woman's Only Guide® to Golf to share her long-time passion for golf and to help grow the game. Prior to working in the golf industry, Nancy was an attorney for a Wall Street firm and then held a number of senior executive positions with Prudential Financial, including Assistant General Counsel and Vice President of Corporate Marketing & Business Integration. Nancy began her professional career as a high school teacher.

Nancy holds a bachelor's degree in political science from the University of Minnesota; a master's degree in teaching from Harvard University Graduate School of Education; and a law degree from Rutgers University School of Law, where she was a member of the Law Review. She is a graduate of the Program for Management Development at Harvard Business School.

Nancy describes herself as a bogey golfer and plays on her home courses in Florida and New Jersey. To contact her, write, call or email Nancy at: Nancy Berkley, Berkley Consulting, 242 Eagleton Estates Blvd, Palm Beach Gardens, FL 561-776-7243 or at info@nancyberkley.com.