Lederach Golf Club Opens in Eastern Pennsylvania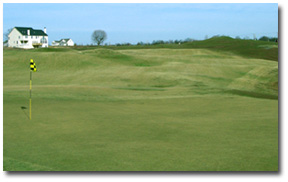 Lederach Golf Club in Lower Salford Township, Pa., opens for play on Saturday, April 8. The much anticipated layout by golf course architect Kelly Blake Moran, should be a hit with golfers throughout eastern Pennsylvania.

Moran has devised a delightful test that features undulating fairways, sloping greens, an array of native grasses, elevation changes and other natural obstacles. Lederach protects par not with modern design gimmicks such as forced carries and countless bunkers, but instead presents deceptively difficult collection areas, uniquely shaped greens, strategically-placed sand traps – the course has only 32 total, yet all are in play – and risk/reward options that will keep golfers on their toes at all times.

"Lederach is set on lovely rolling farmland and we wanted a design that reflected the subtle beauty of the terrain," said Moran, whose firm is in nearby in Berks County and is very familiar with the area. "Our 'land-based' approach to course building worked particularly well at Lederach and players can expect to find many opportunities to play shots they won't get to try at other courses."
The course measures 7,023 yards from the tips. It also has three other sets of tees, as well as blocks on each hole for juniors. Lining Lederach's bent grass fairways and greens are a fescue, blue stem and Indian switch grasses. The course also features an enormous all-grass driving range – one of the few of its kind in the area.
Owned by Lower Salford Township and managed by Billy Casper Golf ("BCG"), the course is competitively priced and offers preferred rates for residents, junior and senior players. Tee times can be booked by phone at 215/513-3034 or online at www.lederachgolfclub.com. Lederach;s website has more information about the layout.
The facility's 5,000-square foot-clubhouse offers views of the layout and contains a spacious dining area, ŕ la carte menu, bar and lounge and full-service pro-shop. A pavilion is adjacent to the clubhouse serves groups wanting to enjoy the outdoors after their special functions.
"Accessible from Philadelphia, Reading and the Lehigh Valley, Lederach Golf Club is one of the premier golf venues in eastern Pennsylvania," says BCG Regional VP Tony Cianci, who oversees operations of the golf course . "The layout is second-to-none and the amenities – the driving range, clubhouse, pavilion – are what you would expect of an outstanding golf facility."