Legion Memorial Golf Course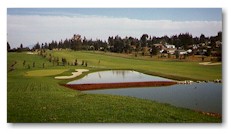 This public 18-hole course is owned by the city of Everett. Located in the cityís north end, Legion Memorial offers vistas of the Puget Sound from its prominent perch above the Snohomish River. The course was originated in 1934 with nine holes; a second nine followed in 1942. Legion Memorialís original course was designed by two-time U.S. Amateur champion, Chandler Egan, an Oregonian who was primarily responsible for the redesign of Pebble Beach Golf Links.

In 1998 the course underwent a massive remodel, compliments of Florida architect Steve Burns. The result is a modern layout that challenges golfers of all abilities, and a well-engineered course that offers excellent year-round drainage. From the tips, Legion Memorial stretches 6,900 yards, where itís rated 71.5 with a 116 slope. The course is quite affordable, both for Everett residents and visitors alike. The golf facility is complimented by a clubhouse with food and beverage service, a banquet area, and practice greens and bunkers.
For more information or to book a tee time, call 425/259-4653, or go online to www.legionmemorialgolf.com.