Lehman Designs New Nine for Omni Tucson National Golf Resort
Under the direction of 2006 Ryder Cup Captain Tom Lehman and his design team, the Omni Tucson National Golf Resort & Spa, home to the PGA Tour's Chrysler Classic of Tucson, has begun construction on a new desert style course to complement the resort's traditional parkland Orange/Gold championship course.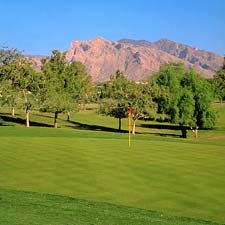 In addition, two holes on the championship course will be redesigned to lengthen and tighten the holes in time for the 2006 tournament, pending approval of the PGA Tour. The remaining 16 holes will remain unchanged.

"With Tom Lehman's signature, the new desert course will become a much-in-demand destination for golfers," said David Morgan, general manager of the resort. "And, it will complement and enhance our reputation as among the finest golf and spa resorts in America."

Ranked in 2004 as one of America's top golf resorts by both Golf Digest and Condé Nast Traveler, the Omni Tucson National Golf Resort & Spa will again serve as the host for the PGA Tour's Chrysler Classic of Tucson, February 23-27. The course began hosting the Tucson stop in 1965.
"I'm looking forward to doing my part in creating a golf course that the members and guests will enjoy, find interesting, feel challenged by and look forward to playing again and again and again," said Lehman. "Hopefully everyone's expectations will not only be met but exceeded."
Lehman and his team will create the new desert course by adding nine holes to the existing nine-hole Green course. The new nine will be built on an undeveloped parcel along the eastern edge of the property. In designing the course, Lehman's objectives were to utilize and protect the natural washes and native vegetation, to create a seamless appearance between the two parcels and to fashion a layout that will require golfers to hit a variety of shots. The Green nine currently features steep elevation changes and magnificent views of the surrounding Sonoran Desert. The undeveloped parcel is distinguished by native vegetation and a number of washes.
At 6,418 yards, length will not be the primary challenge. Rather, Lehman's design incorporates strategic fairway bunkering that will require players to place their tee shots carefully while a set of green complexes will call for thoughtful approaches and a deft short game. Par will be 70 from all tees. Construction is expected to be completed by November 2005.
"Our goal is to create two distinctive golf experiences in a single resort," said Morgan, general manager. "By offering both a PGA Tour-caliber championship course and a desert-style layout with a southern Arizona flavor, we are enhancing the playability of our facility for resort guests and members."
Morgan said the expansion will allow the resort more flexibility in serving the golf needs of leisure travelers and business groups, while ensuring greater access for members and their guests.
The 650-acre Omni Tucson National Golf Resort & Spa is a four-star, four-diamond award-winning resort quietly nestled in the foothills of the Santa Catalina Mountains. In addition to championship golf, the resort offers a 13,000 square-foot world-class spa, two sparkling pools, lighted tennis courts, two fine restaurants, 13 meeting rooms with 15,000 square feet of space and 167 rooms and suites. It is 18 miles from the Tucson International Airport. The resort was named one of America's Best Hotels & Resort Spas in 2004 by Mobil Travel Guide.

The scenic golf facility was ranked "one of the top 100 golf resorts in America" in the Condé Nast Traveler 2004 Annual Reader's Golf Poll. In addition, it was ranked "one of the top 75 golf resorts in North America for 2004" in Golf Digest. As the host course for the PGA Tour's Chrysler Classic of Tucson and the Southern Arizona Open, its traditional-style fairways cap a bluff overlooking the beauty of the Santa Catalina Mountains.

Lehman will lead the American team into the 2006 Ryder Cup matches against the European team. Named to the prestigious post last fall by the PGA of America, the honor recognizes his outstanding career. He was named PGA Tour Player of the Year in 1996 after an outstanding year in which he won both the British Open and the Tour Championship. Lehman also has represented the United States in three Ryder Cup and three President's Cup competitions.

The Lehman Design Group is based in Scottsdale and currently has golf courses in the planning or construction stage in Arizona, California and Canada. Lehman began designing courses in 1996 and has 11 course designs or redesigns under his belt. His partners in the Lehman Design Group have participated in more than two dozen courses across North America.

Omni Hotels, based near Dallas in Irving, Texas, offers luxury accommodations at 40 hotels and resorts located throughout the United States, Canada and Mexico. Omni Hotels offers unsurpassed meeting facilities with a wide range of guest services and amenities including high speed Internet connectivity, wine-tastings, gourmet dining, state-of-the-art fitness facilities and tours of local attractions. Through an aggressive expansion strategy, Omni Hotels is steadily entering new markets across North America. Guests can locate hotels, book accommodations or find out more about Omni Hotels by calling 1-800-THE-OMNI or accessing the company's website at www.omnihotels.com.