Lendl Course is Approved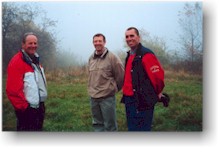 The Planning and Zoning Commission of Goshen, Connecticut approved a zone change that paves the way for a new golf course project headed by former tennis great, Ivan Lendl. Lendl and his partner, David Rosow Sr., now plan to proceed with a Steve Smyers-designed championship-length track on the former Ivy Mountain Farm property. The site was rezoned from agriculture to rural recreation to facilitate the development.
Under the auspices of their company, International Golf Group, Inc., Lendl and Rosow will be submitting a site plan application this summer, the final step before getting construction permits. There are two large buildings and several smaller buildings on the property, which borders an 848-acre section of open space purchased for $2.4 million by the state Department of Environmental Protection in May 1999. Besides the Smyersí course, the project includes a practice facility and a clubhouse with a 175-seat restaurant.
The plan presented to and approved by the commission devotes 330 of Ivy Mountain Farmís 626 acres to open space. The approval process took a mere 20 minutes. The only objections voiced related to water usage, traffic and the effects of fertilizers on the environment. In its presentation the developersí representatives granted a permanent easement to the Goshen Land Trust for a public hiking trail to and from nearby Ivy Mountain State Park.