Letter from America
By: Tony Dear
Before making his somewhat tactless remarks about Americans, I was a big Paul Casey fan . . . I still am. The hullabaloo surrounding the 27-year-old Ryder Cupper faded Stateside toward the end of the year, but re-surfaced at the Sony Open in January when he made his first official start on the PGA Tour since the incriminating article appeared in London's Daily Mirror. Casey knows better than anyone what a berk he was for saying what he did, but as one American journalist put it to me recently; "He's just a dumb, inexperienced kid who said what a lot of people are probably thinking, but to the wrong person."
Conversation between Casey and Sony Open playing partners Cameron Beckman and John Riegger was subdued to say the least and one got the distinct impression neither Beckman nor Riegger were terribly thrilled to be playing with the man ranked 29th in the world. It would have been interesting to get both players' opinions but, following a second-round 80, Beckman was nowhere to be found and Riegger, a chain-smoking, fractious-looking dude from Vegas didn't strike me as the sort of guy who might happily get involved in idle banter on so controversial a subject. So I didn't ask.
Prior to the event, Casey had made no secret of the fact he wasn't looking forward to the 1st tee Thursday morning, but the jeering he had feared never materialized. Made up predominantly of Japanese tourists, school kids cheering on Michelle Wie, and chilled-out Americans who have wisely dropped out of the real world to live in Paradise, this was one gallery that was never going to let Casey have it.
It will be a very different story elsewhere. Should he decide to play the FBR Open in Phoenix (Ed. Note: He didn't), there might not be much left of Casey after the crowd at the notorious 16th hole has finished with him. He may have attended nearby Arizona State University and own a house five minutes' drive from the course, but I doubt that will afford him much protection from a beer-fueled gallery looking for any excuse to make some noise.
And the chances of New York's golf fans letting him off lightly at the Barclays Classic in June are . . . well, they won't.
If I were him, I would seriously consider giving both a miss. But as Brad Faxon said at the Buick Invitational – from which Casey withdrew with a bad back – he must get out and face the music some time. "The more you hide, the harder it is to come back from this sort of thing," Faxon added.
To his great credit, Casey has said he's not going to dodge what's coming to him. "I can't blame the fans if they want to have a go at me," he said on the Golf Channel in December. "I feel like I want to hide, not talk to anyone. But I'm not going to do that. I'm going to be myself and try to rise above this."
Despite reports he has been given the cold shoulder by some players in the dressing room, the majority of PGA Tour stars seem willing to give Casey the chance of redeeming himself. "I think most players think he was coerced by the writer," says Stewart Cink. "He was probably led to the well, and he took a drink. I don't think he hates me just because I was born in the U.S. and I don't feel anger toward him. He just made a mistake. He's young."

"What he said was a little strong," says Chad Campbell, putting it nicely. "But, like a lot of guys, I'll certainly listen to what he has to say if he feels the need to explain himself to me."

Casey must, and soon. If he doesn't, life in America might soon make the continuous strife Monty has endured in the U.S. look like a walk in the park.
Other Observations

Vijay Singh is considerably more interesting to observe on the driving range than the golf course. After completing a four-and-a-half-hour round in 80° sunshine at the Sony Open, the Fijian headed straight for the practice ground where he hit balls with a shaft stuck in the ground near his right foot at a 45° angle (to help define the correct swing plane), a bottle of water sat just outside and ahead of his ball (to help avoid an in-to-out swing path), AND a towel clasped under his left armpit (to help maintain the connection between arms and upper body).

After two hours and almost 200 balls of this, Singh eventually packed up and left the range whereupon dozens of autograph hunters surrounded him. "Not now," he said wearily. "I've got to practice my short game." Two days later, he shot 65 and won. Imagine that.



Center of attention on the range, on Thursday and Friday at least, was Michelle Wie, whose ball-striking was every bit as impressive as 80% of the players alongside her. Tiger Woods has a point about her needing to compete against top amateurs for a while to get used to winning, but with a little more experience, not to mention weight, this girl could hold her own on the PGA Tour.



The PGA of America's decision to alter their Ryder Cup team selection process in order to recognize the form players has been well received on this side of the Pond as has the announcement that Tom Lehman will captain the 2006 side. The players have all voiced their support for the '96 Open Champion (although one or two were hoping Mark O'Meara might get the nod) and most members of the U.S. media think he's the right choice too. "Lehman will neither rule with an iron fist nor make decisions without first consulting his players," Jason Sobel of ESPN told me. "That means no more Tiger/Phil pairing which was, quite obviously, an unmitigated disaster. Lehman was probably a better choice than any of the other candidates after Paul Azinger withdrew his name. Corey Pavin, Larry Nelson or Fred Couples wouldn't have done as good a job as Lehman will. And Mark O'Meara? You might as well turn the team over to Tiger."



I recently had the pleasure of making up a four-ball with three retired Japanese bankers who were great company. At the 5th hole, 69-year-old Walter Kuroiwa knocked his 9-iron straight into the hole for his second career ace, but rather than jump up and down, reel off a few cartwheels and pull some crazy Chi-Chi Rodriguez-style moves like I would have, Walter quietly walked up to the hole, pulled out his ball and calmly slid it into his pocket. I insisted we take a photograph to commemorate the happy occasion, but Walter was reluctant.

The reason for his reticence? The custom of buying everyone at the club a drink following a hole-in-one is observed just as keenly over here as it is back home. And we were playing Ala Wai GC in Honolulu, the course generally considered the busiest in the world.

The above article appeared in the Winter/Spring 2005 edition of Golf Pages Magazine.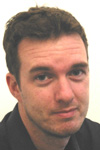 Tony Dear has been writing about golf for 11 years. A former assistant club pro from Sussex, England, Tony started out as a freelancer in 1992 before taking a staff writer's job at Fore!, a magazine based in Peterborough. As the magazine's chief instruction writer, it was Tony's job to compose instructional articles aimed at a youngish readership whose letters to the editor suggested they often got confused by technical jargon and theory. Tony bought his simple approach to teaching golf to the magazine, helping boost sales by 10,000 issues. As a result, he was nominated within the company and nationally for Young Writer of the Year awards.

From there, Tony moved 20 yards across the Emap UK office to join Today's Golfer. There, he was soon promoted to a senior editorial position, focusing on equipment, and became a significant part of a team that saw sales figures double within the magazine's first 12 months.

After three years at Emap UK, Tony was dragged kicking and screaming across the Atlantic by his American wife ("not really, I love it over here") and, after short spells in Phoenix and Denver, wound up in Seattle in May 2003. He recently moved to Bellingham in the far northwest corner of the far Northwest of the U.S. and became a father to a son on whom he has already staked £5 for the 2029 Open Championship. At present, he is freelancing for a number of print and online publications back in England including Today's Golfer, Golf World, Bogey, The Open Championship Magazine and Casino.com. He is also a contributing editor for Denver-based Colorado AvidGolfer.

Recent features include a look at Colorado's self proclaimed 'links' courses, an interview with Suzy Whaley, with whom he played nine holes ("and got soundly thrashed") and a 64-page instruction supplement for Today's Golfer.

Tony has authored three books in the last five years and been nominated for several specialist and young writers awards. "Although I've never actually won one," he admits. He is a member of the Northwest Golf Media Association and the Golf Travel Writers Association based in London.