Levin Discusses Tough Sunday in Scottsdale
Thanks to rounds of 65, 63 and 68, Spencer Levin had the Phoenix Open in control after starting the final round with a six-shot lead. But all that earlier fine work came unraveled Sunday when the 27-year-old from Sacramento ballooned to a 4-over 75.
Thanks to that poor fourth round, Levin lost the lead as well as the now aptly named tournament to Kyle Stanley, who only a week earlier blew a similarly huge advantage entering Sunday and was defeated in a sudden-death playoff to Brandt Snedeker.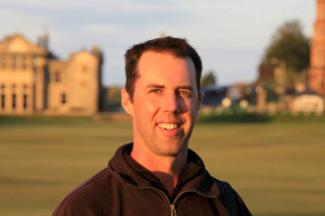 It's rare when an athlete - especially a golfer who plays once a week or less - can atone so quickly for his mistakes. But that's what Stanley did in nailing down his maiden victory on the PGA Tour.
Though it might not come as soon, Levin - whose game is strong enough to secure six top-10 finishes on the PGA Tour in 2011, should be knocking on the door again soon, and when that happens he hopes to finally knock it down.
Still clearly crestfallen, Levin gamely met with the media following his round Sunday at TPC Scottsdale. Here's what he had to relate about his disappointing day.
MODERATOR: Spencer Levin joins us here in the media center. Thanks for coming by for a few minutes. I know it was a tough day out there. Can we just get your comments.
SPENCER LEVIN: Yeah, I don't really know. I felt all right early, and I don't know, I just didn't have it, I guess. I just maybe tried a little too hard. I don't think I felt real - I felt calm, I just - I don't know, I just was looking ahead too much and maybe trying a little too hard, I guess. I didn't have it, but still, going to 17 and 18, I had long putts, but they both almost went in. You can always say that. But still, I had a chance after doubling 15, but what are you going to do? I tried my best.
MODERATOR: Take us through that 15th hole if you can.
SPENCER LEVIN: Yeah, I was aiming right off the tee, trying to draw it with the wind, and I felt like I made a pretty good swing and it stayed straight, and I saw it bounce really big, and I knew that probably wouldn't be very good. Yeah, it was under a cactus. I got it out in play, hit a good second shot to get it in play, and then the third shot I didn't feel like I hit that bad a shot. I pushed it a little bit, but I guess I didn't hit enough club. I thought 4 iron would go over the green and 5 iron didn't carry. So I don't know what happened, I just came out of it a little bit, I guess. But when that ball went in the water it was a complete shock to me. I was thinking it would fly in the bunker, let alone not carry the water. So that was kind of tough there. But just the back nine in general I didn't play very well. I didn't really hit very many good shots. I played 14 solid - sorry, 13 and 14 solid, but three putted 13 and then birdied 14. I don't know. It just was a tough day for me.
Q. Do you have any sense of why you had that sort of inconsistency from the last few days to today?

SPENCER LEVIN: I don't know, my swing feels great. On the range I felt good. I wasn't doing - trying to do anything different. I don't know, it had to be my mind. You get weird thoughts creeping in here and there, at least I do. But I don't know, I think it was more my mind than my swing, just kind of - just wanting it a little too much, I think.

Q. Can you take solace in watching what Kyle went through last week and then coming out here and winning today?

SPENCER LEVIN: Yeah. I mean, that's pretty - that's really good for him. That's pretty awesome from what happened last week to come back and win the very next week. That shows he's a hell of a player obviously. But yeah, I guess it shows that you can recover from it. I think I will. I feel like I am getting better, like I keep saying. It was a weird feeling today. I've never had a lead like that. I know you don't see it very often out here. I don't know, it's just a weird deal. It's almost like you're kind of wanting the holes to run out real quick, and it's just - next time I'll just try to maybe stay a little more patient, like they always say, and try to have a little more fun. I just didn't have any fun today. I was trying to rush it get it over with; that was my mindset kind of. I need to find a way to have a little more fun because it's a game, it's supposed to be fun. When I'm playing well, it's fun, I'm joking around, laughing, everything is good. I've got to find a way to get in that mindset next time I'm in this situation for sure.

Q. You said kind of weird thoughts creeped in your head. Were you thinking about winning as opposed to the shot to shot process?

SPENCER LEVIN: Yeah, I think so. Maybe getting ahead of yourself, thinking, I'm this many ahead; if I can just par this I'll do this instead of thinking, okay, let's hit a good shot and try to make a birdie. Don't get me wrong, I was still trying to make birdies, I just think that I wasn't quite in the present on a lot of shots. But it was kind of weird; I birdied 3, I was 1 under, feeling good, and then I made a really bad swing on 4, which was really weird. I felt like I hit a good putt and missed it. I think I hit ten of those today I thought I hit good and missed. It just wasn't my day, obviously. But I gave it away, simple as that. You have a six shot lead and lose, you gave it away. My hat's off to Kyle; he played a great round. He went and got it. But if you've got a six shot lead and don't win, then I think it's on the player with the lead for sure.

Q. Did what happened with Kyle last week, did that creep into your mind?

SPENCER LEVIN: No, not at all, not at all, because I guess I didn't have a lead playing the last hole. Maybe if I had a big lead playing the last hole, it might have, but at that time it didn't because I wasn't in the lead.

Q. What about the start of the day?

SPENCER LEVIN: Not really, no. I just - just throughout. I just didn't really feel like myself today. I didn't execute shots the way I wanted to. I didn't putt great. It was just one of those things. I knew if I birdied the last two, I could still tie. I almost did, but what are you going to do?

Q. You said earlier this week that it was the first time that you can remember ever having the lead after 36 or 54 holes. Now that you've gone through this, starting next week do you feel now the next time I get in this position I know what I'm going to feel like and be able to react to it a little bit better?

SPENCER LEVIN: I think so, for sure. It's probably not going to get much worse. I've got to look at it that way. Being tense, and try and - I'm trying to say, basically getting in your own way so to speak. I know that doesn't work. I've just got to find a way to maybe just tell myself it is a big deal because that's what we all strive for, but in the grand scheme of things it's really not. My family still loves me, my friends are still my friends, I'm still going to eat dinner tonight. I guess I've just got to go with that mindset next time I'm in that situation because I did not think like that today at all.

Q. Were you surprised how you were feeling on the golf course?

SPENCER LEVIN: Yeah. Obviously you don't want to think like that, but it's just I was just so in my own way today. I think everybody is like that to an extent starting off, but it was a weird feeling. I just wasn't having any fun today. It was just like I was so stressful on myself. It's all 100 percent myself, the way I went about it, the way I thought to everything I did. It was on me, and I blew it basically.

Q. Because you weren't in that position before, was it hard to sleep last night?

SPENCER LEVIN: Yeah, it was, it was. I went to bed relatively early, woke up at 3:00 in the morning and couldn't really go back to sleep. I got a little more sleep after that but not really. But I don't know, I guess that's pretty natural for most people. I don't think that has anything to do with the way I felt today. I mean, I was - I could have not slept at all and still felt plenty of energy today. It's just - I don't know. I'll go about it different next time and I think I'll be all right.

Q. I think last time you were in this position you were playing the final group at Bay Hill, obviously totally different golf courses, totally different situations, but that was you said you learned a lot from that experience in terms of playing a little bit more conservative and slowing down. Was that in your mindset at all?

SPENCER LEVIN: Yeah, I did. I know what you're saying, but that was a totally different situation because I was two behind instead of six ahead. It was just a different feeling. It was almost like let's make a par and hurry and go to the next hole. Let's get the holes done with instead of just enjoying it. I didn't enjoy it today, and like I was saying, the first three days I was having a great time, enjoying the crowd, enjoying everything about it. I didn't enjoy it in - obviously it was a lot of fun playing the Phoenix Open with all the fans. That was great. But I didn't give myself a chance to enjoy it, and that's kind of why I'm most disappointed in myself, not so much the golf but the mindset.

Q. Talk about the crowds today and how they supported you, where they were today in your mind?

SPENCER LEVIN: Yeah, they were good. There weren't as many people out there today. I think maybe it was a little hangover combo and a little Super Bowl combo. They were fine, cheering me on. There were a lot of Lobo fans out there, which was cool. And then a couple of my buddies from New Mexico came, a guy on my team, my coach from New Mexico came, my agent is here, my mom flew in last night, my dad, and a few other friends, my girlfriend. The support was there, and I just - man, I wish I could have just done a little better for them.

MODERATOR: Spencer, we appreciate your time. Thanks a lot.

The transcript for the above interview is courtesy of ASAP Sports.