Lewis River to Get New Clubhouse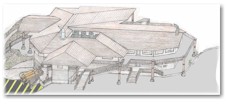 In December 2000, work began on a new clubhouse at Lewis River Golf Course in Woodland, Washington. The previous clubhouse was destroyed in a fire last fall. The new clubhouse, designed and built by Schlecht Construction of nearby Vancouver, Washington, is slated to open in late spring.
The new 15,000-square-foot building will be impressive in scope. Its two stories will feature a full basement, a restaurant and lounge, banquet spaces, meeting rooms, locker facilities, administrative offices and a pro shop.
Lewis River owner Ralph Stading is excited about the clubhouse. "There will be exterior log accents around the building," Stading told the Multnomah Daily Journal of Commerce. "Portions of the building will have open beams and decking. Basically, it's just kind of a natural, Northwest lodge feel . . . It will be a very nice facility," Stading explained. "It will give us the capability to serve both golf and non-golf events. Before, we didn't have the luxury of taking care of a wedding reception and hosting a golf group."
The clubhouse's lodge-like design is appropriate, as Lewis River lies within forests east of Woodland, a longtime timber town. Named after a neighboring stream noted for its steelhead fishing, Lewis River is also the closest golf course to Mount St. Helens. Miraculously, when the mountain erupted in 1980, the course, located a mere 25 miles to the southwest, was untouched by the ash, mud and debris spewed by the cataclysmic event.