LGD to Break Ground on Westmoor Renovation
Lohmann Golf Designs, Inc. will break ground this August on a comprehensive renovation project at Westmoor Country Club in Brookfield, Wis. The project involves converting all 18 greens to A1 bentgrass and the layout's hodge-podge of design features will be unified under a single style inspired by William Langford.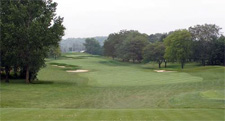 The course architects at Marengo, Ill.-based Lohmann Golf Designs (LGD) have pioneered the conversion of Midwestern golf greens from troublesome cocktails of poa annua to A1 bent. The fragility and inconsistency of poa annua greens, in this climate, is no secret to Westmoor members who nevertheless - like most golfers - have higher and higher standards for speed and consistency. These simply aren't met by poa greens cut close in the summer time, when heat stress and the plant's lack of root growth has them teetering on the brink of death every year, despite dogged hand-watering regimens.
"Any club member in Milwaukee or anywhere in the northern Midwest knows the stakes. Still, there is great anxiety about regrassing greens on an 80-year-old golf course like Westmoor," said LGD founder and principal Bob Lohmann, a past president of the American Society of Golf Course Architects. "There are pros and cons. The A1 does require some hand-picking and chemical control. We also advocated for the removal of hundreds of trees because the A1 (any grass really) would require better air movement to truly thrive."
Ultimately, the club voted to move ahead with the project, the ayes claiming a sturdy 72 percent of the vote.
The members laid out Westmoor in 1926 and several architects have since left their marks on the course. In 1957, William Langford completely redesigned five holes along neighboring Interstate 94 and, "They're our best holes," says superintendent Jerry Kershasky, who adds that shortly after they were finished, the club set about softening them. "Our 7th is a great, uphill par-4 to what used to be a Redan-like green, but the club eliminated the back bunker and raised the back of the green. They thought it played too difficult, I guess."
Langford was one of golf's great practitioners from the Golden Age of course design, as noted by his work at places like Lawsonia Links in Green Hill, Wis., Wakonda in Des Moines, Skokie in Chicago, and neighboring Ridgemoor CC, where LGD oversaw a comprehensive renovation in 2003.
In the early 1990s, Westmoor resolved to restore Langford's work and carry it throughout the course. Lohmann - whose Langford renovation portfolio includes West Bend and Ozaukee in Wisconsin, Happy Hollow in Nebraska, and Minnehaha in South Dakota - was called upon to assist the club in this effort. Bunkering on several of the Langford holes was restored, to great effect. But the remainder of Lohmann's master plan was put on hold.
Fast forward to 2007 and the decision to regrass. In this climate, the fumigation and regrassing process requires an August 1 course closing. With that sort of scheduling mandate, LGD and the club resolved 1) to equip the greens with enhanced drainage capability prior to August 1; and 2) to use August, September and October to renovate the remaining holes in a fashion consistent with Langford's steep-faced bunkering and strategic angles at greenside and along fairways.
"It would have been easy to blow up every hole and start from scratch, but we worked hard to evoke the Langford spirit within our redesigned holes while addressing requirements of the A1 greens," explained LGD senior designer Todd Quitno. "For example, the green on 12, a long par-4, was so steep in front that it was unplayable. With A1, which allows for even shorter mowing heights, that slope will be even more unmanageable. So, we're expanding the back of that putting surface and preserving the steep area as a very deceptive false front."

Quitno also singled out the pond and putting-surface scheme planned for the 10th and 14th holes. "The 10th green we largely left alone," he said, "but we raised the 14th putting surface about 3 feet and connected it with the 10th, creating a double green with a Biarritz-like swale in between. We also expanded the ponds in front of each green and decorated the greenside banks with boulder walls (similar to those found elsewhere on the course). It's a dramatic change and real interesting look."

LGD's master plan also includes a canny combination of practical objectives and creative flourishes. It will restore, for example, much of the 1st hole yardage Westmoor lost when it built a new clubhouse in the 1990s; but LGD has also created a series of attractive chipping areas that surround the greens and occasionally sweep up to form tees on the following holes, adding some subtle flare to the routing's transition areas.

The drainage plan is no less creative. This spring, Stuart, Fla.-based XGD Drainage will remove 2-inch strips of green sod before digging 15-inch drainage trenches spaced every 6 feet in a modified herringbone design. XGD will then lay down 2-inch drainage tile and refill the trenches with a 6:3:1 mix of sand, soil and peat - an attempt to match the greens' existing push-up soil profile. The sod will then be re-laid and members will play these greens up until August 1.

"We're taking these measures in the spring to provide the best possible growing environment for the new A1 seed this fall, and because it's been proven successful - they used the same process at Oakmont prior to the [2007] U.S. Open - but also, because time will be of the essence, come August 1," Lohmann explained. "We'll fumigate and replant right over these new drainage lines."
Marengo, Ill.-based Lohmann Golf Designs (www.lohmann.com) is responsible for more than 35 original golf course projects, including The Merit Club in Libertyville, Ill., site of the 2000 U.S. Women's Open. More recently, Lohmann unveiled Canyata, an 18-hole golf club in Marshall, Ill., which earned second place in Golf Digest's Best New Private Course rankings for 2005, and Mattaponi Springs Golf Club, just north of Richmond, Va. Mattaponi, too, was honored by Golf Digest, earning second place in the Best New Upscale Public category for 2005.

Lohmann has also lent his renovation expertise to more than 60 courses across the country. His work on The Traditions at Chevy Chase in Wheeling, Ill., was recently honored by Golf Inc. magazine as the nation's best course renovation for 2003.