Liberty National – Women Golfers Will Like It
By: Nancy Berkley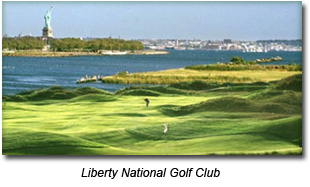 With the Statue of Liberty for inspiration, "Oh, beautiful for spacious skies" rolled through my mind as I watched the ribbon-cutting ceremony on June 15th at the new Liberty National Golf Club in Jersey City, N.J. Everywhere I looked there were beautiful skies and sky-scapes. This is truly a unique golf course.

The fact that it is private, costs $500,000 to join, $130 million to build and its grass grows on former garbage dumps is very interesting. But you can learn all about that on its website (www.libertynationalgolfclub.com). The course officially opens July 4th.    
A few general comments about the course: I love vistas from golf courses and am a sucker for mountain views. So, I was quite surprised to find the views from this flat "city" course so breathtaking. Never have I seen a course where bridges, skyscrapers, statues, rivers and even some building cranes fundamentally enhance the golf experience. The course has magic and grandeur, which is not easy to accomplish on a site located at sea level and with a maximum elevation change of about 60 feet.
But let me focus on what brought me to the course this day. I wanted to know whether or not women golfers will like this course? Was Miss Liberty watching out for us? I have reviewed many golf courses from all tees, including the tips; but, I have a special interest in evaluating how a course will play for the average woman golfer.
Most of the hype about Liberty National centers on its 7,400-yard tournament tees. It's not exactly "women-friendly" from there. But, women golfers are relevant here – even if not critical – because the course will attract corporate executives and some of those are women. In fact, there are already two female members. And once the new clubhouse is built (the expected completion is 2008), it will be a fabulous site for golf outings and entertaining, and women will be on hand for those, too.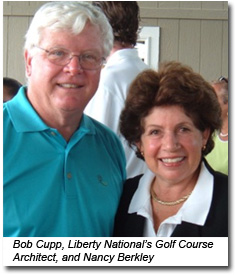 At the ribbon-cutting, I was lucky to spend some time with Bob Cupp, who along with Tom Kite, designed Liberty National. Bob refers to the layout as his "prodigy child" and believes his career will be defined by this course.

I asked Bob whether he thought very much about women in designing the course. He replied that, although he puts lots of "sizzle" in the men's tees, he also makes sure women will enjoy the course, too. He went on to say that, based on his experiences, women are responsible for about 50 percent of the play on many courses today. "Those of us with wives," he said, "know how important their happiness is!"

So it's not surprising that the forward tees at Liberty National play at a manageable 5,287 yards. The rating for women from the forward tees is 70.4 (par is 72) and the slope is 126, which means that a female bogey golfer will be challenged – but not overwhelmed. The "regular" – or next-longer tees – stretch 6,008 yards. These are currently not rated for women, but they will be.
From the forward tees, most of the holes will reward the straight drives of average women golfers. Bob apologetically pointed out three holes – Nos. 1, 9 and 10 – with forced carries over narrow creeks where women might want to lay-up on their second shots. "Forced carries are not my favorite thing," Bob told me. On the par-5 10th hole, Bob believes that even with a lay-up shot, most women will be able to reach the green in regulation on their third shot. (Bob wanted to avoid these forced carries by piping the creek underground, but moving the creek became prohibitive because of environmental requirements on wetlands.)

The drives from the forward tees on several holes require 150-yard tee shots to reach the fairways. The good news is that if your drive is short, the ball will usually land in playable, second-cut rough. The fescue grass, a trademark feature of the course, will catch men's shots – but probably not women's.

Bob also explained that women should like the absence of rough around bunkers. And he believes that women will appreciate the grass around the greens, which will make down-hill chips from the back of the putting surfaces less intimidating. When I revisit and play the course, I will find out if he is right!

Overall, Liberty National is quite an accomplishment for the developers and designers as well as local officials. Appropriately, the club has taken on the sponsorship of the golf team at Lincoln High School in Jersey City, whose members were all present at the ribbon-cutting – including five female members who from the co-ed team.

In thinking about the course, I could not avoid linking my experience at Liberty National with one my father had many decades ago. He once told me how he felt when, as a young man, he entered this country on a ship and saw the Statue of Liberty for the first time. And there I was looking at it from this golf course. Miss Liberty still casts her magic!
Nancy Berkley is an expert on women's golf. Her book, "Women Welcome Here! A Guide to Growing Women's Golf," published in 2003 by the National Golf Foundation, is the industry reference on how-to attract and retain women golfers. She updates her research and best practices on her website www.nancyberkley.com.

Nancy consults with facilities on how they can increase participation and revenues from women golfers and is a frequent speaker at industry events. Nancy also reviews courses for "The Golf Insider," an international golf and travel newsletter, and "Ladies Golf Journey," a golf publication for women. She's contributed articles to "Golf For Women" magazine and is the author of the 2004 PGA Magazine cover story about women golfers.

A respected resource in the golf industry, Nancy participates in Golf 20/20, the annual strategic invitation-only conference sponsored by the PGA Tour, the PGA, the LPGA, and the World Golf Foundation. At the November 2004 Conference, she moderated the panel discussions on player development with a focus on women golfers. She has addressed the National Golf Course Owner's Association at their National Conference as well as at numerous marketing seminars for the PGA and LPGA professionals. Nancy serves as a consultant to the Golden Links Advisory Board of Corporate Meetings & Incentives, a PRIMEDIA Business Publication. Nancy is an experienced golfer and has competed on the Metropolitan Women's Golf Association (N.J., N.Y., Conn.) interclub matches. She's served on the Board and Golf Committees of her golf clubs in Florida and New Jersey.

In 1998, Nancy founded Berkley Consulting and The Woman's Only Guide® to Golf to share her long-time passion for golf and to help grow the game. Prior to working in the golf industry, Nancy was an attorney for a Wall Street firm and then held a number of senior executive positions with Prudential Financial, including Assistant General Counsel and Vice President of Corporate Marketing & Business Integration. Nancy began her professional career as a high school teacher.

Nancy holds a bachelor's degree in political science from the University of Minnesota; a master's degree in teaching from Harvard University Graduate School of Education; and a law degree from Rutgers University School of Law, where she was a member of the Law Review. She is a graduate of the Program for Management Development at Harvard Business School.

Nancy describes herself as a bogey golfer and plays on her home courses in Florida and New Jersey. To contact her, write, call or email Nancy at: Nancy Berkley, Berkley Consulting, 242 Eagleton Estates Blvd, Palm Beach Gardens, FL 561-776-7243 or at info@nancyberkley.com.