Lighten Your Load with Sun Mountain's New Caddie Bag
September 27, 2010. Sun Mountain now makes it easier for golfers to lighten someone else's load with the new Caddie Bag. Based upon the top-selling Sun Mountain Superlight 3.5, the Caddie Bag is a lightweight stand bag featuring a reversible single strap that allows the bag to be carried comfortably on either shoulder. Caddie Bag features a 9.5", six-way top and is available now at $189.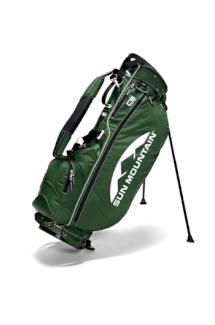 Sun Mountain's New Caddie Bag
Features on the Sun Mountain Caddie Bag include a 9.5", six-way oval top with full-length club dividers and Sun Mountain's ever-popular integrated handle for picking up the bag. The unique strap system on the Caddie Bag features a pivoting, non-slip strap, contoured for maximum comfort and easily reversible so a caddie can carry the bag on either shoulder.
Caddie Bag has six pockets including: beverage pouch, velour-lined valuables pocket, yardage book pocket, and a full-length clothing pocket. The stand system on the Caddie Bag features a top mounted stand attachment for increased durability and stability and Sun Mountain's patented Roller Bottom and recessed Y-Spring activator for faster leg action and tight-to-the-bag retraction. The legs on the bag are lightweight, high-tensile aluminum with triangular non-slip foot pads that resist sinking into grass and sliding on slick surfaces.
"In the past, some golfers at clubs with caddie programs would buy larger and heavier cart bags because of the single strap," said Sun Mountain President, Ed Kowachek. "With the new Caddie Bag, golfers can get the single strap their caddie prefers in a lightweight bag that their caddie will appreciate."
Caddie Bag is based upon the design of Sun Mountain's popular Superlight line of stand bags. For the third consecutive year, the Sun Mountain Superlight SLX golf stand bag has been awarded a Gold medal in Golf Digest magazine's annual Hot List. The panel of judges specifically commented on the SLX's light weight, easy to use shoulder straps, effective stand mechanism and innovative legs. The SLX ($199) is one of three models in the Sun Mountain Superlight line of bags, joining the Superlight 3.5 ($179) and the college-licensed version of the 3.5 ($209).
In addition to golf bags, Sun Mountain is dedicated to finding the most innovative fabrics, the latest weaving processes, and the best designs to manufacture a line of performance outerwear that includes rainsuits, windshirts, fleece and the RainFlex® collection. Sun Mountain is an officially licensed supplier of outerwear to the PGA Tour, Champions Tour, Duramed Futures Tour, and Nationwide Tour, and was the official outerwear provider of the victorious Presidents Cup 2009 US Team. The Sun Mountain Speed Cart® and ClubGlider® travel bag are leaders in their respective categories.
For over 25 years, Sun Mountain has been designing and manufacturing functional, high-quality, lightweight golf bags for the serious golfer. Sun Mountain is responsible for many industry firsts, including being the first to use backpacking technology to produce a lightweight nylon golf bag, and being the first to develop a stand bag with integral legs.
For the retailer nearest you, call 800/227-9224 or visit www.sunmountain.com.