Living like Gatsby
By: Elisa Gaudet
OHEKA Castle on the Gold Coast of Long Island, N.Y., was once the weekend retreat and summer home of Otto Kahn. The Gold Coast was where many of America's wealthiest families had homes in the 1920s. It's also where most of the characters in F. Scott Fitzgerald's book, "The Great Gatsby," resided and it is said that OHEKA was one of the inspirations for Jay Gatsby's mansion.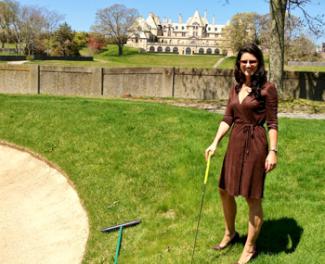 The Author with OHEKA in Background
Born in 1867, Otto Hermann Kahn, was one of the most celebrated financiers in American banking before his death in 1934. A true renaissance man, he was an investment banker, collector, philanthropist, patron of the arts and golfer.

Completed in 1919, OHEKA still is the second-largest private home in the United States. The 109,000-square-foot mansion contains 127 rooms, all set on 443 acres. It's twice the size of the White House. Built during the Roaring 20s, it reflected the excess and opulence of the times.

Kahn also built an 18-hole, par-71, Seth Raynor-designed golf course on his property. It was used exclusively by Kahn and his guests. OHEKA's overnight visitors included such luminaries as Enrico Caruso, George Gershwin, JP Morgan, Charlie Chaplin and Douglas Fairbanks, to name just a few.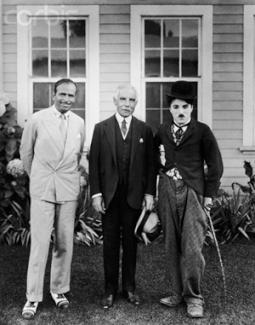 Fairbanks, Kahn & Chaplin
The property has gone through a number of changes over the years. It's now a beautiful 32-room hotel, and the golf course that was originally Kahn's private domain is now called Cold Spring Country Club. Gary Melius took over the estate in 1984 and began a massive project that continues to this day to return the spectacular estate to its original glory.

More than likely you have seen images of OHEKA, as the mansion and gardens were featured in the movie "Citizen Kane" in aerial views of Charles Foster Kane's Xanadu.

Even if just for a few days, guests can enjoy the full Gatsby experience while staying at this spectacular hotel. All guests have privileges to play the private Cold Spring Country Club course while staying at the property, which is just 32 miles - about a 45-minute drive - from Manhattan.

According to author Nelson DeMille, "Otto Kahn and Gary Melius are the bookends of this story - men of boldness, vision and optimism in America. This is the story of their house and the century that separated them in time, but brought them together in spirit."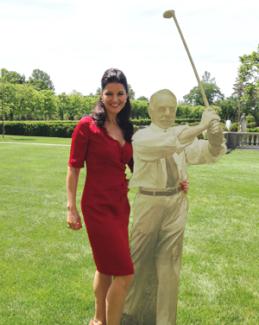 Elisa & Otto Kahn
For more information visit, www.oheka.com.

Elisa Gaudet brings a wealth of entertainment and golf experience to Cybergolf. Elisa has spent the past several years in the golf industry in the U.S., Latin America and Spain. She worked for the PGA Tour and the Tour de las Americas before founding Executive Golf International, a golf marketing company that works with clients to develop strategies using golf as the medium. Often referred to as the Maria Bartiromo (a business analyst for CNBC) of golf, Elisa says: "Golf, as a marketing tool, has been around for years. It's amazing how many new ways companies can align their brand with the golf market to reach their target audience. Our goal is to create alliances and establish cross-border relations." Elisa also worked in the entertainment industry for over 10 years, including five in Los Angeles as a model and actress. She can be seen at many celebrity golf events and often gets the inside scoop from PGA Tour players. In 2011, Elisa published her first book, "Two Good Rounds" (Skyhorse Publishing). Her story for Cybergolf, "Golf a Romantic Affair at Cabin Bluff," won the top prize in ING's 2012 Travel Writing category, and that same year she won the ING's Outstanding Achievement award for the Op/Ed Writing Category for her Cybergolf article, "I Want to Fall in Love with Tiger Again." For more information about Elisa, visit her websites at www.onthelip.com or Executive Golf International www.execgolfintl.com.