Living the American Dream - Where Else Can You Buy a Zoo or a Golf Course?
By: Elisa Gaudet
In the movie "We Bought a Zoo," the father, Benjamin, has lost his wife. As a way of starting over for his two children, he purchases a house on a large piece of land in California that includes a struggling zoo. The story's premise is that the zoo is in need of renovation, so Benjamin goes about refurbishing it with the staff. The project and expenses are greater than he imagined, and the zoo soon runs into financial trouble.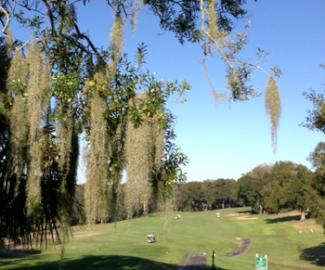 One of the Scenic Holes at Errol Estate
The staff must get the zoo back to its former glory, pass an inspection, and reopen to the public. The movie was based on a real-life story of the Mee family and a zoo in Devon, England, known as the Dartmoor Zoological Park.

When I learned of Errol Estate Golf & Country Club in Apopka, Fla., and met the new owners, their story and the club's history immediately reminded me of "We Bought a Zoo." This once flourishing club with 800 members was built in 1973 and the 18-hole, 6,505-yard golf course was designed by the famed Joe Lee. An additional nine holes - called The Grove - were added in 1975.

When Errol Estate debuted in 1973, the grand opening featured a friendly competition involving a PGA Tour team of Frank Beard and Charles Coody against the LPGA's Judy Trulock and the legendary Kathy Whitworth. The men posted 1-under par 71s and won the match.
Interestingly, these touring pros had a stake in the club. Coody, the 1971 Masters champion, was Errol's director of golf, and Whitworth and Trulock owned the pro shop. The club's history dates back even further, with the estate being the home of John Thomas Pirie, a New Yorker who moved to Apopka in 1886 and named his estate Errol after the Scottish village where he was born.

But just like many other clubs in America, over the years Errol Estate had difficulty competing against an influx of new courses, a declining economy and various management changes, which led to a gradual deterioration of the course and clubhouse.

Fast forward to December 15, 2011 - after years of neglect, the estate was purchased by Phillippe Weydts-Caesens and Patrick Daoust, two friends from Belgium. Daoust moved his family to Apopka and began overseeing the day-to-day management and various upgrades to return the club to its former glory. "I was in management consulting for large multinationals and decided to use my expertise towards something I am passionate about and love - golf. I am living the dream," said Daoust.
Students Surround Lee Westwood at his School
Both Weydts-Caesens and Daoust have sons who are heavily into golf, and Daoust's youngest son, Gary, recently won the FCWT Mystic Dunes tournament.

EEG&CC is now home to the first Lee Westwood Golf School in America. Westwood, a native of England, began playing golf at 13. He recently moved his family to Old Palm Golf course in Palm Beach, Fla., just a few hours down the road from Errol Estate Golf & Country Club.

I am sure it would have been impossible for a 13-year-old Westwood to imagine achieving a world No. 1 ranking in golf, move to America and start his own golf-instructional center. But the Lee Westwood Golf School is a world-class practice facility and driving range, and features the most advanced golf-performance technology. Westwood also converted the nine-hole Grove course to three short-game areas and five practice holes for the school.

Currently, nine students are in the program and it seems to be a dream opportunity for any budding golfer: study from 8 a.m. to 12, then hit the links for instruction and play golf.
EEG&CC's Highland and Lake nines comprise 18 gratifying holes that involve a combination of hills, dramatic vistas and lakes. The new owners have helped make the club a unique Florida experience and provided proof that dreams can come true.

For more information about Errol Estate, visit http://errolestategcc.com. For additional details about the Lee Westwood Golf School, see http://www.leewestwoodgolfschool.com/locations/errol-estate.
Elisa Gaudet brings a wealth of entertainment and golf experience to Cybergolf. Elisa has spent the past several years in the golf industry in the U.S., Latin America and Spain. She worked for the PGA Tour and the Tour de las Americas before founding Executive Golf International, a golf marketing company that works with clients to develop strategies using golf as the medium. Often referred to as the Maria Bartiromo (a business analyst for CNBC) of golf, Elisa says: "Golf, as a marketing tool, has been around for years. It's amazing how many new ways companies can align their brand with the golf market to reach their target audience. Our goal is to create alliances and establish cross-border relations." Elisa also worked in the entertainment industry for over 10 years, including five in Los Angeles as a model and actress. She can be seen at many celebrity golf events and often gets the inside scoop from PGA Tour players. In 2011, Elisa published her first book, "Two Good Rounds" (Skyhorse Publishing). Her story for Cybergolf, "Golf a Romantic Affair at Cabin Bluff," won the top prize in ING's 2012 Travel Writing category, and that same year she won the ING's Outstanding Achievement award for the Op/Ed Writing Category for her Cybergolf article, "I Want to Fall in Love with Tiger Again." For more information about Elisa, visit her websites at www.onthelip.com or Executive Golf International www.execgolfintl.com.