Living the Good Life at Amelia Island Plantation
By: Steve Habel
There's a whole lot to like about the experience visitors and residents encounter at the lush and historic Amelia Island Plantation, a luxury resort within a master-planned community off the coast of Florida and on the westernmost barrier island in the Atlantic Ocean.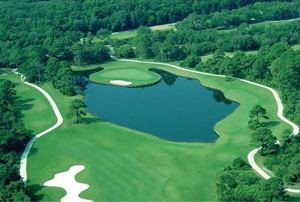 Aerial View of Amelia Island Plantation
There will be even more to enjoy in the coming years, as AIP is now a member of the Omni Hotels & Resorts family. Omni bought the resort out of bankruptcy auction late last year and will add 125 additional guest rooms and suites and a new 16,000-square-foot ballroom to the property.

Since being founded in 1971 and, through its various stops and starts, Amelia Island Plantation has stuck to its emphasis to develop the resort "in harmony with nature," and balance the development with the environment while protecting the site's tidal marshes, dunes and savannas while caring for the native wildlife.

Amelia Island Plantation encompasses some 1,350 acres surrounded by the Atlantic Ocean, green marshlands and the Intracoastal Waterway. The secluded venue is designated as a sanctuary by Audubon International as well as a certified Green Lodging Destination.

The resort includes the Amelia Inn, with 249 ocean-view guest rooms overlooking the Atlantic, as well as the Villas of Amelia offering one-, two- and three-bedroom villas. Amelia Island Resort also features three and a half miles of private beach, a 23-court tennis center, spa, pools, shopping village, fitness center and nine restaurants and bars.

Given all the resort has to offer, it's the 54 holes of golf that really brings folks to Amelia Island Plantation. The three courses, one designed fully by Pete Dye (Oak Marsh), another a Dye collaboration with Bobby Weed (Ocean Links) and the third by Tom Fazio (Long Point), put this destination on the short list of any golfer who craves great and varied challenges in an isolated setting, all just a short conversation north of Jacksonville.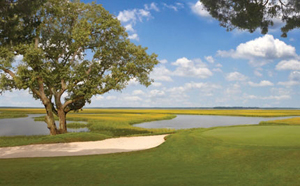 Oak Marsh's 16th Hole
Oak Marsh Calls for Precision

Oak Marsh Golf Course, built in 1972, is noted for its tight fairways and small greens. It meanders alongside serpentine salt marsh creeks and through the moss-draped heritage oaks for which Amelia Island is famous.

Playing to a par of 72 and at just 6,580 yards from the tips - where it's rated 72.2 with a 136 slope, Oak Marsh features water hazards on 14 holes and a handful of bulk-headed greens. A natural approach is sustained throughout with coquina-shell cart paths, native flora and preserved habitats for local fauna.

The course now called Oak Marsh was originally two separate nines known as Oak Marsh (first nine) and Oyster Bay (second nine). Both - along with the Oceanside nine that is now part of the Ocean Links course - were a part of the resort's original 27 holes. Oak Marsh is a shot-makers' track, with narrower shoulders and small putting surfaces than the courses Dye now designs.

Here, bunkers and water are used with calculated efficiency to contribute visual punch as much as strategic interest. Five holes border the marshes of the Intracoastal Waterway and afford vistas that seem to extend to the farthest horizons. Oak Marsh's varied greens show considerable movement, and the course requires a mastery of the driver as well as a burglar's touch in the short game.
On the back nine, Dye routed Oak Marsh to use the areas near the marsh for his par-3s, and on the front nine he created two solid one-shotters. No. 4 plays at just 169 yards but tee shots must carry the flashed bunker in front of the green. The 184-yard seventh features an elevated green that moves sharply away from the tee and to the right.

Weed renovated many of the greens and bunkers in 1998, but no substantial changes have been made to Oak Marsh since its opening, stamping it as an example of Dye's early mastery and rivaling his work further north at Harbor Town on Hilton Head Island.

Oak Marsh hosted the 1991 PGA Section Championship and 1992 Society of Seniors Championship, and has been included in Golf Digest's list of the "Top 75 Resort Courses in the U.S." Oak Marsh also was selected by Travel & Leisure golf as one of "Florida's 50 Finest Courses."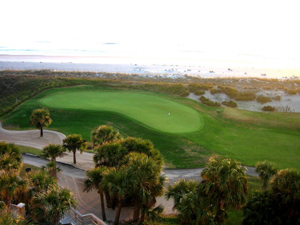 No. 6 at Ocean Links
Beachcombing via Ocean Links

Winding along a coastal dune, five holes at Ocean Links put you literally among the beach blankets and umbrellas. The fairways and greens are parallel to the private beach of Amelia Island Plantation and wind through a unique coastal maritime hammock.

Ocean Links plays to par of 70 and only 6,108 yards, but its relative brevity belies its difficulty. With a combination of small greens, narrow fairways and unpredictable winds that seem to always be in your face, the course plays much longer. It's easy to find a lot of bogeys here.

Due to its layout and holes so pinched by the Atlantic, Ocean Links has six par-3s, which take away several hundred yards from what you'd see at standard courses. Despite that, it still carries a rating of 69.3 and a slope of 128 from the back tees.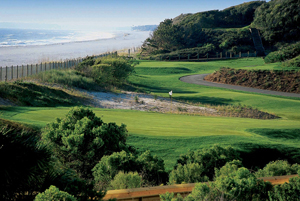 Ocean Links at Amelia Island Plantation
Ocean Links has 10 holes involving lagoons and marsh wetlands, in addition to concluding with a one-shotter whose green is placed strategically in Red Maple Lake. The course winds through six miles of natural sand dunes and seaside terrain, so much so that it has been said it offers as much of a nature tour as a round of golf.

Ocean Links is a collaboration involving Dye and Weed. Hole Nos. 1-8 and 17 were designed by Dye when the resort opened, and Nos. 9-16 and the 18th were fashioned by Weed to complete the regulation course. In addition to building the new holes, Weed was commissioned to renovate the rest of the course, giving Ocean Links a decidedly Weed flavor while adhering to Dye's flair.

Most of the Ocean Links' bite is found in the size and orientation of its putting surfaces. Many of the greens are diminutive and slightly crowned at the edges - reducing their size even more, and some are irregularly shaped to make for tight pin placements.

Ocean Links' really special holes are No. 15 (a 187-yard uphill par-3 that plays toward the Atlantic and into the wind) and the devilish 430-yard 16th, a par-4 with a fairway hidden among the dunes. Here the drive must fly nearly 200 yards over beach and native grasses and the approach must somehow find an undulating putting surface lower than the fairway.

Some golfers will toss aside Ocean Links because of its shortness, but a trip around the track will change those minds in a hurry. The course is a crafty blend of tight and strategic holes and, as a whole, seems much longer than its yardage. Named by now-defunct magazine Golf for Women as one of the "50 Best Courses for Women," the track's closeness to the ocean and the ever-changing sea breezes provide golfers with exhilarating views and intriguing play that can't be discounted.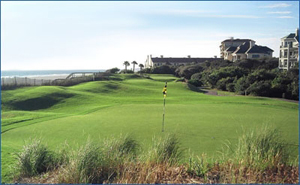 Long Point Golf Course
Long Point Offers Fazio in Full

Opened in 1987, Long Point sports Fazio's trademark design aspects and offers golfers natural hazards, tight corridors and elevated greens. Its mounded and rolling fairways wind through three spectacular and distinct settings: Amelia Island Plantation's magnificent marshes, thick oak and pine forest, and oceanfront dunes.

The course's character is shaped by waste bunkers, large undulating putting surfaces and back-to-back, oceanfront par-3s. In addition, Long Point asks golfers to carry water hazards on eight different occasions.

Long Point is carded at 6,775 yards and plays to a par of 72; its rated 72.2 with a slope of 136 from the tips. Many of the track's holes offer breathtaking views of the Amelia River and expansive salt marshes.

Long Point's site was part of the original property purchased by Amelia Island Plantation when it was established. For years it laid fallow, never specifically designated for golf. While the low-lying land did not add much to the course strategically, it turned out to be ideally suited for Fazio's talents. The designer has slated that Long Point was an "easy" course to build, but it's obvious that plenty of dirt was pushed around to make the mounding and edges rise and fall.

Fourteen holes sit on the west side of Highway A1A to reveal the island's inland-outland nature. Holes two, four, 11 and 12 extend to the western perimeter toward the tidal marshes of the Intracoastal Waterway. The course crosses the highway at the 13th and climaxes with back-to-back par-3s at 15 and 16 that border dunes and the Atlantic.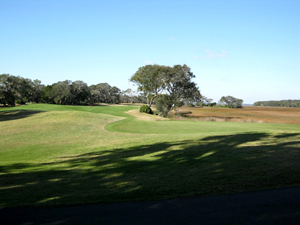 No. 12 at Long Point
No. 15, at 166 yards, could be Long Point's signature hole. To find the deep, hourglass-shaped green you may need to take your shot out over the beach so the prevailing sea breeze can bring it back in. Then the 158-yard 16th requires a similar shot, with this one going to a bowl-shaped green that funnels a well-struck ball toward most pin placements.

There are plenty of tests at Long Point. For example, on the 401-yard par-4 fourth you'll find a tight dogleg-left that pivots perfectly with the marsh on the left and big oak trees right. Another is No. 6, a par-5 with a tee shot through a chute and over a pond to a fairway that narrows in the layup area and bottlenecks at a bulkhead green that hangs out over another pond.

Long Point has been acclaimed as one of the "Top 50 Courses in Florida" by Golfweek and one of the "Best Places to Play" by Golf Digest. The Florida Women's Amateur along with U.S. Open and U.S. Amateur qualifiers have been held here in addition to numerous Amelia Island Club events and championships.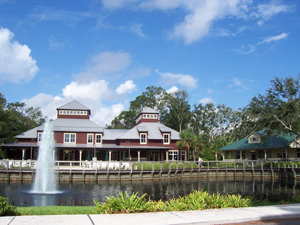 The Village at Amelia Island Plantation
The course remains the most popular of the three offerings at Amelia Island Plantation and seems to get more of the royal treatment than the other two. Part of that is due to its location - separated from the main body of the resort with its own clubhouse and facilities. It's also more of a private club, as members and Plantation residents receive preferential tee times. Resort guests are welcome to play Long Point but may only book tee times one day in advance.

Every nuance stands out at Long Point and finding a favorite isn't easy. Tees and greens are tucked neatly into cozy corners, and small greens and fairway humps and ridges are used in defense of what seem like easier holes. Maybe the length could be stretched.

But why mess with a good thing? This is, after all, resort golf.

For additional information about Amelia Island Plantation, visit http://www.aipfl.com/golf/golf.htm.
Steve Habel is one of Cybergolf's national correspondents, contributing news stories, features, equipment and book reviews and personality profiles from his base in Central Texas. He is also the managing editor for Texas CEO Magazine and works as a contributing editor for Horns Illustrated magazine, a publication focusing on University of Texas sports. He also writes a blog (www.shotoverthegreen.blogspot.com), which features news on golf and the Longhorns, and another (www.checkinginandplayingthrough.blogspot.com) on his many travels, which took him across the nation and to 105 different golf course in 2009. Habel is a member of the Golf Writers Association of America and the Texas Golf Writers Association.