Longbow Golf Club Reopens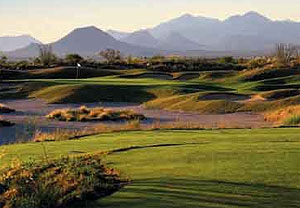 The official grand opening of the Longbow Golf Club in Mesa, Ariz., was held on November 18, 2003. Located on Higley Road just south of the Red Mountain Loop 202 Freeway, Longbow boasts a new clubhouse, a redesigned golf course and expanded practice facility. Improved playability and added features were the inspiration for the redesign. Ken Kavanaugh, who designed the original course, was enlisted to create the all-new Longbow Golf Club.

"It is truly unique and exciting to be given the opportunity to enhance a golf course that you are already very proud of," said Kavanaugh. "We have really been able to take advantage of the spectacular views of the McDowell, Usery and Superstition Ranges that encircle Red Mountain providing spectacular scenery from all points on the course."
With 253 yards of additional length, the redesigned par-71 layout challenges golfers to be long from the tee and accurate to the green. Additional acreage also allowed Kavanaugh to incorporate expanded fairways and spacious practice facilities into the final product. The greens, which are guarded by well-placed bunkers, feature considerable undulations and challenging pin-placement options. No homes or roads intrude into the interior of the playing field, and the short distances from green to next tee make walking an realistic option.
"Longbow integrates the winning combination of quality and value," said Robert M. McNichols, owner and managing member of the Longbow Business Park and Golf Club development company. "Our goal is to soar beyond overpriced desert golf daily-fee experience and create a loyal fan base that in turn will become regular customers and enthusiastic ambassadors of our golf club."
Longbow Business Park and Golf Club is a 330-acre mixed use commercial development that incorporates office, light industrial, retail and hotel uses surrounded by desert vegetation and a main street transportation design and features the rebuilt golf course. The project developer, Daedalus Real Estate Advisors, LLC, is a Phoenix-based commercial real estate services company that provides investment, development and communications consulting to corporate real estate clients in Arizona and the Southwest.
Longbow is overseen by OB Sports Golf Management, a company that manages several golf clubs in seven Western and Midwestern states and Mexico. For a tee time or more information on Longbow Golf Club, call 480/807-5400 or visit www.longbowgolf.com.