Look Homeward Angel – Lessons Learned in Scotland
By: George Fuller
11th green on Westin Turnberry Resort's famed Ails
Photography by Chris Duthie

"Duth" and I were side by side about 120 yards out, just before Granny Clark's Wynd, the walking path that cuts across the fairway below Rusack's Hotel over toward Chariots of Fire beach. Our drives off 18 tee were both solid, and a soft wedge would get us onto the big putting surface.

We strolled up to our golf balls in silence, smiling at the hallowed ground and being at peace in the surroundings. Here we were at the Old Course, St. Andrews. The sun was shining for the first time in a week and the old town was bathed in golden light. We were ready to head back across the pond in the morning, having played Royal Troon, both Turnberry courses, St. Andrews Bay, Kingsbarn and now the Old Course . . . life was good.
I hit my soft wedge a little too soft and watched as she dove into the "Valley of Sin," that swale from which Costantino Rocca fluffed a chip before sinking a 60-foot putt to force a playoff with John Daly in the 1995 Open Championship.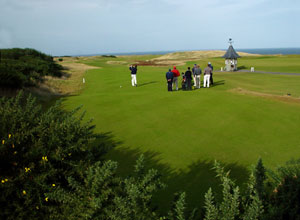 View from behind the first tee at Kingsbarns Golf
Unlike Rocca, I managed to hit my chip well, leaving a 10-footer for par. I marked my ball, with my ball mark – a silver, coin-shaped angel – facing the R&A clubhouse. One must pay tribute, after all. Meanwhile, "Duth" (aka golf writer and photographer, Chris Duthie) had put his ball on the right-front portion of the green and had a lengthy birdie attempt. As he lined up his shot, I stood and looked back over the Valley of Sin, over Scotland, over the week we had spent in the homeland.

For American golfers, travel is a religion. We eat, sleep and dream the last trip we made, and yearn for the next time we get to zip up the travel bag and head out on the green highway, the farther from home the better.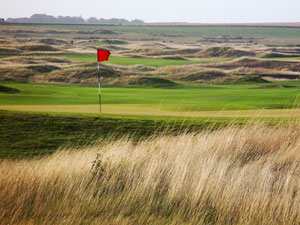 View of the Devlin Course at St. Andrews Bay.
Book us on the next flight to Pebble Beach, Mauna Kea, Bandon Dunes, Cabo del Sol, Sandy Lane, Banff, Royal Melbourne or Royal County Down. Doesn't matter where – and doesn't really matter if it's Royal. I'll take swaying palm trees, bluster and howl, mountains, ocean . . . whatever. Bring it on. Could be with the wife and kids, could be with the boys. Hell, I'll even go alone. Who cares? As long as the next stop is the first tee.

Beneath all that bravado, though, there is something deeper, something that lives in the belly, glowing like a steady coal on the eternal fire. There's something that whispers in our ears like the wind. And one day we must answer the call. We must go home . . . to Scotland.
Until we can say, "I've been to Scotland; I've played St. Andrews," we cannot say we truly know golf.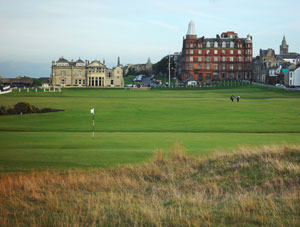 View from behind the 1st green of the Old Course.
Personally, I thought I knew what golf was – I've been to a lot of those great places. After playing the Old Course at St. Andrews, it became clear I knew nothing.

Scottish golf would be different, I knew that much. The links nature of the land, the gorse, hay and heather, the oceanside setting, the general lack of trees – all this I was prepared for. But the Old Course – our last stop on a week of discovery – threw me.

Royal Troon, Turnberry, St. Andrews Bay and Kingsbarn – excellent courses all – fit nicely into my concept of what Scottish golf would be. But the Old Course presented a game with which I was not familiar. What makes it so different? Why is it regarded with such esteem? Aside from 600 years of history and its location in a fairy tale town, the Old Course provides the basis upon which to compare all else. We can compare only to what we know, and until we've played St. Andrews Old Course we don't know where golf came from. If we don't know where golf began, where it's going becomes difficult to understand.

Contrary to expectation, the Old Course is not the culmination of all course design. In fact, except for some widening and rebuilding of the greens of Nos. 1 and 18 by Old Tom Morris, Custodian of the Links in 1864, the links evolved pretty much naturally.

You play it with great expectations, a reverence for its history, the champions who have walked the fairways before you. Then – at least this was my experience – at various times you love the Old Course, you curse it and finally you make peace with it. It demands shots you had no idea you would ever have to hit.

If anyone tried to build a course like it on American soil they'd be strung up. There are several holes where you stand on the tee box and look north, south, east and west and have no idea which direction to hit the ball. Tip: Take a caddie if you're not lucky enough to play with someone who knows the course well.

Holes 11 and 12 may be the best examples. No. 11 is a 172-yard par-3. You want to take a 6- or 7-iron. The caddie lets you pull it out of your bag before saying, "You'll want a wee bit less club here. She'll give you some roll."

So, as advised, you hit a 100-yard club to a position just between Shell, Hill and Strath bunkers, and hope you get a fortunate roll. (I love the way they name the bunkers and talk about them like they are mischievous old friends, "Strath got me today . . . jumped right up and bit me!") Turns out to be the perfect shot . . . when the wind is behind you. This afternoon? Who knows?

From the tee box, No. 12 looks like a nice big fairway with little trouble. Why not just hit away on this short par-4, only 316 yards? Because, as the yardage book warns, "The centre (sic.) of the fairway is the home for a family of unpleasant bunkers, which cannot be seen from the tee. The heroic solution is to carry them, but failing that, drive to the left of Stroke bunker." (A better name for it might be "Three-Stroke bunker.")

Of course, Tiger Woods played this hole over the green in the 2000 Open Championship (which he won), blowing everybody's mind and causing a stir in the R&A offices. The rest of us have to wonder where the bunkers are, hit and go find it again, hoping it didn't end up against the face of a 10-foot-high stack of sod that forms the bunker walls. This can be a maddening hole.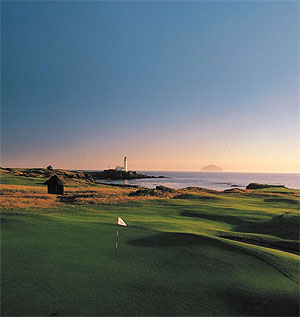 I made the mistake of keeping score, as if I was in a stroke-play tournament. That's not the way it's done in Scotland.

"You Americans are obsessed with score," our friend Malcolm said later, as we sat in front of one of the matching fireplaces in the Great Hall in the Royal & Ancient clubhouse. Members sit on a padded banister that forms a sort of horseshoe in front of the fireplace, with their guests seated on facing sofas or drawing room chairs. It's such an honor to be invited into the clubhouse in the first place that sitting there, amongst the wooden locker fronts, historic paintings and huge picture window overlooking the Old Course, one breathes deeply and enjoys the rare moment.

Malcolm turned and pressed a button marked "Service" on the wall next to the fireplace, indicating we needed another round. "But you cannot play or understand the Old Course in that way," he said. He explained that in Scotland, and particularly on the Old Course, score is not paramount. The Scots enjoy match-play, alternate-shot, or four-ball. They play the contour of the land, crafting shots to fit the landscape. They walk the courses and therefore know every nook and cranny. They know how to play below the wind, on the ground. To the Scots, it's a creative game. And like any creative endeavor, sometimes you succeed, sometimes you do not. Thus, if your score on a hole is 10, your entire round isn't ruined. You have merely lost the hole, with 17 others to do differently.

In the U.S., I've seen far too many of us go ballistic after hitting a bad shot or three. Wait! It's not the end of the world! It's a game. Do like the Scots: Have fun, enjoy your friends, have a little match-play, get on to the next hole.

The Old Course is closed on Sunday, populated instead by families picnicking and dogs running free. The land belongs to the town, and thus it is open to the townsfolk this one day a week. Green fees range between $120-$190, except for December through March when golfers must play off mats for around $85. The other four 18-hole courses can be played for between $28-$95.

When my friend Marty Keiter went to the Open Championship at the Old Course in 1995, he decided to go have a look around. It was midnight, the moon was full and he thought it a good time to stroll a few holes. "I was amazed," he said, describing the almost-eerie moonlit links. "There were literally hundreds of other people out walking the course at midnight!"

Scotland threw my Top 10 list on its ear. Turnberry (both Alisa and Kintyre courses), Royal Troon, Kingsbarn, St. Andrews Old Course . . . they all squeezed their way in. Even the two at St. Andrews Bay (the Torrance and Devlin courses) are excellent courses. If I had played 10 others – perhaps Carnoustie, Prestwick or Brora – they would probably have made the list too.

Meanwhile, Duth was set to putt. There is a constant crowd watching the first tee and the 18th green, folks just milling about in front of the Royal & Ancient Clubhouse, or in front of the merchandise shop, taking photos and wishing they were on the course playing. Duth struck his putt and watched intently as it stopped just right of the cup. He looked at the gallery of onlookers and walked proudly to his ball and tapped it in for par.

I stepped over my 10-footer, glanced at the cup and then at the waves rolling onto the beach just past the first tee, and back at my ball. The putt was sweet, gliding like an angel over the Scottish turf, watched by the ghosts of Old and Young Tom Morris, James Braid and Laurie Auchterlonie, plus a real-life dozen or so tourists from around the globe and my playing colleagues.

As it fell gently to the bottom of the cup, I thought, "You can go home again . . . you can."





Photographer and writer George Fuller has been covering golf and adventure travel for more than 15 years. His assignments have taken him throughout the United States, Asia, Polynesia, Europe and Mexico.

As an author, he has eight books to his credit, the two most recent being "California Golf – The Complete Guide" (11th edition, 2004, Avalon Travel Publishing) and "Discover Hawaii's Best Golf" (second edition December 2001, Island Heritage Publishing). Others include "Hawaii: Adventures In Nature," (October 1999, John Muir Publishing).

A former editor of "LINKS – The Best of Golf," he has contributed stories to many newspapers and magazines, including TIME, San Francisco Chronicle, Coastal Living, GOLF Magazine, Travel & Leisure Golf and others. Based in Marina Del Rey, Calif., George is a monthly travel correspondent for the PGA Tour (pgatour.com), and a Contributing Editor to The Golfer. We're very happy George is part of the Cybergolf team.